On the edge of the Rocky Mountains, Colorado Springs is the second most populous city in Colorado. Scenic with a low cost of living and plenty of opportunities, it's not hard to see why so many people love to live in Colorado Springs. Colorado Springs was recently ranked the fifth best place to live in America (nearby Denver was ranked number one). Colorado Springs is a great place to live, work, and play. The city has a low cost of living, low unemployment rate, and excellent recreational and entertainment amenities. It's close to ski resorts and is attractive to students, professionals, and military personnel. And it's the home of Pike's Peak, one of the most famous mountains in the United States. Beyond its overall recognition as a great place to live, Colorado Springs has been identified as one of the best cities for teleworking and best cities for dating. Colorado Springs is also one of the top 10 fastest moving markets in the United States. Homes sell quickly in Colorado Springs with many home owners selling their homes within a week or less. Construction is also booming in Colorado Springs with new residences also snapped up quickly by buyers. Often, home buyers in Colorado Springs are purchasing properties to save on high rent prices. Bidding wars and tight home supplies are not unheard of in the Colorado Springs housing market these days. The region has a strong economy, rising home values, and is taking advantage of historically low mortgage rates. Colorado Springs is an exciting, but sometimes tough, real estate market. Sellers, particularly those unloading homes in the $300,000 and under range, are able to quickly make a sale. But buyers may become frustrated as their hunt for a home turns up more dead ends and homes sold too quickly than viable opportunities. But a great Realtor can help make the most of both of these situations — maximizing the benefits of home sales and minimizing the frustrations of a tight market for buyers. Whether you're interested in buying, selling, or investing in Colorado Springs real estate, it's clear that you can benefit from the support of a qualified real estate agent. That's why we've compiled a list of the 15 best agents working in the city. These agents understand the Colorado Springs market and how to give their clients the best advantage in any situation. They're experienced, trusted, and helpful every step of the way. Any one of the Colorado Springs Realtors we've highlighted would be a great choice for your next real estate move in the city, so we've listed them without any regard to ranking order. But we'd like to hear from you on which one you think is the best. Please vote in our poll at the end of this article to share your opinion on the best real estate agent in Colorado Springs. But be sure not to wait: vote today, as the poll will expire in 30 days!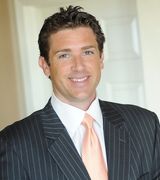 Travis Turner

Travis Turner is managing partner and broker of Turner Associates in Colorado Springs. He has more than 10 years of experience in real estate. Turner Associates is a boutique real estate agency with concierge level service, cutting edge technology, and constant education for clients. Turner is well known for his large online presence and exceptional reputation in Colorado residential transactions. In his career, he's consulted and closed on tens of millions of dollars worth of transactions. Turner is committed to constantly improving the client experience and is always well prepared to represent them with the highest level of customer service. Along with his team, Turner has a dedicated team of professionals to serve every client for a seamless transaction from beginning to end. Clients say Turner has extensive knowledge of the Colorado Springs area and superior responsiveness. He exceed their expectations and displays true professionalism throughout the real estate process. They're impressed by his knowledge of current real estate trends and the best homes in the Colorado Springs area.

Daniel Armstrong

Daniel Armstrong is a Realtor with Armstrong Real Estate Company in Colorado Springs. He is a buyer's agent and listing agent with interests in relocations and short sales. Dedicated to getting the job done, Armstrong aims to close deals as quickly as possible with the best financial outcome. He is a problem solver and is always looking for creative ways to sell homes, advertising properties effectively to maximize their market exposure. Armstrong works to develop business relationships for life and is proud to call his clients friends. His clients say he offers an excellent experience from start to finish. They value his guidance in the crazy and sometimes stressful process of home buying and selling. They say he does what he promises and always offers a helping hand with any questions they have for him.