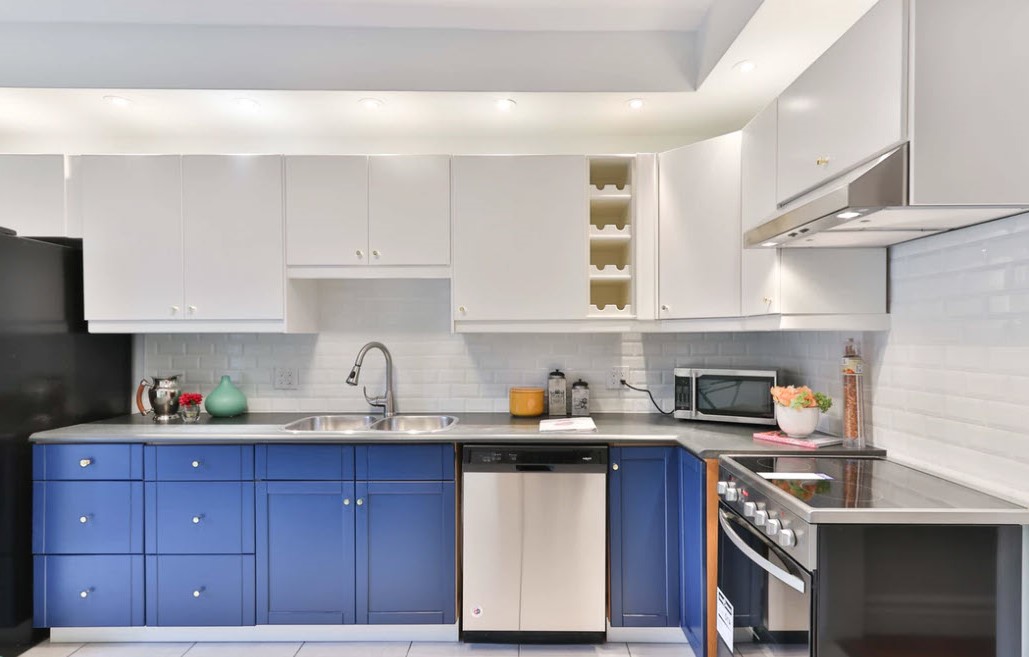 Oklahoma has a population of nearly 4 million residents, making it the 28th most populous state in the country. Those looking for big city living today can find it in the thriving giant of Oklahoma City, which boasts a growing population of 580,000 residents. Tulsa follows with over 391,000 residents. These cities highlight the state's rich artistic culture as well. Tulsa is home to the Philbrook Museum of Art and Gilcrease Museum. Oklahoma City residents also enjoy easy access to highlights like the Oklahoma City Museum of Art, Myriad Botanical Gardens, and National Cowboy & Western Heritage Museum.
Oklahoma was originally an Indian territory before it became a state. In fact, the Trail of Tears saw its end in what is now, our 46th state. Today, over 60 Native American tribes still live in Oklahoma, which is the largest Native American population in any of the states. The state flag honors over 60 groups of Native Americans, including the Choctaw (from whom Oklahoma derived its name) and the Osage . The flag depicts a calumet (peace pipe) and an olive branch lying across one another over the battle shield of an Osage warrior against a blue background, which comes from the flag carried by the Choctaw soldiers during the Civil War.
Of course, ranches, farms and towns of all sizes share this beautiful state. Oklahoma is in the south-central region of the country and is bordered by Texas, New Mexico, Colorado, Kansas, Missouri, and Arkansas. The Great Plains sweep through the western part of the state. The Wichita Mountains rise to the southwest, while the Ouachita Mountains lie to the southeast. Oklahoma boasts 51 state parks and 3 national parks. With the state having so much to offer, it is no wonder so many are rediscovering the beauty of the heartland.
Oklahoma is often categorized as continental, though residents may experience a range of weather conditions depending on their location. Here is an idea of what you can expect by region. There are approximately 115 days with temperatures over 100 degrees each year. In the southeast, winter lows dip to 32 degrees, or lower, for approximately 60 days each year. In the western panhandle, rainfall is low, at just 17 inches a year. Snowfall, however, is abundant with 30 inches annually. In the southeast, conditions are dramatically different, with 56 inches of annual rainfall and less than 2 inches of snow.
These seasonal changes can be taxing on your home's appliances. More and more, Oklahoma residents are seeing the wisdom of protecting their investment with a home warranty.
No matter what part of Oklahoma you call home, you'll want to protect your house and appliances well. A home warranty compliments your homeowner's insurance by covering the systems and appliances that the former leaves out. An Oklahoma home warranty from Choice Home Warranty covers normal wear and tear of daily household items. Electrical systems, plumbing systems, heating systems and air conditioning can all be included in your home warranty, so you'll have easy access to the critical repairs you need at minimal cost.
Protect Your Oklahoma Home and Appliances
Over 57 percent of homes in Oklahoma are owned. The median home age is 36 years. Twenty percent of homes in Oklahoma were constructed between 1970 and 1979. Older homes offer a lot of character, but they also come with challenges as well. If you have an older home, you may be dealing with expected appliance replacements. Most appliances last between 10 and 15 years, so it's likely that you're looking at a second or third replacement for the essential appliances in your house.
A home warranty will cover both repairs and replacements for covered appliances, so you never have to go without a crucial system. Since Oklahoma sees both freezing winters and sweltering summers, you'll likely want coverage for both your air conditioner and heating system. Your ductwork and heater are included with a Basic Plan from Choice Home Warranty. Upgrade to a Total Plan and you'll be covered for your air conditioning system as well.
Are you selling a home in Oklahoma? Wouldn't you like to know that your major systems and appliances are covered for break-downs while your house is on the market? It would certainly be one less worry for you during this already difficult period. An Oklahoma home warranty can give you this peace of mind. Having a home warranty in place enhances the marketability of your home. Eight of 10 buyers would rather have a home that already has home warranty coverage.
The median cost of a home in Oklahoma is $139,900. If you are going to commit to buying an older home in Oklahoma, wouldn't you feel more secure knowing that, even after you take possession, the critical systems and appliances will be covered for repairs or even replacements? After all, you've already made a sizeable investment. You don't want to get stuck with a large repair bill right away. As a home buyer in Oklahoma, a home warranty from Choice Home Warranty could be just what you need.
Residential energy costs average $2,300 annually for Oklahoma families. This includes $1,649 for electricity, $444 for natural gas, and $207 on other energy expenditures. For those with incomes under $30,000 a year, combined residential energy and gasoline costs account for 23 percent of your income. Maintaining energy efficiency can help you minimize some of these expenses. Many household appliances may continue working while needing repairs, which ends up costing the homeowner more in the long-term than a repair or replacement would. This is because these appliances are not working at peak efficiency.
Scheduling prompt repairs for your home systems and appliances will help keep your efficiency costs as low as possible. If your system is dealing with even minor repair needs, it will generally use more energy, struggling with the inefficient parts or poor calibration. With a home warranty, you can afford to schedule home repairs early, rather than waiting until the problem worsens and your energy costs increase even more. With electricity being the primary energy cost in Oklahoma, isn't good to know that you can get a home warranty that covers your electrical systems?
A Basic Plan from Choice Home Warranty will care for many of your home's most important appliances including the water heater, whirlpool bathtub, and garbage disposal. If you're cooking up a feast for the big game, your warranty will help make sure your oven is up to the job. With so many trademark delicacies to choose from, you don't want to miss a day without a working cooktop or range. There is never a convenient time for a kitchen mishap.
Repairing or even replacing a water heater could be a nightmare without a home warranty. Not to mention, the dreaded, cold morning showers until you do. With all the conveniences we enjoy today, comes the added necessity of safeguarding their proper operation and maintenance. It really makes sense to have a home warranty to protect you if things go wrong.
The right home warranty will keep everything in your home in tip-top condition, so you never have to suffer the inconvenience of going without. With a Total Plan you can include coverage for your refrigerator, in addition to everything in the Basic Plan. This will help you keep your root beer chilled for everything from football Sunday to a lazy summer weekday.
Do you have a second refrigerator or a stand-alone freezer? You can add on coverage to protect these important appliances as well. After all, they represent quite an investment, not to mention the value of the food stored in them. With add-on coverage from Choice Home Warranty, you know that if you encounter problems with these appliances, you can turn to your warranty for needed repairs or even replacements. And with the cost of replacing a double door refrigerator soaring to as much as $3,000, that can be a great feeling.
Why is a Home Warranty Necessary in Oklahoma?
Oklahoma is subject to severe storms. In fact, it sits almost completely within tornado alley. Roughly 80 percent of the area's annual tornadoes take place between March and June, with 40 percent of these taking place in May. On average, Oklahoma sees 56 tornadoes a year. In 1999, the state had a record of 145 tornadoes in a single year. Even in the calmest recorded year, Oklahoma saw 16 tornadoes. The largest tornado ever recorded on the planet touched down in El Reno, Oklahoma, May 31, 2013. These storms bring heavy rain, strong winds, and the potential for serious home damage whether you're in the path of the tornado or simply subject to severe thunderstorm conditions.
Those living in some of Oklahoma's many rural areas may also be interested in add-on coverage for sump pumps, well pumps and septic systems. Even septic tank pumping can be added on as a coverage to your Choice Home Warranty plan.
Even if your covered items haven't been damaged due to severe weather, they can and will succumb to wear and tear. Appliances and systems eventually break down, no matter where you live. Having a home warranty means you don't have to worry that you won't have heat in the winter or air conditioning in the summer. With two plans to choose from and even more coverages you can add on, you can tailor a plan that's right for you and your household's needs.
What Does a Oklahoma Home Warranty Cover?
| | | |
| --- | --- | --- |
| Covered Items* | Total Plan | Basic Plan |
| Air Conditioning System | | |
| Heating System | | |
| Electrical System | | |
| Plumbing System | | |
| Plumbing Stoppage | | |
| Water Heater | | |
| Whirlpool Bathtub | | |
| Refrigerator | | |
| Oven / Range / Stove | | |
| Cooktop | | |
| Dishwasher | | |
| Built-In Microwave | | |
| Garbage Disposal | | |
| Clothes Washer | | |
| Clothes Dryer | | |
| Ductwork | | |
| Garage Door Opener | | |
| Ceiling and Exhaust Fans | | |
Optional Coverage
| | | |
| --- | --- | --- |
| Pool / Spa | Well Pump | Sump Pump |
| Central Vacuum | Limited Roof Leak | Septic System |
| Second Refrigerator | Stand Alone Freezer | Septic Tank Pumping |
*
Click Here
to view complete limits of liability and any exclusions. CHW offers service contracts which are not warranties. ** See policy for specifics on response times. ***CHW reserves the right to offer cash back in lieu of repair or replacement in the amount of CHW's actual cost (which at times may be less than retail) to repair or replace any covered system, component or appliance.
How to Use an Oklahoma Home Warranty
If you have an Oklahoma home warranty, dealing with appliance repairs is always quick and simple. As soon as you notice something is amiss, give your home warranty provider a call. They'll connect you with a reliable service provider in your part of Oklahoma who can service your system. These providers are highly rated professionals who are licensed, fully insured, and have gone through Choice Home Warranty's rigorous selection process before they are ever sent to your home. This ensures the highest level of satisfaction with your service experience.
You are typically responsible for a moderate one-time service fee. After this, all repair costs for that item are covered. If your system can't be repaired, your warranty also includes a complete replacement. Simply keeping a moderate repair fund on hand should be enough to handle any issues that may occur. You won't have to worry that a huge, unexpected repair bill will wipe out your savings or your emergency fund.
If you're interested in getting comprehensive home coverage with a home warranty plan, contact Choice Home Warranty to explore your options. You can build a customized plan that includes virtually all the important systems and appliances in your home, so you'll never have to worry about the major expense of a serious repair or replacement again.