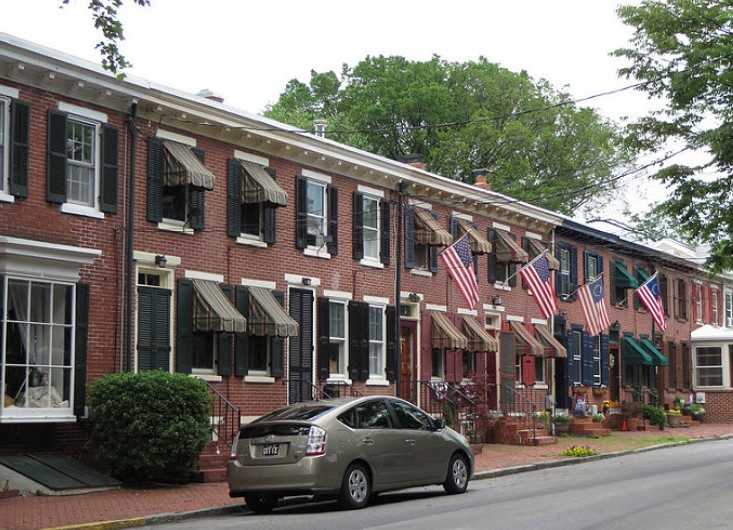 Often called the "fist state" in the Union, Delaware was, in fact, the first of the original 13 states to ratify the United States' Constitution in 1787. At Choice Home Warranty, our commitment to provide great service allows for a great appreciation of the state of Delaware's history. It's not surprising that this state's motto is "liberty and independence." This is especially true, knowing that Delaware was a significant stop along the Underground Railroad. Not only that, but prior to the Civil War, Delaware had the highest percentage, 17 percent, of free blacks in the nation. This rich history makes Delaware a highly sought-after destination for potential residents and tourists alike. The long history also means that much of the real estate in Delaware is quite old and so are the contents of the homes. When appliances and home systems are older in age, it makes sense to have a home warranty in place to protect your Delaware home and its inner-workings.
An east coast gem, Delaware sits on the eastern seaboard of the United States. Delaware is the nation's second smallest state in terms of geographical area. Most of Delaware is comprised of flat, coastal plain. But, there is an area about 10 miles wide in the most northern part of Delaware that is hilly. Between the hills and the coastal plain, rapids and waterfalls are common, and were used by the settlers to power their mills. In the southernmost part of Delaware lies about 30,000 acres of swamps, making much of the state uninhabitable by humans.
Delaware's mean elevation is just 60 feet above sea level, the lowest in the United States. Its highest point is in the north, near its border with Pennsylvania, around Ebright road, at approximately 450 feet above sea level. Its lowest point is, of course, along the popular Atlantic shoreline, at sea level.
The 45th most populous state in the nation, Delaware is approaching a million residents, at 971,180, according to 2018 estimates. Given this population with its diminutive size, it should come as no surprise that it is our 6th most densely populated state, with an average of 460.8 people per square mile.
However, Delaware has no cities with populations over 100,000. The largest city is Wilmington which has 71,146 residents. The capital, Dover, comes in second with only 38,414 people living there. Newark is third, with 33,138 residents. Interestingly, Dover has the largest area, covering over 23 square miles.
In fact, Delaware has other delightful highlights. The entire town of Odessa has been zoned as historic, containing some of the most amazing architecture from the late 1800's and early 1900's to be found in the mid-Atlantic area. The bridge which connects Delaware to New Jersey, the Delaware Memorial Bridge, is one of the longest twin span suspension bridges in the world. And along the coast, more horseshoe crabs can be found than anywhere else in the world, the creatures having remained essentially unchanged for 300 million years. Native Americans ate these crabs and used them as fertilizer, as did the settlers and others until the 1960's. Now, these interesting creatures aide in biomedical research, in the study of the human eye, and in detecting bacteria in drugs.
Delaware is The United States' leading producer of chemicals. Also, due to its corporate laws, it hosts the most corporate headquarters in the country. Many businesses are registered in Delaware, even if they operate in other states.
The climate in Delaware can be described as continental, despite the oceanic influences. This means cold winters and hot summers, with plenty of precipitation throughout the year. However, precipitation can vary quite a bit from year to year. The average July high is in the mid-80s and the average January low is in the 20s. But the temperatures are generally moderated near the coast, being about 10 degrees cooler in the summer and 10 degrees warmer in the winter. The highest temperature ever recorded in Delaware was 110°F in 1930 and the lowest was -17°F in 1893.
Approximately 45 inches of rain falls on Delaware throughout the year, on average. The national average is 39 inches. However, this state is frequently affected by severe weather in the winter and spring when phenomena like nor-easters can dump heavy snow and create coastal flooding. Also, in the fall, it can be affected by tropical systems, experiencing high winds, heavy rainfall and coastal flooding. Spring and summer bring severe thunderstorms as well. In fact, according to NOAA, the most common natural hazard in Delaware is thunderstorms and lightning, which will occur, on average, once every 11.5 days between the months of March and October. Flooding comes in second, occurring once every 23.2 days, on average. Flooding is definitely something to consider before relocating to Delaware, especially if you are thinking of buying property near the coast.
Whether you live in the north of Delaware, close to the large urban centers of Pennsylvania and New Jersey, further south toward Dover, or near the coast, a Delaware home warranty can help protect your home against damages to critical home systems and appliances should the unexpected occur. A home warranty is not the same as homeowner's insurance. A Delaware home warranty provides extended protection, in that it provides covered repairs and replacements beyond and in addition to what a homeowner's policy will provide. In fact, a Delaware home warranty from Choice Home Warranty will even cover you for damages caused by normal wear and tear.
Protect Your Delaware Home and Appliances
The median home value in Delaware is $232,400. This is a 5.3 percent increase from June of 2017, and, home values are expected to continue to increase by 5.5 percent through June of 2019. Nearly 71 percent of Delaware residents own their homes. A home warranty can protect your Delaware home and its critical systems and appliances from unexpected problems and breakdowns.
If you are currently selling your home, wouldn't you like to know that your home's systems and appliances are covered if something should go wrong while you have your home on the market? Home warranty companies in the Delaware area will cover your home while it is up for sale. Think of the peace of mind this would give you to know you won't be hit with a big bill for a repair or replacement of a critical system or appliance while you work to sell your home. And, not only that, 80 percent of homebuyers prefer to buy a home with a home warranty already in effect, thus increasing the marketability of your home. A home warranty on a home for sale will help you avoid missing sales due to appliance breakdowns and will make your home more desirable to potential buyers.
Are you looking to buy a home in Delaware? Do you worry about making such a huge investment and then having something unexpected happen with the systems or appliances? Buying a home with a home warranty already in place can alleviate this worry. You will know that if the unexpected should happen once you take possession, you won't have to expend hundreds or even thousands of dollars on a repair or replacement of a critical system or appliance since you had the foresight to buy a home with a home warranty in place. It is always a good idea to inquire about the home warranty status of any home you are considering.
Over 40 percent of Delaware households use natural gas as their primary fuel for home heating. About 34 percent use electricity to heat their homes. Interestingly, nearly 90 percent of the state's electricity is generated from natural gas. Approximately 1 percent residents use wood for home heating, less than 0.1 percent use solar energy, and a few homes use renewable resources. Despite its small size, Delaware has a higher energy use per capita than nearly half of the nation.
The median age of homes in Delaware is 30 to 39 years, with the national average falling within this range, at 37 years. Still, it isn't difficult to see where homes in this age range will have required repairs or replacements of their systems and appliances, maybe more than once. The average lifespan of a household appliance is 9 to 15 years. In Delaware, where there is plenty of rainfall, severe thunderstorms, nor-easters, and where the effects of tropical systems can even be felt, doesn't it make sense to want to protect your Delaware home and appliances so they are dependable when you need them most?
Delaware gets its share of snow, especially during a nor-easter; and, temperatures do fall into the 20s in the winter. One of the most important appliances you count on every day is your water heater. If it were to fail, you wouldn't be able to bathe, or do dishes, or wash clothes. And a new water heater, especially a gas water heater, could cost well over $1,000. A Basic Plan from Choice Home Warranty will cover your water heater for any needed repairs, or even a replacement. You won't have to worry about going without hot water in the dead of winter with this home warranty company.
And, the Basic Plan also covers your heating system and ductwork, so you can stay nice and warm as the winds blow and the snow falls. It's good to know you can count on a Delaware warranty. Just make a service call when you first notice a problem, so you can get repairs and avoid a major breakdown.
Summers aren't too bad in Delaware, but you still wouldn't want your air conditioner to go out on you. Upgrade to a Total Plan, and your air conditioner will also be covered under your home warranty service. Best of all, with a Total Plan, you get all the benefits and protections of the Basic Plan too.
In Delaware, it's important to keep your home systems and appliances in good working order. With a home warranty plan from Choice Home Warranty, you can do just that. You can protect your critical systems and appliances from complete breakdowns by getting service at the first sign of trouble.
Why is a Home Warranty Necessary in Delaware?
Extreme cold, heat, severe thunderstorms and heavy rainfall, not to mention nor-easters, can take a toll on your home's systems and appliances. A Delaware home warranty can help protect you when covered items break down, even if they fail due to normal wear and tear.
With severe thunderstorms being common in Delaware, tropical systems dumping rain, and Delaware's healthy average rainfall throughout the year, that's a lot of water. Choice Home Warranty offers limited roof leak protection in the Delaware area as an add-on to your Delaware home warranty plan. And for those of you living in more rural areas of the state, add-on protection for well pumps, sump pumps, septic systems and even septic pumping is available.
What if you're in a hurry for lunch and want to warm up some of last night's cream chipped beef, but your built-in microwave goes on the fritz? Lunch may be ruined, but the Basic Plan will cover your built-in microwave for repair or replacement, as well as your oven, range, cooktop, dishwasher and disposal. Upgrade to a total plan, and your refrigerator is also covered.
Do you own a second refrigerator or stand-alone freezer? You can add these on to your Delaware home warranty too. Then, if you experience any issues with them, you can get a repair or replacement, as necessary.
What Does an Delaware Warranty Cover?
| | | |
| --- | --- | --- |
| Covered Items* | Total Plan | Basic Plan |
| Air Conditioning System | | |
| Heating System | | |
| Electrical System | | |
| Plumbing System | | |
| Plumbing Stoppage | | |
| Water Heater | | |
| Whirlpool Bathtub | | |
| Refrigerator | | |
| Oven / Range / Stove | | |
| Cooktop | | |
| Dishwasher | | |
| Built-In Microwave | | |
| Garbage Disposal | | |
| Clothes Washer | | |
| Clothes Dryer | | |
| Ductwork | | |
| Garage Door Opener | | |
| Ceiling and Exhaust Fans | | |
Optional Coverage
| | | |
| --- | --- | --- |
| Pool / Spa | Well Pump | Sump Pump |
| Central Vacuum | Limited Roof Leak | Septic System |
| Second Refrigerator | Stand Alone Freezer | Septic Tank Pumping |
*
Click Here
to view complete limits of liability and any exclusions. CHW offers service contracts which are not warranties. ** See policy for specifics on response times. ***CHW reserves the right to offer cash back in lieu of repair or replacement in the amount of CHW's actual cost (which at times may be less than retail) to repair or replace any covered system, component or appliance.
How does a Delaware Home Warranty Work?
At the first sign of trouble, give customer service a call, 24 hours a day, and you will be put in touch with a service professional who can accomplish the necessary repairs. All service providers are fully insured, licensed, highly rated, and thoroughly vetted before ever being sent to your home to ensure your satisfaction with your service experience.
The first time the service contractor comes out, you will be expected to pay a small service fee. But, after that, all work on your covered item will be taken care of by your home warranty plan. With a Delaware home warranty, you won't have to worry that a single repair or replacement will wipe out your entire savings or emergency fund. All you need to do is keep a modest repair fund on hand for service fees.
If your service technician should find that your covered item can't be repaired, it will be replaced under your plan. In Delaware, where homes are aging, and systems and appliances are wearing out, this is quite valuable.
With two plans to choose from, plus add-on protections, you can easily tailor a plan to fit your lifestyle and individual needs. Choice Home Warranty is an excellent option if you're looking for a comprehensive home warranty plan in Delaware. Get your free quote today!