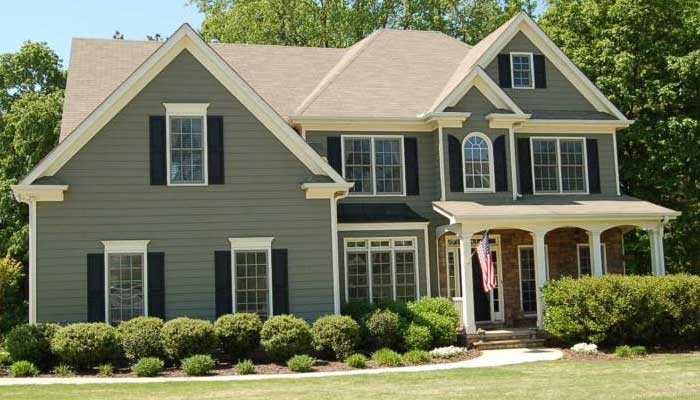 Home warranties generally refer to insurance or cover provided to not only newly built homes but also old renovated buildings. It applies to systems and appliances stocked in the house, but are outside manufacturer's warranty.
Many people often confuse home warranties with homeowners' insurance cover. Understanding the difference between these two terms is vital. Typically, both are home covers for property, systems and appliances that complement each other.
Just to mention, Choice Home Warranty is designed to protect home appliances and systems from anticipated breakdown or failure caused by normal wear and tear. On the other hand, homeowners insurance covers liabilities such as fires and weather damage. It doesn't help if your washing machine or dishwasher breaks down.
Protect Your Georgia Home and Appliances
Georgia's diverse seasons mean that its residents see a little of everything. Winters are relatively mild with only a moderate dusting of snow at lower elevations. As a result, residents may elect to keep their washer, dryer, and a second fridge in the garage or another space that is not air-conditioned.
Though this frees up space in the house, it can also expose these appliances to summer heat and humidity that put extra strain on them. A home warranty will help protect you from the additional repairs and more frequent replacements that you may need as a result.
Georgia's climate necessitates both heating and cooling systems. Georgia residents use slightly less space heating than the national average. Here, heat accounts for just 30 percent of annual energy use, compared to 41 percent nationally.
In Georgia homes, air conditioning accounts for about 11 percent of energy use, compared to 6 percent nationally. The right home warranty plan can cover both your heating and cooling systems, to keep your Georgia home comfortable year-round.
Though many Georgia residents enjoy easy access to the coast and beautiful beaches like Tybee Island and St. Simons, swimming pools are a popular home feature here as well. If you are landlocked in Atlanta, a backyard pool will offer a convenient choice for a quick dip.
Even Savannah residents who are close to the water can appreciate the privacy and convenience that a home pool will offer. Pool and spa coverage is an optional add-on that you can incorporate into your home warranty to make sure your pool is always ready for a dip.
Why is a Home Warranty Necessary in Georgia?
Georgia's warm southern culture lends to plenty of social gatherings and at-home get-togethers. With a rich cultural cuisine focused on delights like juicy peaches, warm cornbread, and fresh local seafood, it is no surprise that the backyard barbecue is so popular here. Whether you're hosting a football Sunday party for the Georgia Bulldogs or you're hosting a beautiful picnic in Atlanta's blossoming dogwood season, you'll want your home to stand up to the scrutiny of your guests.
A home warranty will give you essential coverage for your basic home appliances. A Basic Plan takes care of any repairs or replacements necessary for your oven, range, cooktop, stove, dishwasher, plumbing, electrical systems, heating, ductwork, ceiling fans, and more. If you want additional coverage, a Total Plan will take care of your refrigerator, air conditioning system, clothes washer, and clothes dryer. This is an optimum choice for Georgia residents.
From here, you can incorporate additional add-ons. You might want coverage for your backyard pool and spa. If you are in a mountainous area like Clayton or Tallulah Falls, you'll see harsher weather including more snow and ice. Here, you may want to protect your home more from the ravages of the elements. Optional add-ons are available for roof leaks, well pumps, and sump pumps.
Even More Reason to Get a Home Warranty in Georgia
Wherever you live, you can make sure that your home is always equipped to offer that southern hospitality. A Georgia home warranty will help connect you with qualified repair professionals and book a fast repair or replacement when something goes wrong.
Like other warranties, home warranties protect against expensive and unforeseen repair bills. This provides peace of mind for systems and appliances. This can act as a buffer to those who don't have emergency funds or want to protect their emergency funds. They also come in handy for individuals who don't want to worry about tracking down a contractor if a problem arises in their properties as well as expensive items.
Home warranty also comes up during the purchase or sale of a home. Having a home warranty provides reassurance to any prospective homebuyer who has limited information about the home's components and how they have been maintained.
It is also very helpful for individuals who have depleted their savings to buy a home and want to avoid additional or rather hidden major expenses. However, providing a home warranty doesn't exempt the home seller from the legal requirement to disclose any home defects or known problems in the home.
Does Home Warranty Have Drawbacks?
Home warranties often give you the peace of mind of not having to worry about costly home repairs. However, at times, you may not need them. For example, if your home is new (less than 5 years old) you may just have no claims to submit.
Moving on, those who purchase homes may inherit improperly maintained systems and appliances. Make sure you take care of your appliances. For instance, an 8-year-old furnace that wasn't properly maintained by its previous owners. That doesn't necessarily mean your home warranty won't cover it, but it's a possibility. Consult with Choice Home Warranty to get a proper assessment.
Basically, home warranties don't cover pre-existing conditions or what's already broken. If your systems are maintained poorly or you have broken fixtures, it won't be covered by your home warranty company.
A home warranty much less expensive than the cost of replacing or repairing your home's important components. Most individuals are looking at a one-year policy, so there's not much to lose.
However, there might be an entire year where nothing wears out or breaks down at home. During such period, the homeowner gets nothing except for the peace of mind in exchange for his premiums.
For pessimists, such money could be put into emergency funds for making similar repairs and replacements that the home warranty could cover. Besides, if the claims of the homeowner are denied, he/she will feel like the premiums paid have been a waste.
Having a warranty cover is beneficial in that it eliminates the need for finding a contractor when something breaks down. While it may eliminate the freedom of choosing your preferred contractor, Choice Home Warranty has true professionals you'll be happy with.
What Does A Georgia Home Warranty Cover?
As mentioned before, a home warranty covers your home's crucial system and appliances. However, you ought to ensure that you get into a valid contract with a reputable company.
Ensure that you are clear on the following:
What is covered by the home warranty company and what is not?
Any cap limits on the coverage provided
Deductibles and trade call fees present
That said, a home warranty covers on systems, appliances, plumbing and additional options.
| | | |
| --- | --- | --- |
| Covered Items* | Total Plan | Basic Plan |
| Air Conditioning System | | |
| Heating System | | |
| Electrical System | | |
| Plumbing System | | |
| Plumbing Stoppage | | |
| Water Heater | | |
| Whirlpool Bathtub | | |
| Refrigerator | | |
| Oven / Range / Stove | | |
| Cooktop | | |
| Dishwasher | | |
| Built-In Microwave | | |
| Garbage Disposal | | |
| Clothes Washer | | |
| Clothes Dryer | | |
| Ductwork | | |
| Garage Door Opener | | |
| Ceiling and Exhaust Fans | | |
Optional Coverage
| | | |
| --- | --- | --- |
| Pool / Spa | Well Pump | Sump Pump |
| Central Vacuum | Limited Roof Leak | Septic System |
| Second Refrigerator | Stand Alone Freezer | Septic Tank Pumping |
*
Click Here
to view complete limits of liability and any exclusions. CHW offers service contracts which are not warranties. ** See policy for specifics on response times. ***CHW reserves the right to offer cash back in lieu of repair or replacement in the amount of CHW's actual cost (which at times may be less than retail) to repair or replace any covered system, component or appliance.
How Does A Georgia Home Warranty Work?
Your Georgia home warranty will give you comprehensive coverage for the appliances and instances that are specified in your policy. In most cases, you'll pay a small service fee for your repair professional's initial visit and diagnosis. If the problem is covered under your warranty, you'll then receive a prompt repair or – if necessary – a full replacement.
Unlike homeowners insurance, which only covers you in the event of a disaster, home warranties take care of you in many other situations. Regular wear and tear are certain to happen with home appliances.
Your home warranty takes this into account and helps you pay for those unavoidable repairs that occur as the result of everyday use. From peach canning to fresh fish fries, your kitchen is always busy. A home warranty will make sure that you always get the repairs you need to keep it that way.
If your covered appliances or systems fail, just need to contact your home warranty provider. You don't have to find a licensed technician on your own. You will be promptly connected with a pre-vetted company in your local area. Whether you're in a major urban area like Sandy Springs or a small town like Conyers, you'll get the contact info you need to take care of your home quickly.
After paying your initial fee, covered repairs and replacements are handled free of charge. The investment that you make in your home warranty can more than pay for itself if you're in a sticky situation.
You can't afford to have your freezer stop working just as you're putting away your spoils from the Cedar Creek deer hunting season. As the holidays approach, you need your oven in good repair to host the friends and family flocking to your home in Peachtree City.
Investing in a Georgia Choice home warranty plan now will give you protection and peace of mind so you can enjoy all the highlights of the year here without a worry in the world.
Whether you're laundering the kids' soccer uniforms as spring's grass stains set in, or you're getting your kids equipped for back to school season at the end of the warm summer, your home will be ready for it all with a well-rounded coverage plan.
Common Questions
I have a homeowners insurance. Do I need a home warranty?
Yes. As mentioned, homeowners insurance is more of hazard insurance that covers items damaged by fire, wind, floods and natural disasters. On the contrary, home warranty protects household appliances and mechanical systems that may fail due to normal wear and tear.
My systems and appliances are aged. Are these covered?
Yes. The age of the home system or appliance doesn't matter. The choice home warranty provides cover provided the items are in a good working condition and properly maintained.
What could be some of the reasons why claims are denied?
Claims can be denied by the company if there is no full disclosure of the pre-existing conditions, abuse, misuse or failure to clean or maintain the covered appliances and systems.
Is it necessary to have a home inspection before ordering home warranty?
This isn't a must. However, it is prudent to have your home inspected to ensure that all items are in a good working condition.
When does coverage begin and when does it end?
Coverage automatically begins 30 days after enrolment and receipt of the contract fees by the company. It continues for 365 days after the start date.
If an appliance needs to be replaced and the replacement unit isn't available, what happens?
If the covered item isn't available, Choice home warranty offers a cash payment for the amount similar to the replacement cost. This might at times be less than the retail price.
What is a trade call fee?
This is a small amount, paid to the service provider to provide diagnostic problems in your home. The amount of this fee is usually clearly stated in every contract.
Is every home appliance covered?
Not all systems and appliances are covered. Choice Home Warranty clearly spells out what is included in the cover and what is excluded. There are also limitations and exclusions.
How do clients request service?
Homeowners are encouraged to file a claim within 24 hours. Claims can be submitted through the online account center or phoned to the company's representatives.
I am selling my home. Should I purchase a home warranty?
Yes. It is wise to do so. A home warranty helps in minimizing post-sale conflicts when selling a home. The choice home warranty has your back if the unexpected happens.
Final Thoughts
Home warranties aren't the perfect solution to the endless risks homeowners face. Therefore, before purchasing one, it is prudent for homeowners to read the fine print of what the prospective home warranty company offers.
You should be keen to consider the warranty is likely to pay off. As a home seller, if you are recommending a home warranty company to potential buyers, make sure you are recommending a reputable provider.
Recommend a solid company like CHW, one who will actually take care of repairs when needed!