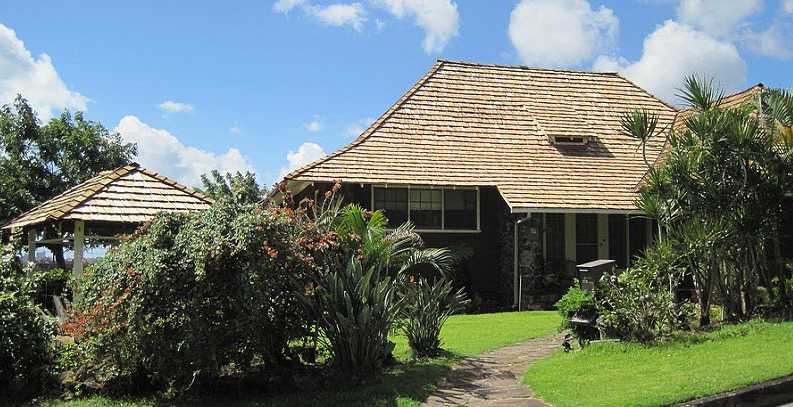 The Aloha State is unique in so many ways. While several of our states include islands, Hawaii is the only state to consist entirely of them. It is also the longest island chain in the world, made up of 132 islands which reach 1,523 miles across the Pacific Ocean. This state is the only one that has a tropical rainforest. It doesn't come as a surprise, then, that Hawaii has the greatest number of endangered species in the nation. Not surprisingly, life expectancy for people in Hawaii is the highest in the United States. Choice Home Warranty wants to ensure your home enjoys that same reliability and longevity.
Now our 50th state, Hawaii was once an independent country, with a series of monarchs. The U.S. was instrumental in overthrowing Queen Liliuokalani in 1893. The United States annexed Hawaii in 1898 and made it a territory in 1900. But, it wasn't until 1959 that Hawaii became a state.
Hawaii sits approximately 1,500 miles north of the equator, and approximately 2,400 miles southwest of the Lower 48. In fact, it sits over 2,000 miles from the closest continental land mass. It is situated southeast of Japan and northeast of Australia. Hawaii even has its own time zone, Hawaiian Standard Time, which is 2 hours behind Pacific Standard Time. Daylight Savings Time is not observed here. Hawaii is our southernmost state.
The islands are the tops of undersea volcanic mountains, which are part of the largest mountain range in the world. In fact, on the largest of its eight main islands, Hawaii, also known as The Big Island, stands Mauna Loa, the largest volcano on Earth. Mauna Loa is still an active volcano, as is Kilauea, also on Hawaii. In fact, Kilauea's eruptions have added roughly 42 acres of land to Hawaii each year, making the state of Hawaii the only one to be increasing in size. And, Loihi Seamount, a new island, is forming off Hawaii's southwestern coast.
The rest of the seven main islands are Kahoolawe, Maui, Lanai, Molokai, Oahu, Kauai, and Niihau, with the remaining 124 islands being uninhabitable. Honolulu, on Oahu, is the only incorporated city, and is also one of Hawaii's four counties, containing approximately 351,280 residents. Beyond that, Hawaii has what is called CDPs, or Census Designated Places, all through the islands. The smallest CDP is Manel, with only 29 residents.
Although the island of Hawaii is the largest in area, Oahu is the most populated. It is home to about 67 percent of Hawaii's total population. This is amazing when you consider that the island is only about 44 miles long and approximately 25 miles wide. The famous landmark, Diamond Head, a 760-foot extinct volcano crater, sits on the southeastern end of the island.
Even the weather and climate of Hawaii are unique. For the majority of Hawaii, there are only two seasons, designated as "summer" and "winter," although there is not that great a difference in temperature. Summer highs average in the mid to upper 80s, but near constant trade winds blowing from the northeast at 10 to 20, and even 30 mph, keep things cool. Winter highs average in the upper 70s, while lows average about 65. Occasionally, the trade winds will shift and come the north and/or west, bringing hot, humid weather or storms. The beautiful, yet potentially dangerous weather in Hawaii creates different challenges for homeowners. While there is always a chance of losing power due to factors external of your home such as downed power lines, you don't want to add to that chance by leaving your home systems at risk of breakdown. A home warranty on your Hawaii home will cover repairs of your home systems and appliances so they can remain in tip top shape and not cause any unwanted issues.
Winter is the rainy season. Most rain is released by winds coming off the ocean as they rise against the mountains, so the leeward sides of the mountains stay dry. Mount Waialeale on Kawai gets over 450 inches of rain a year, making it the wettest place on Earth. However, there is a desert close by that gets only about 10 inches of rain a year. Another unique thing about Hawaii is that it contains four of the Earth's five major climatic zones: Arid and Semi-arid; tropical rainy; warm temperate rainy; and polar. Yes, Hawaii gets snow, ice and even blizzards on its highest peaks.
No matter which island you call home, a Hawaii home warranty can help protect your home against damages to critical home systems and appliances if the unexpected should occur. A Hawaii home warranty is not the same as homeowner's insurance. A home warranty provides protections beyond and in addition to that which a homeowner's policy does. In fact, a Hawaii home warranty from Choice Home Warranty will even cover you for damages caused by normal wear and tear. Because Hawaii is such a popular destination for tourists, many homeowners opt to rent out their homes via Airbnb or Home Away or other services. When using such a service to monetize your home, you risk tenants overusing your appliances, causing more average wear and tear than in other parts of the country. Afterall, no one will treat your belongings with the same care you do. If you engage in such services, a home warranty is a must-have.
Protect your Hawaii Home and Appliances
The median home value in Hawaii is $615,500, up 7.3 percent from July of 2017. However, home values are expected to rise only 0.2 percent through July of 2019. About 58 percent of Hawaiians own their homes. A home warranty can protect your Hawaii home and its critical systems and appliances from unexpected problems and breakdowns.
If you are selling your home in Hawaii, wouldn't it be great to know that your home's systems and appliances were covered if something went wrong while it was on the market? Home warranty companies in Hawaii will provide coverage to protect your home while you work to sell it. This would certainly give you peace of mind knowing that you wouldn't have to pay a big repair bill if something should break down. After all, isn't selling you home stressful enough? Additionally, 8 out of 10 home buyers prefer to buy a home that is already covered by a home warranty, effectively increasing the marketability of your Hawaii home.
If you are in the market for a home in Hawaii, wouldn't you rather purchase one that is protected by a home warranty? That way, if something unexpected happens after you take possession, you won't have to expend hundreds or even thousands of dollars for a repair or replacement of a critical system or appliance. Buying a home in Hawaii is a huge investment. You'll want to conserve your funds for more important things, like enjoying the Paradise State.
A little over one third of people in Hawaii heat their homes. In fact, around two thirds don't even have heating systems in their homes. Of those that do, 3 out of 10 use electricity to heat them. Very few use natural gas. In fact, Hawaii consumes the least amount of natural gas in the country. It also has the lowest total residential energy consumption. By the end of 2016, nearly 200,000 homes, over 14 percent, were powered by solar energy. Now, state building codes require that all newly constructed single-family homes must have solar hot water heaters.
However, Hawaii has the highest electricity rates in the nation. This is due to its heavy dependence on petroleum for energy production, as well as the fact that the six main islands each have their own electricity grids, completely isolated from each other. Hawaii is the first state in the nation to mandate that 100 percent of its electricity generation will come from renewable sources, like solar and geothermal energy. The target deadline is 2045.
The median age of homes in Hawaii is 35 to 39 years. The national average is 37. With homes of this age, it isn't difficult to imagine that systems and appliances will have needed to be repaired or replaced, perhaps more than once. The average working life of a household appliance is 9 to 15 years. In Hawaii, where it is warm, humid, constantly subjected to the salt air from the trade winds, and can be very wet, doesn't it make sense to want to protect your Hawaii home and appliances? These conditions can age your home and its components prematurely.
While it doesn't get terribly cold in Hawaii, at least near the coast where most people live, your water heater is still a very important appliance. If it should break down, your dirty clothes and dishes would pile up, not to mention that you wouldn't be able to take a comfortable shower. A new water heater, especially a solar water heater which is now the standard in Hawaii, could cost thousands of dollars to replace. A Basic Plan from Choice Home Warranty will cover your water heater for any needed repairs, or even for a replacement.
Summers are warm and sometimes sticky in Hawaii, especially when the hot Kona winds blow from the south. Upgrade to a Total Plan and your air conditioning system will be covered by your home warranty service. It's good to know you can count on your Hawaii warranty if things go wrong. Just make a service call at the first sign of trouble so you can get the repairs you need to avoid bigger problems down the line. Many people don't react to the first sign of appliance trouble because they don't want to spend the money on repair, which sets them up for bigger, more expensive problems in the future. With a home warranty, you don't have to worry about high costs of repairs so you can take care of issues before they get worse.
It is important to keep your home systems and appliances in good working order. With home warranty plans from Choice Home Warranty, you can do just that. This home warranty service for systems and appliances protects you when the unexpected happens. In the state of Hawaii, this can be all important.
Why is a Home Warranty Necessary in Hawaii?
High salinity near the ocean, heavy rainfall in some places, and heat and humidity can all take their toll on your home's systems and appliances. The constant 20 mph winds may also affect outside components as well. A Hawaii home warranty can help protect you when covered items break down, even if they fail due to normal wear and tear.
Considering the amount of rain that falls on many parts of Hawaii, especially in the wintertime, you may be interested in Choice Home Warranty's limited roof leak protection, which is offered as an add-on to its home warranty plans. In fact, there are several add-on protections to choose from that will allow you to tailor a plan to meet your specific needs and lifestyle.
For instance, do you own a second refrigerator or stand-alone freezer? These can easily be added on to your Hawaii warranty plan. Then, if they should have problems, you can get repairs or even a replacement, if necessary.
Suppose you're making pineapple cobbler and your oven quits on you. The Basic Plan will cover your oven, range, cooktop, built-in microwave, dishwasher, and disposal. Upgrade to a Total Plan and your refrigerator is also covered. Best of all, with the Total Plan, you get all the protections of the Basic Plan as well.
What Does a Hawaii Warranty Cover?
| | | |
| --- | --- | --- |
| Covered Items* | Total Plan | Basic Plan |
| Air Conditioning System | | |
| Heating System | | |
| Electrical System | | |
| Plumbing System | | |
| Plumbing Stoppage | | |
| Water Heater | | |
| Whirlpool Bathtub | | |
| Refrigerator | | |
| Oven / Range / Stove | | |
| Cooktop | | |
| Dishwasher | | |
| Built-In Microwave | | |
| Garbage Disposal | | |
| Clothes Washer | | |
| Clothes Dryer | | |
| Ductwork | | |
| Garage Door Opener | | |
| Ceiling and Exhaust Fans | | |
Optional Coverage
| | | |
| --- | --- | --- |
| Pool / Spa | Well Pump | Sump Pump |
| Central Vacuum | Limited Roof Leak | Septic System |
| Second Refrigerator | Stand Alone Freezer | Septic Tank Pumping |
*
Click Here
to view complete limits of liability and any exclusions. CHW offers service contracts which are not warranties. ** See policy for specifics on response times. ***CHW reserves the right to offer cash back in lieu of repair or replacement in the amount of CHW's actual cost (which at times may be less than retail) to repair or replace any covered system, component or appliance.
How does a Hawaii Home Warranty Work?
As soon as you notice a problem, call customer service and they will get you in touch with a service professional who can accomplish the necessary repairs. All service providers are highly rated, fully licensed and insured, and carefully checked out before ever being sent to your home. This ensures your highest satisfaction with your repair services.
On the first visit by the service contractor, you will pay a small service fee. After that, all work on your covered item will be handled by your home warranty company. With a Hawaii home warranty, you won't have to be worried that a single repair or replacement will clean out your emergency fund or savings accounts. You will only need to keep a modest repair fund for service fees.
If your service technician discovers that your covered item cannot be repaired, it will be replaced under your warranty plan. In Hawaii, where homes are in their fourth decade and their systems and appliances are reaching the end of their useful lives, this is very valuable.
If you are looking for a comprehensive home warranty plan in Hawaii, Choice Home Warranty is an excellent option. With two plans to choose from, plus add-on coverages, you can create a plan that's just right for you.