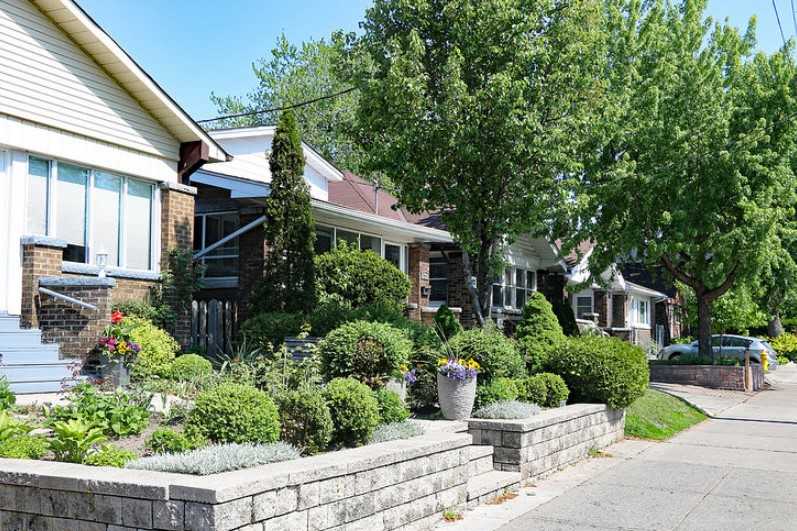 Iowa is a rich land, shaped by glaciers which left behind some of the most fertile topsoil in the world. Most of the land is rolling plains, but there are bluffs, several hundred feet high at the Missouri River and forested areas as well. Over 90 percent of Iowa is used for farming. But there are areas in the northeast running parallel to the Mississippi River, where the soil is not good for farming. This area has lovely forested hills, that Iowans call the "Switzerland of America," which are perfect for outdoor activities. Choice Home Warranty is proud to contribute to the great wealth of this land by offering reliable home warranty coverage to Iowa homeowners.
This state is becoming more urban every year. From 2000 to 2008, the population of Iowa's more urban counties increased 8.5 percent, while the population of the rural counties decreased by 4.2 percent. Over 60 percent of Iowa's population lives in its cities. No matter where you live in Iowa, you know that weather, climate, and even normal wear and tear can take their toll on your home's systems and appliances. Choice home Warranty offers peace of mind with its team of licensed service technicians, ready to serve you.
Iowa is our 26th largest state, covering over 56,270 square miles. But, it is only the 30th most populous, with 3.16 million residents as of 2018 estimates. That's only about 54.5 people, on average, for every square mile. Des Moines, the capital, is relatively bursting at the seams with 216,788 living there. There, along with Cedar Rapids and Davenport are the only cities with more than 100,000 residents.
The state of Iowa got its name from the Iowa River, which was named for the Iowa Indians who once lived here. How it came by its nickname, the Hawkeye State, is a little more convoluted. It seems the nickname stems from two sources: the character Hawk-eye in the book, The Last of the Mohicans, and a newspaper named the Hawk-eye.
Iowa was originally obtained as part of the Louisiana Purchase in 1803. The United States bought this land from France for $15 million and practically doubled the size of our nation. In 1846, this state was admitted as the 29th in the U.S.
Since its acquisition, Iowa has become one of the most important agricultural states in the nation. In fact, in terms of the value of annual farm output, only California and Texas can beat it. Iowa is the number one corn producing state in the country. This state also produces the most hogs of any other state. In fact, Iowa provides about 25 percent of the nation's hogs. You might be surprised to learn that there are more hogs in Iowa than there are people! There is a good chance that a portion of what you've eaten today, came from Iowa.
While Choice Home Warranty is protecting Iowa homeowners from unexpected costs, they're busy making sure we're well fed.
Iowa is also the only state to have its east and west boundaries consist entirely of water. The Missouri River and its tributary, the Big Sioux River, create the western boundary between Iowa and the states of Nebraska and South Dakota. The Mississippi River forms the eastern boundary between Iowa and the states of Illinois and Wisconsin.
Across the mostly flat plains and prairies of Iowa, the highest point you will find is Hawkeye Point, at only 1,670. That's just 570 feet above the mean elevation of 1,100 feet. The lowest point in Iowa is at the Mississippi River and is 480 feet above sea level. There are many natural lakes that formed because of the passing of the glacier over the state.
Iowa's climate is humid continental, meaning that it has cold winters, hot humid summers, and wet springs. The average July high in Iowa is around 86°F, but, the relative humidity stays at about 72 percent! The highest temperature ever recorded in Iowa was 118°F at Keokuk in 1934. Average lows in January are around 10 to 12°F. The coldest temperature ever recorded was -47 at Washta in 1912, and then again in Elkader in 1996. The average snowfall in Iowa is approximately 30 inches. Average rainfall for the state is around 35 inches.
Despite this bitter winter cold and muggy summer heat, Iowa does enjoy four distinct seasons. Unfortunately, this state frequently experiences severe weather in the spring, especially thunderstorms and, unfortunately, tornadoes. In fact, the most common natural hazard in Iowa, according to data from NOAA, is thunderstorms and lightening, which occur, on average, once every 3.4 days between March and October each year. The second most common natural hazard is flood, which occurs, on average, every 7.7 days. Severe flooding can be caused by heavy rainstorms and rapid snow melt.
Iowa is famous for many things: its people, its politics, its agriculture and more. One of the most well-known is the famous Iowa caucuses. Since 1972, this state has started the presidential primary process rolling by holding the first of the caucuses to determine who each party's candidate will ultimately be.
Whether you've come to Iowa for our famous agricultural prowess, our growing cities, or because Iowa is just a great place to live, an Iowa home warranty can help protect your home against damages to critical home systems and appliances should the unexpected occur. Homeowner's policies are not the same as home warranty plans. With an Iowa home warranty, you get protections beyond and in addition to your insurance policy, a bit like getting an extended warranty. In fact, a home warranty from Choice Home Warranty will even cover you for damages due to normal wear and tear.
Protect Your Iowa Home and Appliances
Protecting your Iowa home's systems and appliances is paramount. Heavy rainfall, heavy snows, extreme cold, high heat and humidity, not to mention frequent thunderstorms and lightening can all wreak havoc on your critical appliances and home systems. With an Iowa home warranty from Choice Home Warranty, you can prevent major breakdowns by requesting service as soon as you notice a problem.
Approximately 71 percent of all Iowans own their homes. The median value of these homes is currently $138,500. This is an increase of 3.3 percent from July of 2017. However, home values in Iowa are expected to decrease by 0.1 percent through August of 2019. A home warranty can protect your Iowa home and its systems and appliances when unexpected problems or breakdowns happen.
The national median age of homes is 37 years. The median age of homes in Iowa is 58 to 75 years! It certainly isn't difficult to imagine that homes of this age will have required that their systems and appliances be repaired or replaced, even a few times. This is especially so when you consider that the average working life of a household appliance is 9 to 15 years. Here in Iowa, where heavy rains, high humidity, cold and thunderstorms and lightening can all be hazardous, doesn't it make sense to want to protect your Iowa home and appliances?
Do you plan on selling your Iowa home? Did you know that an Iowa home warranty company will cover your home's systems and appliances while your home is on the market? Selling a home can be a very stressful time, but knowing you have this protection can give you much needed peace of mind. You will know that should a critical system or appliance breakdown, you won't get hit with a big bill to repair or replace it. In addition, you may be increasing the marketability of your home. Eight out of 10 people looking to buy a house in Iowa would rather buy one with a home warranty already protecting it.
Are you looking for an Iowa home to call your own? Buying a home is a big investment. The last thing you want is to make the deal, only to get stuck with hundreds or even thousands of dollars in unexpected repairs. Wouldn't you prefer to buy a home with an Iowa home warranty already in place? That way, you will know that your new home's systems and appliances are covered for repairs or replacements should the unexpected happen.
As in so many other ways, Iowa is a leader in wind generated electricity. In 2017, 37 percent of its total electricity generation came from wind. No other state can claim more. In fact, almost two fifths of the net electricity generated in Iowa comes from renewable resources. However, coal is still the principal fuel used to generate electricity, although Iowa's dependence on it is lessening.
For home heating in Iowa, about 1 out of 5 homes use electricity, while almost two thirds of homes use natural gas as their primary heating fuel. Just over 1 in 8 households use propane to heat their homes, nearly 3 times the national average. No matter how you heat your home during the cold Iowa winters, you wouldn't want to wake to a cold bedroom with 30 inches of snow on the ground. Choice Home Warranty's Basic Plan will cover your heating system and duct work, so this doesn't have to happen to you. The Basic Plan also covers your other critical systems, such as your electrical and plumbing systems.
And what about your water heater? Even if it's not the dead of winter, no one wants a cold shower. The Basic Plan also covers your water heater for any needed repairs, or replacement if necessary. A new water heater, especially one that works on natural gas, can cost well over $1000. An Iowa home warranty can give you peace of mind to know that, should the unexpected happen, you'll be covered for this important appliance.
In the summer, with the relative humidity of 72 percent driving up the heat index, the last thing you need is for your air conditioner to fail. Upgrade to a Total Plan, and your air conditioner is covered for repairs, or even a replacement. And, with the Total Plan, you enjoy all the benefits the Basic Plan has to offer as well.
Clearly, keeping your home's systems and appliances in top operating condition is important in Iowa. And, with a home warranty plan from Choice Home Warranty, it's easy to do. At the first hint of trouble, just make a service call. This way, you can prevent the big breakdowns from ever happening.
Why is a Home Warranty Necessary in Iowa?
Being in the humid continental zone, Iowa sees cold winters, with plenty of snow and temperatures averaging in the low teens. It also experiences high heat and humidity, plenty of rainfall and severe thunderstorms. All these conditions can be hazardous to your home's systems and appliances, especially those with outdoor components. An Iowa home warranty can help protect you when your covered items break down, even if it's due to normal wear and tear.
Iowa sees a good bit of rain, about 35 inches, as well as about 30 inches of snow every year. It also sees frequent, severe thunderstorms for seven months each year. Choice Home Warranty offers limited roof leak protection as an add-on to your Iowa plan. And, for those of you still living in the rural counties, add-on protection for well pumps, sump pumps, and septic systems is also available. There is even add-on protection for septic tank pumping.
Living outside one of Iowa's metropolitan areas, you may have invested in a stand-alone freezer or second refrigerator to allow you to stock up on the things you need. These important appliances can also be added on to your Iowa policy with Choice Home Warranty. Then, if you should experience a problem with one of them, you can get any needed repairs, or even a total replacement.
Enjoying the beauty of Iowa in any one of its 10 state forests, or 83 state parks can be a dirty business. Keeping your clothes washer and clothes dryer in good working order just makes good sense, as you probably use them often. The Total Plan from Choice Home Warranty covers both, so no need to worry.
But what about your kitchen? How can you prepare a harvest feast if your oven or cooktop isn't working properly? Not to worry, the Basic Plan covers your oven, range, cooktop, built-in microwave, dishwasher and disposal. Upgrade to a Total Plan and your refrigerator and ice maker will also be covered. Don't forget, the Total Plan includes all the coverages of the Basic Plan too.
What Does an Iowa Warranty Cover?
| | | |
| --- | --- | --- |
| Covered Items* | Total Plan | Basic Plan |
| Air Conditioning System | | |
| Heating System | | |
| Electrical System | | |
| Plumbing System | | |
| Plumbing Stoppage | | |
| Water Heater | | |
| Whirlpool Bathtub | | |
| Refrigerator | | |
| Oven / Range / Stove | | |
| Cooktop | | |
| Dishwasher | | |
| Built-In Microwave | | |
| Garbage Disposal | | |
| Clothes Washer | | |
| Clothes Dryer | | |
| Ductwork | | |
| Garage Door Opener | | |
| Ceiling and Exhaust Fans | | |
Optional Coverage
| | | |
| --- | --- | --- |
| Pool / Spa | Well Pump | Sump Pump |
| Central Vacuum | Limited Roof Leak | Septic System |
| Second Refrigerator | Stand Alone Freezer | Septic Tank Pumping |
*
Click Here
to view complete limits of liability and any exclusions. CHW offers service contracts which are not warranties. ** See policy for specifics on response times. ***CHW reserves the right to offer cash back in lieu of repair or replacement in the amount of CHW's actual cost (which at times may be less than retail) to repair or replace any covered system, component or appliance.
How does an Iowa Home Warranty Work?
As soon as you spot a problem, give customer service a call, and our prompt, courteous staff will get you in contact with a service contractor who can perform the necessary repairs. All service companies are fully insured, licensed, highly rated and carefully checked out before ever being sent to your home. This ensures your greatest satisfaction with your service experience.
The first time a service provider visits your home on a call, you will pay a small service fee. After that, all work on your covered item will be taken care of by your home warranty company. A modest repair fund to cover service fees is all that is required. You don't have to stress about your entire savings or emergency fund being wiped out by a single repair or replacement.
If your covered item can't be repaired, it will be replaced under your plan. It's that simple. This is exceptionally valuable in Iowa where homes are so much older. Systems and appliances in these homes will be reaching the end of their useful lives.
With two plans, plus many add-on protections to choose from, you can tailor a plan with Choice Home Warranty to meet the needs of your family and lifestyle. If you are looking for a comprehensive home warranty plan in Iowa, Choice Home Warranty is an excellent bet.