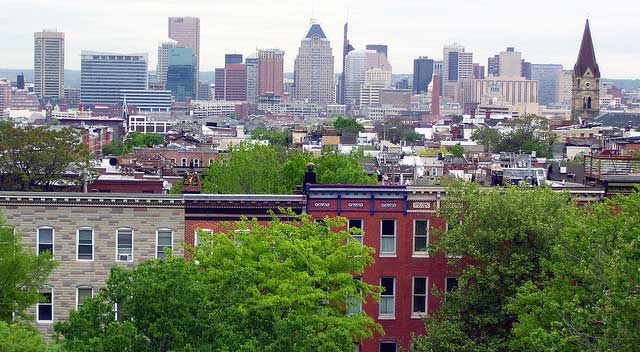 Maryland enjoys a picturesque destination in the middle of the eastern seaboard. Though the state covers only 12,407 square miles, it includes several distinct climates. Along the eastern shore and Chesapeake Bay, it's flat and low-lying.
Eastern Maryland sees average summer temperatures around the mid-70's, and winter averages in the mid-30's. If your cooling or heating system breaks down during these times, you may feel quite uncomfortable at home.
The western portion of the state comprises a continental highland where temperatures are moderately cooler. Summer averages are around 65 degrees, while the January average is 28. In the far western reaches of the state, you'll find the foothills of the Appalachian Mountains.
This hilly, heavily forested area is a far cry from the metropolitan bustle in central Maryland, giving the state a wonderfully diverse range of living experiences.
The largest city in Maryland by far is Baltimore, with a population over 620,000. According to Town Charts, roughly 47 percent of homes are owned in Baltimore, while 53 percent are rental units.
The average home has 5.6 rooms and 2.5 occupants. The next-largest city in Maryland is just a fraction of the size of Baltimore. Silver Spring has nearly 71,500 residents, Frederick has over 70,000, and Gaithersburg boasts almost 67,800.
Whether you're nestled in the mountains or enjoying a cozy home in the city, your dwelling has a distinct set of needs that a home warranty can help you provide for.
Protect Your Maryland Home And Appliances
Maryland homeowners rely on many essential home appliances for their comfort and convenience. Freezing winters make home heating a necessity in this state. Nearly half of Maryland homes use natural gas as a primary means of heating their homes.
Around 40 percent use electricity for heating, and around 10 percent of Maryland homeowners rely on kerosene or fuel oil to stay warm in winter. Even a basic home warranty plan from Choice Home Warranty will cover your heating systems and ductwork, so you should have no trouble getting the necessary repairs if your furnace stops working.
Your Maryland kitchen appliances are another important part of the home. Whether you're cooking up a stovetop New England clambake, or you're baking the signature cast iron cornbread of the Appalachian, you need a kitchen that's in good working order.
A basic home warranty will cover your oven, range, stove, cooktop, and dishwasher. You can easily add coverage for your refrigerator as well with a Total Plan from Choice Home Warranty.
With a home warranty in place, you'll have convenient coverage for a quick repair any time one of these appliances stops working. You won't have to worry about the expense of a new stove just before your party. If the issue is too extensive for a repair, your warranty provides new installation, so you never have to worry about going without. All you need to handle is the service fee specified in your plan. Keep this on hand, and all your other costs will be taken care of under your warranty.
Why Is A Home Warranty Necessary In Maryland?
There are many potential hazards that Maryland homeowners might face. Coastal residents need to think about the potential for hurricane damage. For example, in 2011, Hurricane Irene brought winds of up to 80 miles per hour and caused $151 million in damage.
While your homeowner's insurance will typically cover this type of damage, a hurricane can create the need for many subtle repairs you might not anticipate.
You can customize your plan further for additional coverage that's tailored to suit your home. Choice Home Warranty offers add-ons for your septic system and septic tank pumping, a pool and spa, central vacuum systems, well pumps, sump pumps, and roof leaks.
If your home has a special feature like a backyard pool, or you keep a second refrigerator in the garage, you can easily incorporate these into your home warranty, so you have the personalized protection you need.
How Much Does A Home Warranty Cost?
Most home warranty companies prefer providing their clients with custom quotes to ensure they are getting the coverage details and plans that are most pertinent to the homeowner. Nonetheless, most home warranty plans cost around $650 annually.
Most companies, including Choice Home Warranty, determine their prices by taking into account several factors. Some of the crucial aspects that we consider include the home size, optional options (pools and etc) and of course "loss history."
Concerning the loss history, Choice Home warranty company factor in two main things – that is how likely the covered item may break down and the average cost to repair or replace the entire item.
Besides the cost of home warranty plans, there is some additional cost that homeowners incur. These are the service fees payable to a contractor. This is similar to a health insurance copay when visiting your local physician. This payment is often made directly to the contractor dispatched by our company to make the assessments, repairs and/or replacements of your items.
Additionally, apart from the basic home warranty plan, the homeowner has an option of purchasing additional coverage for his/her own extra protection. Add-on plans, otherwise known as enhanced plans costs several hundred dollars, of course depending on the nature of the additional service you need to be covered. The covered items in such plans include sump pumps, ice makers, pools, and spas.
How Does A Home Warranty Work?
The working protocols of home warranty aren't that complicated. However, you need to follow the right channels for your claim to be considered. If your covered item gets some mechanical breakdown, this is what you ought to do.
Call Choice Home Warranty or Submit the claim online
Once claim is processed, we set an appointment
You will pay the contractor service fee when he arrives
The contractor diagnoses the problem and gets the service approved
The company pays the contractor for completed work
It is advisable that the homeowners call Choice Home Warranty before making any repairs, even DIY breakdowns or hiring non-approved contractors. This is because most home warranty companies do not reimburse out-of-pocket expenses. By calling the home warranty company, you get a determination from an approved and appointed contractor.
After the initial assessment, the contractor sends the feedback on the state of your mechanical systems and appliances to our company for approval to repair or replace the item.
How To Choose A Maryland Home Warranty
Your Maryland home warranty gives you select coverage for the appliances and repair services specified in your contract. When you're setting up your plan, make sure you understand exactly what's covered.
If you have aging appliances with frequent repair needs, make sure these are included in your coverage. Take a walk through your home and property and make a note of important features and installations.
Do you worry about minor roof damage that leaves you dealing with leaks? Do you have a clothes washer and dryer you want to cover? Is your home on a septic system or using a well pump?
Coverage is available for all these items, but it's not provided in the basic plan. Make a list of the items you want to include in your home warranty so you can build a plan that's suited to your home.
How To Use Your Home Warranty
Any time a covered system or appliance needs repairs, contact Choice home warranty before reaching out to a repair professional. Our company will connect you with approved contractors who can assist you with the necessary repairs.
Most plans require that you pay a modest service fee for each call. However, all other expenses are covered under your warranty, whether you are looking at a repair or a complete replacement.
This takes the guesswork out of home repairs. As long as you keep funds for your service fee in a savings account or other easily accessible place, you can rest easy knowing that you are covered for plumbing stoppages, water heater repairs, ceiling fan trouble, and more. Getting home repairs with your warranty is quick and easy when you have set up the right coverage for your Maryland home.
How To Get The Most Out Of Your Home Warranty
Outlined below are some of the tactics to ensure you of get the most out of Choice Home Warranty.
Get the right policies
Note that not all home warranties are equal. If you are searching for a cover for specific systems and appliances, ensure that you check out the various levels of coverage offered. If the warranty is being passed to you with a home sale, inquire the same from your real estate agent.
Always contact Choice Home Warranty company first
Suppose you have no heat at the dead of winter. Shouldn't you consider getting some instant furnace repair and worry about compensation later? That shouldn't be the case. As mentioned before, the home warranty company will not compensate for the repair if you hire someone first before contacting them.

Nearly all home warranty companies, including Choice Home Warranty, offers 24/7 support. Other mediocre firms may not offer this and hold you for quite some time, including not sending a technician for even a week, which may put you on a tough spot.

Read the contract before calling
When calling or submitting your claim online to your home warranty company, explain exactly what is wrong with your appliance or system before filing your claim. When informing Choice Home Warranty about your damaged appliance, let us know which one stopped working, what exactly happened to it, and when it occurred. For example, if your oven develops a problem and stops heating properly, this likely will be covered under your warranty.
Be persistent – with phone agents and service providers
Follow up by ensuring you correspond with your claims adjuster. If the service provider gets dispatched, always be present during the visit. Ensure that you explain to the contractor clearly all the information at hand.
Ask if there is a choice of service providers
Most companies often have a specially appointed service provider for repairs and replacements. However, here at Choice, we offer versatility. For some repairs, you can choose your own preferred service contractor to undertake the services. But you first need to ensure it is approved by choice as we hire professional and overly experienced service contractors.
Option for cash payment?
Home warranty companies sometimes offer cash instead of replacing the damaged appliance. This allows you the opportunity for to choose the type and model of the new appliance you feel best suits your needs.
Keep an eye on older appliances and systems
One of the requirements of maintaining a valid contract with the home warranty company is that the items must undergo routine maintenance. Therefore, if your furnace is making some funny noise, it is wise to pay a visit to the technician to check it out. Besides, always ensure that your items undergo maintenance for the company to uphold your claim when it breaks down.
Do You Need To Purchase A Home Warranty?
Certainly yes. Home warranties come in handy when one of the integral mechanical systems and expensive appliances break down unexpectedly. This can be especially useful for new homeowners as well as prospective buyers who have little or no accrued savings. Overall, it can help spread the costs out.
Before engaging to any contract, however, it is good to do some informal cost-benefit analysis. With this, you will be able to quickly identify if paying the home warranty annual premiums makes sense for you. Begin by weighing the potential repair costs versus the cost of premiums. You may also want to check out the age of some of your mechanical systems and household appliances.