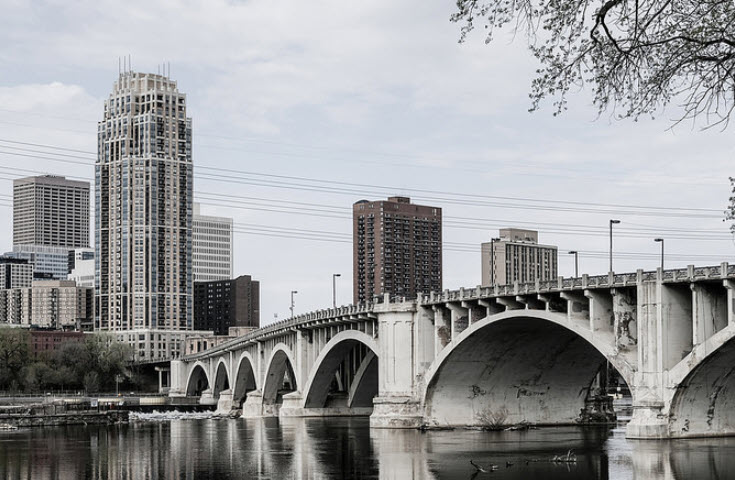 Like many U.S. states, Minnesota's history is as varied and colorful as it's landscape. The eastern portion of the State was originally acquired from the British after the Revolutionary War. It became our 32nd state on May 11, 1858. Choice Home Warranty understands the importance of stability and solidarity. Our home warranty plans offer reliable, comprehensive coverage to Minnesota homeowners.
After the Louisiana Purchase, President Thomas Jefferson sent explorers in to search for the source of the Mississippi River. It wasn't until 1832 that Henry Schoolcraft, with the help of the Ojibwa, found the headwaters and named the source lake, Itasca. Another river, the Minnesota River gives the state its name. The river was named by the Dakota Sioux, meaning "sky-tinted water." One explanation of this name comes from the blue clay that would wash into the river.
As Minnesota provides a great water source, Choice Home Warranty takes pride in being a source of reliable home protection. With its team of professional service technicians, handling the unexpected is easier. Normal wear and tear on your home's systems and appliances should not interrupt their use.
Minnesota is now our 12th largest state, with over 86,900 square miles of total surface area. But a lot of this area is taken up by water. This state is often called the "Land of 10,000 lakes." Altogether, these lakes have more than 90,000 miles of shoreline. That's more than the combined shorelines of California, Florida and Hawaii!
The thousands of lakes, rolling hills, and fertile topsoil, some of our country's richest farmland, were left behind by the movement of glaciers across the state. Minnesota also supports 17 million acres of forested land. The highest point in Minnesota, Eagle Mountain, at 2,301 feet, is in the rugged, rough, northern part of the state. It stands about 12 miles from the north shore of Lake Superior, which is the lowest point in the state, at 602 feet above sea level. The fertile Red River Valley runs along the western side of Minnesota, from its border with Canada to South Dakota. But, probably the best and most productive farmland is found in the southern 25 percent of the state.
While Minnesota may be the 12th largest state by area, it is only the 21st largest by population and 31st in terms of population density, with Minneapolis being its largest city. Situated on the west bank of the Mississippi River, it has 420,721 residents. The capital city of Saint Paul, on the east bank of the River, comes in second, with 308,138 people living there. These are often referred to as the "Twin Cities".
All incorporated municipalities in this state are designated as cities. There are 854 of them across 87 counties. The smallest city, as of the 2010 census, was Funkley, with just 5 residents.
Minnesota is the northernmost of the Lower 48 states because of a small piece of its northern boundary. It has a continental climate with cold, frigid, winters and warm to hot summers. And, the humidity levels can get up over 80 percent. A lot depends on where you are in the state. For instance, in the north, each month of the year can see freezing temperatures, and the south can have long heat waves caused by warm air coming up from the Gulf of Mexico.
Average July temperatures in the south of Minnesota are around the mid-80s, while average January lows are in the single digits. Winter is so long and so cold in Minnesota, that it has been ranked as the fourth coldest state in the nation year-round, and the state with the 3rd coldest winter in the country. The lowest temperature ever recorded in Minnesota was -60°F near the city of Tower in the northeast in 1996. The highest ever recorded was 115°F at Beardsley in 1917.
Again, rainfall amounts depend on where you are in Minnesota. They can average anywhere from 20 inches in the northwestern part of the state to over 30 inches in the southeastern portion. The same holds true for average snowfall across the state. Southern parts will see average snowfalls in the range of 30 plus inches, while the northeast will see average snowfall in the range of 70 inches or more. And, heavy snow falls in Minnesota from November through April, and about twice a year, the state gets hit with a blizzard. Unfortunately, Minnesota sees an average of 18 tornadoes per year, generally in the south.
Interestingly, according to NOAA data, the most common natural hazard in Minnesota is not cold, but thunderstorms and lightning. Winter storms and extreme cold are the second most common natural hazard in the state. Thunderstorms and lightning occur, on average, once every 3.9 days from March to October, while it's 9 days, on average, for winter storms and extreme cold to occur from October through March.
But Minnesota isn't defined by its climate. Far from it. Some of the most interesting people have come from Minnesota; and, amazing places can be found here as well. Take the famous poet, Henry Wadsworth Longfellow, for example. He wrote The Song of Hiawatha based upon stories told by Henry Schoolcraft, as well as Indian legends about Minnesota. And the Land of 10,000 Lakes has 1 recreational boat for every 6 people in the state. That's more than any other state in the nation. In fact, Ralph W. Samuelson invented water skis here in 1922 and tried them out himself in Lake City, thus beginning the sport of water skiing.
If you're not into water sports, Minnesota also has 2 national forests, 58 state forests, and 66 state parks for visitors and natives alike to enjoy. In fact, this state has allocated more land for the protection and preservation of game animals than any other. And for those truly adventurous souls, there's the Mall of America in Bloomington, the country's largest Mall, which includes an amusement park inside! This 4.2 million square foot mall brings in about 40 million shoppers each year.
No matter what you like to do in Minnesota, it pays to protect your home from unexpected damages to critical home systems and appliances. A Minnesota home warranty can help do just that. Home warranty coverage and homeowner's insurance are not the same. Home warranty plans provide protections beyond and in addition to your insurance. In fact, a Minnesota home warranty from Choice Home Warranty will even cover you for damages due to normal wear and tear.
Protect Your Minnesota Home and Appliances
Home values in Minnesota are on the rise. The current median home value is $225,100, up 5.2 percent from July of 2017. And, this value is expected to increase another 6.2 percent through August of 2019. A great majority of Minnesota residents own their homes, approximately 71 percent. A home warranty can protect your Minnesota home and its critical systems and appliances when unexpected problems and breakdowns occur.
Are you looking to purchase a home in Minnesota? If there was a way to ensure that you wouldn't get stuck with unexpected home repair costs after purchasing your home, wouldn't you want to know about it? Well, buying a home with a Minnesota home warranty in place can help protect you should the unexpected happen. Then, if a covered system or appliance should break down, you won't have to worry about the added cost of an expensive repair or replacement when you've just made such a huge investment.
Is your Minnesota home for sale? If so, Minnesota home warranty companies will cover that home against unexpected breakdowns, or even normal wear and tear damages to its systems and appliances while it is on the market. A single repair or replacement can cost hundreds or even thousands of dollars. A Minnesota home warranty gives you peace of mind to know you're covered during this already stressful time. And better yet, since 8 out of 10 home buyers prefer homes with home warranties, you could be increasing the marketability of your home.
Winters in Minnesota are long and cold, and its residents have many ways in which to keep themselves warm. Two out of three homes choose natural gas as their primary source for home heating. One in 10 use propane for heat. About 2 percent heat with fuel oil or kerosene. Another 2 percent use wood or wood pellets to heat their homes.
One out of 6 Minnesota homes is heated by electricity. In 2017, approximately 25 percent of Minnesota's net electricity generation was from renewable resources, primarily from wind. In fact, this state is eighth in the nation in terms of its net electricity generation from wind energy.
The median age of homes in the United States is 37 years. In Minnesota, it is 35 to 39 years. While this is right on track with the national median age, 35 to 39 years is still old enough for a home's systems and appliances to need repairs or even replacements, perhaps more than once. This becomes more evident when you consider that the average lifespan of most household appliances is 9 to 15 years. In Minnesota, where extreme and prolonged cold, heat and humidity, and thunderstorms and lightning can all be hazardous to your home's systems and appliances, doesn't it make sense to want extra protection?
With many places in Minnesota under constant snow cover 90 days or more between the middle of December and the middle of March, the last thing you'd want is for your water heater to go on the fritz. A Basic Plan from Choice Home Warranty will cover your water heater for any needed repairs or even a replacement. Replacement costs for a new water heater, especially a gas water heater, could be well over $1000. A Minnesota home warranty can give you peace of mind to know that this critical appliance is covered should the unexpected happen, or even for normal wear and tear damages.
Of course, your water isn't the only thing you want to stay warm in sub-freezing temperatures. The basic Plan also covers your heating system and duct work. So, if you experience a problem with them, you can have it taken care of before a major breakdown occurs.
Summers in Minnesota can be hot and humid, especially in the south, where most people live and work. Having reliable air conditioning is a must. Upgrade to a Total Plan, and both your heating and air will be covered.
Keeping your home systems and appliances in good working order is critical in Minnesota. With a home warranty plan from Choice Home Warranty, you can do just that. When you notice a problem with one of your covered items, just make a service call. That way, you can get the service you need and even avoid a complete breakdown.
Why is a Home Warranty Necessary in Minnesota?
Extreme and prolonged cold, heat waves, humidity, as well as thunderstorms and lightning can all take their toll on your home's appliances and systems. A Minnesota home warranty can help protect you when covered items break down, even if they break down, due to normal wear and tear.
Thunderstorms and lightning are frequent occurrences in Minnesota from March through October. Limited roof-leak protection is available through Minnesota home warranty plans as an add-on protection. And for those of you who don't live in the twin cities, or other larger metro areas, there is also add-on protection available for well pumps, sump pumps, septic systems and even septic tank pumping. Talk about peace of mind.
Enjoying Minnesota's thousands of lakes, or its dozens of forests and parks, not to mention going about your day to day business will keep your clothes washer and dryer running regularly. And you rely on them to do so in your busy life. The Total Plan from Choice Home Warranty covers both your clothes washer and dryer, so you don't have to miss a beat.
Suppose you have been out on one of the lakes in your recreational boat and scored some choice fish for dinner. With the Basic Plan, you know your oven, range, cook top, built-in microwave, dishwasher and even your disposal are all covered for any needed repairs or even a replacement if the need arises. Upgrade to a Total Plan and your refrigerator is covered too. Best of all, with the Total Plan, you will enjoy all the protections of the Basic Plan as well.
What Does a Minnesota Warranty Cover?
| | | |
| --- | --- | --- |
| Covered Items* | Total Plan | Basic Plan |
| Air Conditioning System | | |
| Heating System | | |
| Electrical System | | |
| Plumbing System | | |
| Plumbing Stoppage | | |
| Water Heater | | |
| Whirlpool Bathtub | | |
| Refrigerator | | |
| Oven / Range / Stove | | |
| Cooktop | | |
| Dishwasher | | |
| Built-In Microwave | | |
| Garbage Disposal | | |
| Clothes Washer | | |
| Clothes Dryer | | |
| Ductwork | | |
| Garage Door Opener | | |
| Ceiling and Exhaust Fans | | |
Optional Coverage
| | | |
| --- | --- | --- |
| Pool / Spa | Well Pump | Sump Pump |
| Central Vacuum | Limited Roof Leak | Septic System |
| Second Refrigerator | Stand Alone Freezer | Septic Tank Pumping |
*
Click Here
to view complete limits of liability and any exclusions. CHW offers service contracts which are not warranties. ** See policy for specifics on response times. ***CHW reserves the right to offer cash back in lieu of repair or replacement in the amount of CHW's actual cost (which at times may be less than retail) to repair or replace any covered system, component or appliance.
How does a Minnesota Home Warranty Work?
When you notice a problem with one of your covered systems or appliances, give customer service a call. They will get you in touch with the appropriate service professional to perform the necessary repairs. All service providers are fully insured, licensed, highly rated and carefully checked out before ever being sent to your home.
You will be expected to pay a small call fee on the provider's first visit to your home. After that, all work done on your covered item will be taken care of by your home warranty company. With a Minnesota home warranty, you don't have to worry about a single repair or replacement wiping out your emergency fund or savings account. All you need do, is maintain a modest repair fund to pay for call fees.
If your service technician determines that your covered item can't be repaired, it will be replaced under your plan. With Minnesota homes beginning to get up there in age, along with their systems and appliances, this is very valuable indeed.
With two plans to choose from, plus add-on coverages, Choice Home Warranty allows you to tailor a plan to fit any lifestyle or type of home. Do you own a second refrigerator or stand-alone freezer? You can add these on to your plan. What about a swimming pool or spa? These can be added on as well. If you are looking for comprehensive home warranty coverage in Minnesota, Choice Home Warranty is an excellent pick.