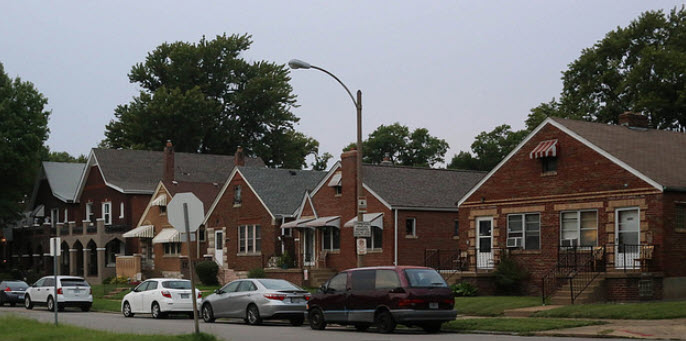 Missouri enjoys a central location in the mid-western part of the United States. Kansas City is the largest city in Missouri with a population of more than 475,000 residents. Livestock, wheat, and manufacturing are major industries here. St. Louis is the second-largest city in the state, but perhaps the best known. With a population of over 315,000, St. Louis supports a thriving manufacturing industry focused primarily on metals and chemicals.
Springfield and Columbia are the next-largest cities in Missouri, but neither has more than 170,000 residents. Agriculture is another thriving industry here, and there are many small farming towns. Missouri is second only to Texas in the number of farms it supports. If you're interested in a quieter hometown environment, you can look to areas like Parkville with a population under 2,400. Rocheport, Missouri, offers the height of small town living with around 250 residents.
Whether you settle in a major metropolitan area, or you opt for a tiny town, you'll get to enjoy all four seasons in the state of Missouri. In summer, average highs climb into the 80's and 90's. Humidity climbs as well, making air conditioning an essential home feature. Come winter, you'll experience dramatically different conditions, with lows in the 20's, highs in the 40's, and around four inches of average snowfall in December and January. You'll want a functioning furnace to make sure you can weather this season comfortably.
Protect Your Missouri Home and Appliances
Missouri homeowners use several appliances and home systems to maintain comfort and convenience. The average Missouri home consumes 12 percent more energy than the U.S. average. However, energy costs are slightly lower here. The median home value in Missouri is $148,469. Houses here are more likely to be detached single-family dwellings than in other parts of the country.
In Missouri, homeowners use about 41 percent of their total energy consumption for space heating. Thirty-five percent is used for appliances, electronics, and lighting, while 18 percent of home energy use is for water heating, and six percent is for air conditioning.
A home warranty can help you keep all these appliances in shape, along with the electrical systems that power them. A Basic Plan from Choice Home Warranty will cover your heating system, electrical system, water heater, and more. Upgrade to a Total Plan to include coverage for your air conditioning system, refrigerator, and other features.
Why is a Home Warranty Necessary in Missouri?
Missouri homeowners need to be prepared for everything. From hot, humid summers to the chill of an icy winter, you need home systems that are equipped to keep you comfortable. Missouri can also experience inclement weather that may put an additional strain on the home and appliances. The state sees an average of 33 tornadoes a year. This type of severe weather can cause damage to exterior home features like your air conditioning unit or roofing. Limited roof leak coverage is available as an optional add-on with your home warranty.
Your Missouri home warranty can also include coverage for common features of rural homes, such as your sump pump, well pump, or septic system. If you have a pool to help you beat the summer heat, you can get add-on coverage for this as well.
A home warranty will help you protect the systems in your home that you use the most. This coverage will make sure you're never left without a critical appliance like your oven or cook top when you need it. Easily customizable, you can choose a home warranty plan that's suited to your individual needs.
What Does a Missouri Warranty Cover?
| | | |
| --- | --- | --- |
| Covered Items* | Total Plan | Basic Plan |
| Air Conditioning System | | |
| Heating System | | |
| Electrical System | | |
| Plumbing System | | |
| Plumbing Stoppage | | |
| Water Heater | | |
| Whirlpool Bathtub | | |
| Refrigerator | | |
| Oven / Range / Stove | | |
| Cooktop | | |
| Dishwasher | | |
| Built-In Microwave | | |
| Garbage Disposal | | |
| Clothes Washer | | |
| Clothes Dryer | | |
| Ductwork | | |
| Garage Door Opener | | |
| Ceiling and Exhaust Fans | | |
Optional Coverage
| | | |
| --- | --- | --- |
| Pool / Spa | Well Pump | Sump Pump |
| Central Vacuum | Limited Roof Leak | Septic System |
| Second Refrigerator | Stand Alone Freezer | Septic Tank Pumping |
*
Click Here
to view complete limits of liability and any exclusions. CHW offers service contracts which are not warranties. ** See policy for specifics on response times. ***CHW reserves the right to offer cash back in lieu of repair or replacement in the amount of CHW's actual cost (which at times may be less than retail) to repair or replace any covered system, component or appliance.
How Does a Missouri Home Warranty Work?
A Missouri home warranty provides you with coverage for the included appliances for covered issues. A basic plan can help you deal with a plumbing stoppage or repair your garage door opener. Ceiling fans, exhaust fans, duct work, and more are included in your basic plan.
If you upgrade to a total plan, you'll enjoy coverage for your AC system, refrigerator, and clothes washer and dryer as well. Add-on coverage can help you take care of your septic system, central vacuum, or stand-alone freezer.
Carefully consider the appliances in your home when you select and purchase your plan. Make sure your coverage includes all your most essential items. If one of your covered systems fails, you simply call your home warranty provider to arrange for a repair. Your provider will connect you with approved repair professionals in the area and help you set up an appointment.
If your appliance or system can be repaired, you'll pay a one-time service fee and enjoy complete coverage for the repair. If your system can't be repaired, you're entitled to a complete replacement. If you have appliances that are nearing the end of their lifespans, a home warranty is an excellent way to make sure that you never have to go without if these items fail.
Your Missouri home warranty offers critical coverage for all the most important features of your home, so you can always prepare a hot meal or keep your house cool when you need to.