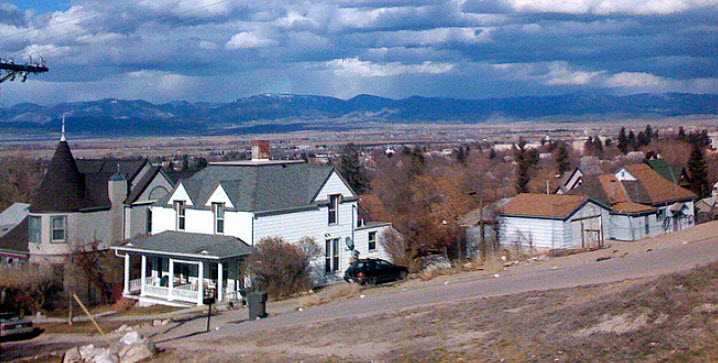 Montana, often called "Big Sky Country," covers over 147, 000 square miles in the northwestern United States, making it the nation's 4th largest state. It borders three Canadian provinces to the north, British Columbia, Alberta and Saskatchewan; Idaho to the west; Wyoming to the south and North and South Dakota to the east. With its land area covering 145, 500 square miles, there are an average 6.8 people per square mile living here. The U.S. average is about 87 people per square mile. In terms of population then, Montana is 44th in the nation, but is 48th in terms of population density. With neighbors few and far between, a home warranty is great to depend on during breakdowns.
Montana is so sparsely populated that you'll only find one city with more than 100,000 residents; and, that's Billings with just over 110, 000 people, as of 2017. Although only a little more than half of the current population of Montana can be considered urban, living mostly along the river valleys, these areas are growing quickly, while the rural areas are slowly shrinking. In fact, 46 of Montana's 56 counties have 6 or fewer residents per square mile, making them "frontier counties."
The Rocky Mountains cover approximately half of western Montana; a land of great beauty with amazing features. It also boasts Yellowstone National Park, the first national park ever created in the U.S., sitting in southern Montana and northern Wyoming. Being surrounded by so many natural wonders, it may be easy to bask in Montana's beauty and forget to plan and prepare for the unexpected, with a home warranty.
Winters are generally cold but interspersed in the cold spells are periods of up to 10 or more days of "Chinook" weather. These periods are caused by warm, dry Chinook winds from the eastern Rocky Mountains. These winds can raise the temperature up to 40 or 50 degrees within a few minutes. Average winter temperatures are 11 to 22°F. Summers are hot on the eastern side of the state, although the west can see shorter hot spells as well. Average summer temperatures are 64 to 74°F. Average rainfall is 18 inches in the west and 13 inches in the east. Most of the bigger cities get 30 to 50 inches of snow per year. However, some places in the mountains get 300 inches. The full range of temperatures and precipitation in the region warrant heavy reliance on your home's appliances and systems.
Whether you live in the east or west in Montana, or a rural or urban location, a home warranty will protect you against damages to your home's systems and appliances when unexpected problems occur. A home warranty provides protection that is beyond and in addition to what you get from your homeowner's insurance policy. In fact, a Montana home warranty from Choice Home Warranty will even cover your items for simple wear and tear.
Protect Your Montana Home and Appliances
Currently, the median home value in Montana is over $200,000. Home values have risen in the past year by 7.1 percent and are expected to rise another 1.0 percent through May of 2019. Approximately 68 percent of people in the Treasure State own their homes. Whether your home is "Mountain Modern," a new take on an old theme – the log cabin, a Victorian mansion, or a more contemporary home, a Montana home warranty can help protect it and its systems and appliances from breakdowns.
Are you planning on selling your Montana home? Then a home warranty may be just right for you. Home warranty companies will protect your systems and appliances while your home is for sale, potentially saving you hundreds or even thousands of dollars in repair costs if something should go wrong during this stressful period. Plus, 80 percent of home buyers would rather buy a home with a home warranty. So, it makes sense to increase your home's marketability by having one.
If you are in the market for a Montana home, wouldn't you prefer one with a home warranty already in place? That way, you would have the peace of mind of knowing that your new home's critical systems and appliances would be covered once you take possession. After all, you've already made a substantial commitment in buying a home. You don't want to have to lay out another large cash amount right away.
More than 50 percent of Montana residents heat their homes with natural gas. About 20 percent use electricity as their main source for space heating, while 1 percent uses fuel oil. Almost 10 percent of people in Montana use wood to heat their homes. Despite the cold winters, per capita use of natural gas falls below the national average. And, the cost of electricity in Montana is below the national average as is the cost of utilities in general.
However, the median age of homes in Montana is between 30 and 39 years. This is about the same as the median age of homes in the U.S. which was 37 years, as of 2015. With homes of this age, it would be easy to see that many of the systems and appliances would need repairs or replacements. Some, in fact, may have been replaced more than once. The average lifespan of most household appliances is 9 to 15 years. In Montana, where the east can see temperatures to below -50°F in the winter, and even the west can see temperatures as high as 100°F in the summer, not to mention the humidity plaguing the western part of the state, doesn't it make sense to protect yourself and your Montana home and appliances?
Imagine sitting under 30 inches of snow in the city and suddenly having no heat, or trying to take a shower one cold winter's day with no hot water? A Basic Protection Plan from Choice Home Warranty will cover your heating systems and duct work, so you won't have to go without this critical system during the frigid temperatures of a Montana winter.
The Basic Plan also covers your water heater. The average working life of a water heater is about 12 years. To replace one, especially a gas water heater, could cost well over $1,000. With a Montana home warranty, you don't have to worry because you know you will be covered for any necessary repairs. And, if your water heater can't be repaired, it will be replaced under your home warranty protection plan.
The Basic Plan also covers other critical home systems such as your electrical system and your plumbing system. Keeping your systems and appliances in good working order is important in every home in Montana. With Montana home warranty plans you can do just this by calling for service at the first sign of trouble. Then you can be sure that your important home systems and appliances will be in good working order for you when you need them.
Why is a Home Warranty Necessary in Montana?
The weather can be harsh in Montana, and it varies greatly from west to east due to the state's topography. Extremes in temperature, sudden temperature changes, such as with the Chinook winds, and humidity can all lead to discomfort if your systems and appliances are not functioning properly. A home warranty in Montana can be there for you when things break down.
Montana summers can be quite hot in the eastern part of the state and temperatures can even soar to 100°F in portions of the west. Although the nights are cool and comfortable in summertime, you still wouldn't want to swelter during the day without your air conditioner. Upgrade to a Total Plan and it's covered.
With so many outdoor activities in Montana, from visiting national parks, like Glacier National Park or Yellowstone; and historic sites, like the Custer Battlefield National Monument in Hardin; to hiking the Continental Divide National Scenic Trail; you'll want your laundry equipment in top shape. A Total Plan from Choice Home Warranty covers clothes washers and clothes dryers.
Flooding and flash flooding can be a problem in Montana in the springtime as the snow melts and heavy rains fall. In late summer, Montana experiences severe storms, the worst bring hail that result in crop and property damage. Choice Home Warranty has limited roof leak protection as an add-on coverage to its home warranty plans.
For those of you who live in rural areas of Montana, add-on protection is also available for well pumps, sump pumps and septic systems. There is even add-on protection for septic tank pumping. No matter where you live in Montana, you can tailor a protection plan to fit your needs.
Like many in Montana, do you like to cook up bison burgers, steaks, or huckleberry pies? You can't do any of that if your kitchen is falling apart. Not to worry, the Basic Plan covers your oven, range, stove, cook top, built-in microwave, and dishwasher for after the party. And, the Total Plan will cover your refrigerator to store all the left-overs.
If you live far from an urban center, you may have a second refrigerator or stand-alone freezer, so you can stock up when prices are good, or just to save trips to the city. These items can be added on to your protection plan. It's crucial to keep appliances such as these in top working order. They represent a large investment and can be repaired or replaced under your Montana home warranty if you have added them on and they break down.
What Does an Montana Warranty Cover?
| | | |
| --- | --- | --- |
| Covered Items* | Total Plan | Basic Plan |
| Air Conditioning System | | |
| Heating System | | |
| Electrical System | | |
| Plumbing System | | |
| Plumbing Stoppage | | |
| Water Heater | | |
| Whirlpool Bathtub | | |
| Refrigerator | | |
| Oven / Range / Stove | | |
| Cooktop | | |
| Dishwasher | | |
| Built-In Microwave | | |
| Garbage Disposal | | |
| Clothes Washer | | |
| Clothes Dryer | | |
| Ductwork | | |
| Garage Door Opener | | |
| Ceiling and Exhaust Fans | | |
Optional Coverage
| | | |
| --- | --- | --- |
| Pool / Spa | Well Pump | Sump Pump |
| Central Vacuum | Limited Roof Leak | Septic System |
| Second Refrigerator | Stand Alone Freezer | Septic Tank Pumping |
*
Click Here
to view complete limits of liability and any exclusions. CHW offers service contracts which are not warranties. ** See policy for specifics on response times. ***CHW reserves the right to offer cash back in lieu of repair or replacement in the amount of CHW's actual cost (which at times may be less than retail) to repair or replace any covered system, component or appliance.
How Does a Montana Home Warranty Work?
If you experience trouble with a covered item under your home warranty in Montana, just call customer service 24 hours a day and a service provider will be referred, who can perform any needed repairs. All service providers used by Choice Home Warranty have been thoroughly checked out, are highly rated, licensed and fully insured or they wouldn't be sent to your home. This assures that the repair services provided to you under your home warranty meet with your highest satisfaction.
On the first visit regarding a covered item, you will be required to pay a small service fee, but after this all eligible repairs for that item will be covered under your plan. When you protect your home with a Montana home warranty, you need only be concerned with maintaining a moderate fund for repairs. You don't have to worry that a single repair or replacement will wipe out your entire savings or emergency account.
If the technician sent to repair your item determines that it cannot be repaired, your protection plan covers a replacement. In Montana, where so many homes are 30 to 40 years old and older, this is especially valuable. These homes will surely have appliances nearing the end of their lifespans.
With two plans available, plus add-on coverages, you can tailor a plan to fit your individual needs. There are even add-on coverages for pools, spas, and central vacuum systems. If you are looking for a comprehensive home warranty, Choice Home Warranty is a great option.