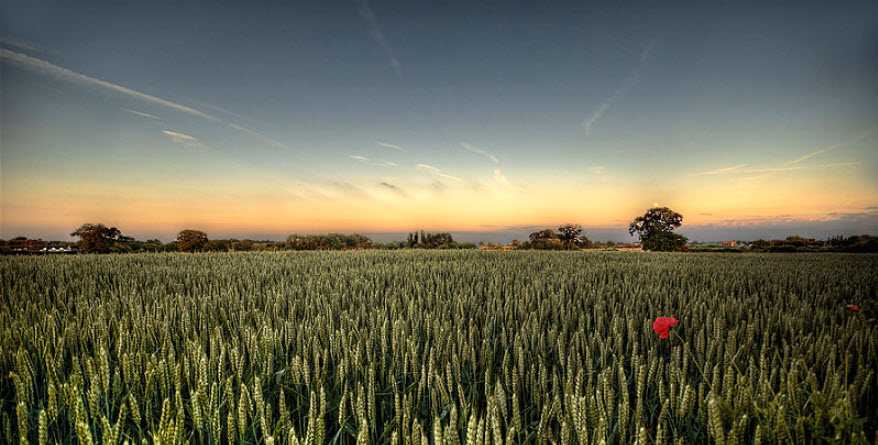 The cornhusker state has contributed much to this nation, not the least of which being the 911 emergency system we use today. It was first developed and used in the state's capital of Lincoln. The very first Arbor Day, founded by J. Sterling Morton, was celebrated in this state in 1872. That may not seem like much at first blush, but about one million trees were planted as a result. In fact, today, the Nebraska National Forest is the largest hand-planted forest in the nation, spanning more than 140,000 acres. Choice Home Warranty is proud to add to these contributions by providing Nebraska homeowners with reliable home warranty protection.
Nebraska also boasts the largest indoor rain forest in the nation, as well as the world's largest indoor desert – both to be found at Omaha's Henry Doorly Zoo. The state's homeowners know that extremes in climate, weather, as well as normal wear and tear can be hard on their home's systems and appliances. Our experienced, licensed technicians stand ready and able to deal with any problems you might encounter as a result of these to minimize disruptions to your daily life. With Choice Home Warranty you have peace of mind.
Originally part of the Louisiana Purchase of 1803, Nebraska became a territory in 1854. That same year, the city of Omaha was established and went on to become the territorial capital. The state's capital was later moved to Lancaster and renamed Lincoln to honor the slain president. Nebraska became our 37th state in 1867.
The Gold Rush had brought settlers to the area previously, but the Homestead Act of 1862 brought even more. This act allowed settlers 160 acres of land in eastern Nebraska so long as they built on it and farmed it for five years. The Kincaid Act of 1904 increased the amount of land being given away to 640 acres, causing another growth in population, but most of this was in the Sand Hills area of the state. Half of the Sand Hills is now rangeland and pastureland, amounting to almost 23 million acres.
The Great Plains covers the rest of the state and contains a section of about 7,000 square miles that is heavily farmed in its southeastern part, which is peppered with wetlands and lakes, sometimes called the Rain basin. In fact, Nebraska is one of the leading agricultural states in the nation due to the plains' fertile soils. Approximately 91 percent of the state, over 45 million acres, is covered by farms and ranches.
Nebraska also has an amazing amount of water. It boasts almost 24,000 miles of streams and rivers. This is more than any other state in the nation. Nebraska also has greater underground reserves of water than any other state in the country. So, while the average rainfall amount in the state is around 25 inches, less than the U.S. average of 39, it still has plenty of water for farming.
Located in the center of the country, Nebraska is bordered by Colorado and Kansas to the south, Colorado and Wyoming to the west, South Dakota to the north, and Iowa and Missouri to the east. Although it is our 16th largest state by area, covering approximately 77,350 square miles, it is 43rd in population density. There are 1.93 million people living in Nebraska, according to 2018 estimates. That means there are only, on average, 23.8 people per square mile. With low populations, there is sometimes a lack of professional services. Choice Home Warranty fills the void for home servicing of appliances and reliable protection with its warranty packages.
There are cities with larger populations though, like Omaha, and the capital city of Lincoln. These are the only two cities with populations over 100,000 and growing. One out of every three people in this state lives in one of these two cities. Omaha has a population of 450,364 residents, while Lincoln has 287,870 people living there.  There are more than 530 villages and cities in Nebraska, 89 percent of which have populations under 3,000 people.
So, what is it like to live in Nebraska? While there are plenty of great things to see and do in this state year-round, the climate and weather can be a bit harsh. The summers tend to be hot and humid and the winters are frigid with lots of snow. It is quite common to have ice storms and blizzards in Nebraska in the winter, which can wreak havoc on your home's various systems.
The average July highs in Nebraska are in the upper 80s. Thunderstorms are prevalent. These storms can easily become destructive. This state is in America's Tornado Alley and sees frequent tornadic activity. It's no surprise that NOAA data identifies thunderstorms and lightening to be the most common natural hazard in Nebraska. In fact, these storms occur, on average, every 2.6 days from March to October. The second most common natural hazard identified by NOAA data is flood, occurring every 12.6 days, on average.
In January, you can expect average lows to be in the low teens. The average snowfall in Nebraska is about 30 inches. The coldest temperature ever recorded, -47°F, was reported twice, at Camp Clarke in 1899 and again at Oshkosh in 1989. The highest temperature recorded, 118°F, was reported three times, once in 1934 at Geneva and twice in 1936 at Hartington and Minden.
But Nebraska isn't all about snow and thunderstorms. It's about exciting history and fun. Why, Chimney Rock, a 480-foot formation, eroded over time from volcanic ash and clay, was the most often noted landmark in the journals of pioneers traveling the Oregon Trail as they headed west. Scott's Bluff Monument was also used as a landmark by westward pioneers traveling the Oregon, Mormon and California Trails. But these aren't the only amazing landmarks you'll see in Nebraska. There's also Carhenge – an exact duplicate of Stonehenge made from old cars. And make sure to take a drive down highway 26 to look at the shoe fence, miles of fence line between Northport and Ogallala capped with up-side-down boots and shoes.
No matter what you like to do in Nebraska, whether it's visiting strange sculptures or celebrating at the annual Kool-Aid Days Festival in Hastings to commemorate Edwin E. Perkins invention of the powdered drink, a Nebraska home warranty can help protect your home against damage to its critical systems and appliances when the unexpected happens. Home warranty coverage is not the same as your homeowner's policy. A home warranty will provide you with protections beyond and in addition to what you get with the homeowner's insurance. In fact, a Nebraska home warranty from Choice Home Warranty will even cover you for damages to your systems and appliances due to normal wear and tear.
Despite the current momentum of the more urban areas, most of you still live in much smaller cities, villages and rural areas. To serve your needs, Nebraska home warranties offer several add-on protections. There are add-on protections for well pumps, sump pumps and septic systems, to name a few. Do you own a second refrigerator or stand-alone freezer to stock up on items you use most, or freeze large quantities of beef, for example? You can also add these valuable appliances on to your warranty plan and have them covered as well.
Protect Your Nebraska Home and Appliances
In Nebraska, the median home value is currently $162,200. That's an increase of 7.6 percent since November of 2017 and values are expected to rise an additional 1.8 percent through November of 2019. A home warranty can protect your Nebraska home and its critical systems and appliances when unexpected troubles and breakdowns occur.
Do you wish to sell you Nebraska home? It can be quite stressful putting your home on the market. However, home warranty companies will cover your home's systems and appliances during the time it is up for sale. This will give you peace of mind, knowing that if the unexpected should occur, you wouldn't have to cope with the cost of repairing or replacing one of your home's systems or appliances. Since 8 out of 10 people looking to buy a home prefer one that is already protected by a home warranty, you could be increasing your home's marketability as well.
Are you in the market for a Nebraska home? Buying a home is a big investment. What would you do if something unexpected happened right after you bought the home and you got stuck with having to repair or even replace a whole system or large appliance at your own expense? Wouldn't it make more sense to buy a home already covered by a home warranty? That way, you know you're covered if the unexpected does occur.
Here in Nebraska, three out of five homes use natural gas for home heating. Approximately 1 in 12 use petroleum products, almost exclusively propane. Three out of 10 households use electricity for space heating; and, Nebraska is the only state in the nation where all electricity providers are non-profit organizations. With summer temperatures sometimes rising above 110° or dropping below -30°F, Nebraska is one of the highest per capita residential energy consumers in the nation. But this state is also one of the leading ethanol producers in the state and boasts about 90 fueling stations selling E85 gasoline.
In this state, 66 percent of residents own their homes. The median age of these homes is 40 to 47 years, while the national median age is 37 years. Homes of this age probably have needed their systems and appliances repaired or replaced at least once during all that time. In fact, the average lifespan of a household appliance is 9 to 15 years. In Nebraska, where heat, humidity, extreme cold and thunderstorms and lightening can all be hazards, doesn't it make sense to want to protect your Nebraska home and appliances?
Nebraska winters can be harsh. With an average snowfall of 30 inches in the largest city of Omaha, and average winter lows in the teens, you really don't want your heating system going out on you. Keeping it in good working order is the best course of action. A Basic Plan from Choice Home Warranty can help you do just that. It covers your heating system and ductwork for any needed repairs, or even a full replacement. Just be sure to call at the first sign of trouble. This could help you avoid a total breakdown and lapse in the enjoyment of your home heating. Choice is so committed to ensuring homeowners are properly prepared for what nature doles out, that we also provide a safety guide for natural emergencies.
Speaking of heating, hot water is necessary all year round. The Basic Plan covers your water heater as well. A new water heater could cost you well over $1000. But you're covered for repairs or even a replacement with Choice Home Warranty. A Nebraska home warranty will give you the peace of mind to know that your critical systems like heat and hot water are covered.
Summers in Nebraska can be miserable. It gets hot, and it gets humid. Humidity reaches 80 to 90 percent in the summer. At times like these, you need to be able to rely on your air conditioning system. Upgrade to a Total Plan with Choice Home Warranty and this important system is also covered.
It isn't difficult to see how important it is to keep your Nebraska home systems and appliances in good repair. With Choice Home Warranty, you only need to make a service call at the first sign of a problem. This will help protect your systems and appliances from total breakdowns, and you from the loss of their service.
Why is a Home Warranty Necessary in Nebraska?
Heat, high humidity, severe cold, wind and thunderstorms and lightening are all hazardous to your home's systems and appliances. A Nebraska home warranty can help protect you when covered items break down, even if the trouble is normal wear and tear.
With so many amazing things to see and do in Nebraska, including visiting Indian Cave State Park on the banks of the Missouri River, laundry can pile up. Just imagine the dust you'll stir up examining the petroglyphs of nature scenes and wildlife that line the walls of that cave? A broken-down clothes washer or dryer could certainly ruin the fun. Luckily, the Total Plan from Choice Home Warranty covers both these critical appliances, so you can end your day on a good note.
Suppose you've already enjoyed your Nebraska Reubens and dessert is in the oven; but then, it comes out burnt, or underdone, or unevenly cooked. These are all sure signs that your oven is in trouble. Noises are another dead giveaway. Your oven, gas or electric, should last about 15 years; but that doesn't mean it won't need service during that time span. The cost for a new oven, based on the national average, is $2000. Of course, a great deal depends on the type of oven you have. The good news is that the Basic Plan covers your oven, range, cooktop, built-in microwave, dishwasher and disposal. Upgrade to a Total Plan and you get coverage for your refrigerator as well. Best of all, with the Total Plan, you get all the benefits of the Basic Plan too.
What Does a Nebraska Warranty Cover?
| | | |
| --- | --- | --- |
| Covered Items* | Total Plan | Basic Plan |
| Air Conditioning System | | |
| Heating System | | |
| Electrical System | | |
| Plumbing System | | |
| Plumbing Stoppage | | |
| Water Heater | | |
| Whirlpool Bathtub | | |
| Refrigerator | | |
| Oven / Range / Stove | | |
| Cooktop | | |
| Dishwasher | | |
| Built-In Microwave | | |
| Garbage Disposal | | |
| Clothes Washer | | |
| Clothes Dryer | | |
| Ductwork | | |
| Garage Door Opener | | |
| Ceiling and Exhaust Fans | | |
Optional Coverage
| | | |
| --- | --- | --- |
| Pool / Spa | Well Pump | Sump Pump |
| Central Vacuum | Limited Roof Leak | Septic System |
| Second Refrigerator | Stand Alone Freezer | Septic Tank Pumping |
*
Click Here
to view complete limits of liability and any exclusions. CHW offers service contracts which are not warranties. ** See policy for specifics on response times. ***CHW reserves the right to offer cash back in lieu of repair or replacement in the amount of CHW's actual cost (which at times may be less than retail) to repair or replace any covered system, component or appliance.
How does an Nebraska Home Warranty Work?
Just as soon as you run into trouble with one of your systems or appliances, call customer service. They will connect you with a service professional who can take care of the necessary repairs. All of Choice Home Warranty's service providers are licensed, fully insured, highly rated, and carefully checked out before they are ever sent to your home. Your complete satisfaction is our goal.
At the first visit, a small service fee will be collected. After that, the remainder of the work on your covered item will be covered by your home warranty plan. If your service technician finds that your covered item cannot be repaired, it will be replaced under your warranty. This is highly valuable in Nebraska where homes are so much older, and their systems and appliances are reaching the end of their useful lives.
Having a Nebraska home warranty, you don't have to worry that a single repair or replacement will gut your savings or wipe out your emergency fund. All you need to do is maintain a modest fund to cover service fees as they may come up. A home warranty from Choice Home Warranty truly affords peace of mind.
With two plans to choose from, as well as a variety of add-on protections, Choice Home Warranty lets you tailor a plan to fit your individual lifestyle and needs. Have a pool or spa? Add it on to your Nebraska home warranty. If you're looking for a comprehensive home warranty plan in Nebraska, Choice Home Warranty is an excellent option.