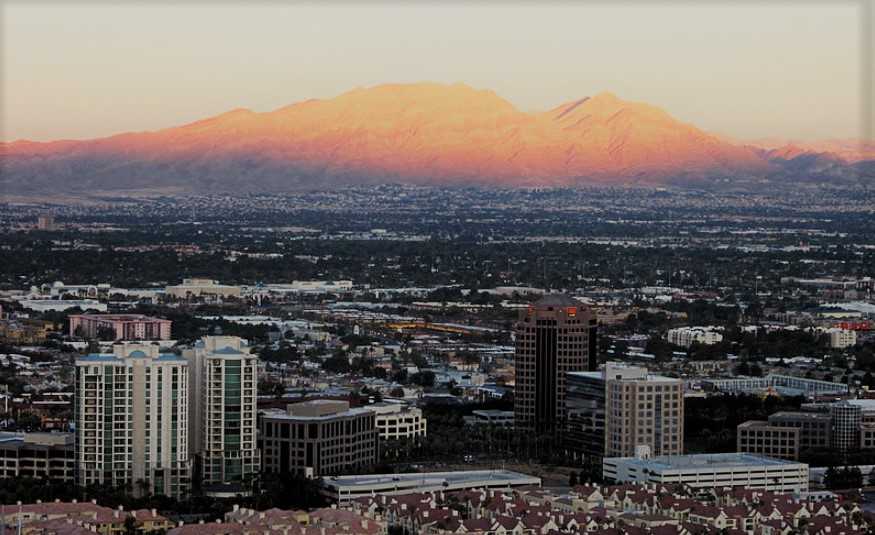 Comprised mainly of desert, Nevada is the driest state in the U.S. Though precipitation is minimal, Nevada experiences a wide range of temperatures. Average summer highs soar up to 90 while the average low dips to 47 in June. During the winter months, highs are in the mid-40s while lows fall to the lower 20s. This gives residents many diverse conditions to deal with.
The largest city in Nevada, not surprisingly, is Las Vegas, with a population of nearly 633,000. The next-largest city is less than half that size. Nearby Henderson, Nevada has a population of nearly 293,000. Reno and North Las Vegas each have less than 250,000 residents. In addition to its selection of larger cities, Nevada also has several tiny towns, many of which boast fewer than 1,000 residents. Destinations like Fish Springs, with less than 650 residents, offer locals plenty of wide open spaces and quiet rural areas to enjoy.
Whether you're in a modern condo in Las Vegas or a spacious ranch home on several acres of wild Nevada desert, your home needs regular care, maintenance, and protection. A home warranty that's designed to cater to your distinctive needs can help protect you from some of the challenges that the Nevada area may offer.
Protect Your Nevada Home and Appliances
The median home in Nevada costs $255,600, indicating an increase of 12.4 percent between 2016 and 2017. The median price per square foot is $156. While the median home value in Las Vegas is close to the state average, at $236,200, residents enjoy far more affordable options in areas like Carson City, with a median home value of just $188,000. The median home in Sparks, just outside Reno, is $176,500, and those in Henderson, just outside as Vegas, are $207,500.
Nevada's high and low temperatures range far enough that both heating and cooling systems are commonly used in these homes. Sixty-five percent of Nevada homes use central air conditioning and 41 percent rely on evaporative cooling. In Nevada, over 61 percent of homes use natural gas for heating. Thirty-three percent use electricity.
It's important to keep both your heating and cooling systems operational for year-round comfort. A basic home warranty plan from Choice Home Warranty will cover your heating systems and duct work. You'll also get coverage for ceiling fans, which is an important inclusion, as more than half of Nevada residents report using their ceiling fans for quite a bit or all of the summer season. Upgrade to a Total Plan and you'll enjoy coverage for your air conditioning system as well.
The average heating or cooling system lasts for about 15 years before it requires a replacement. You can experience repair needs at any time during the system's lifespan. A home warranty that covers your heating or cooling system will help to ensure that your home is never without essential comforts. Whether you need a minor repair for drainage issues, a major blower replacement, or a whole new installation, you'll only have to deal with one flat service fee.
Why is a Home Warranty Necessary in Nevada?
Nevada homeowners have a lot of appliances powering their everyday activities. Twenty-nine percent of Nevada homes have two or more refrigerators. A Total Plan will cover your first refrigerator, while additional coverage for a second refrigerator is available as an optional add-on when you customize your Choice Home Warranty plan.
Energy efficient appliances are a priority for many Nevada homeowners. Thirty-five percent have an Energy Star refrigerator, 35 percent have an Energy Star clothes washer, and 24 percent have an Energy Star dishwasher. These energy-efficient installations are a great choice for keeping your utility costs low. Having a home warranty is another way to keep your appliance costs manageable. Regular repairs are included in your plan for the appropriate appliances. You just pay your flat service fee and all further repairs and services are covered.
A standard home warranty plan includes your oven, range, cooktop, stove, dishwasher, and built-in microwave. You can add your clothes washer and clothes dryer on the Total Plan.
What Does a Nevada Warranty Cover?
| | | |
| --- | --- | --- |
| Covered Items* | Total Plan | Basic Plan |
| Air Conditioning System | | |
| Heating System | | |
| Electrical System | | |
| Plumbing System | | |
| Plumbing Stoppage | | |
| Water Heater | | |
| Whirlpool Bathtub | | |
| Refrigerator | | |
| Oven / Range / Stove | | |
| Cooktop | | |
| Dishwasher | | |
| Built-In Microwave | | |
| Garbage Disposal | | |
| Clothes Washer | | |
| Clothes Dryer | | |
| Ductwork | | |
| Garage Door Opener | | |
| Ceiling and Exhaust Fans | | |
Optional Coverage
| | | |
| --- | --- | --- |
| Pool / Spa | Well Pump | Sump Pump |
| Central Vacuum | Limited Roof Leak | Septic System |
| Second Refrigerator | Stand Alone Freezer | Septic Tank Pumping |
*
Click Here
to view complete limits of liability and any exclusions. CHW offers service contracts which are not warranties. ** See policy for specifics on response times. ***CHW reserves the right to offer cash back in lieu of repair or replacement in the amount of CHW's actual cost (which at times may be less than retail) to repair or replace any covered system, component or appliance.
How to Choose a Nevada Home Warranty
Nevada home warranties offer coverage for both the inside and outside of your home when you select the right plan. Choosing the appropriate home warranty is crucial, to make sure that you have the coverage you need should you run into repair or replacement needs.
Take a walk through your home and take note of all the appliances that need coverage. You might want to consider the year your appliances were made to get an idea of how close you are to needing a replacement. Systems that are well-maintained will last longer than those that are not. If your HVAC system gets annual tune-ups in the spring and fall, it will live longer than a system that didn't get this level of maintenance.
Have you recently purchased a new home? Unless you have records of prior maintenance, you may want to assume that the system didn't get regular care, and plan accordingly. Protecting your heating and cooling systems under a home warranty is an excellent way to make sure you're covered if the system stops working.
A basic home warranty plan includes many essential systems that you may not think of, such as your exhaust fans, water heater, garbage disposal, and plumbing system. Optional add-ons will help you obtain the coverage that you need for additional items.
In the warm Nevada climate, many homes have a personal pool or spa. You can include these on your home warranty as add-ons. If you live in one of Nevada's smaller rural communities, you may have use for optional septic system, sump pump, and well pump coverage. You can protect your home from roof leaks with your home warranty as well, when you include the right features in your plan.
How to Use a Nevada Home Warranty
Once your Nevada home warranty is in place, you're covered if any of the appliances or home systems on your plan suddenly fail. If you find that it's time to use your home warranty, it's important to follow the right steps.
Check your home warranty to make sure the appliance and issue are covered. Some types of repairs may fall outside the scope of your plan, so read the fine print carefully.
Contact your home warranty provider before calling a repair professional. Your home warranty company will put you in contact with a repair professional who's approved to work with the plan.
Make an appointment with the repair professional specified by your plan. In some cases, you home warranty provider will contact the repair company for you and have them reach out to set up an appointment time with you.
Pay the fee specified in your home warranty plan for your service call.
Discuss the diagnosis and solution with your repair provider, and enjoy your repaired appliance or a brand-new replacement if the issue cannot be repaired.
If you're unsure about how to use a home warranty, always contact your warranty provider first. Do not schedule an appointment with a repair professional on your own. If you work with someone who's not included in your plan or pay for a repair without contacting your home warranty provider, you won't get to enjoy the benefits and coverage that your home warranty offers.
A Nevada home warranty is a smart investment that can give you critical coverage for any type of home. Customize your plan to suit the individual needs of your Nevada home to make sure the most important appliances are under warranty, so you can rest easy in any circumstances.