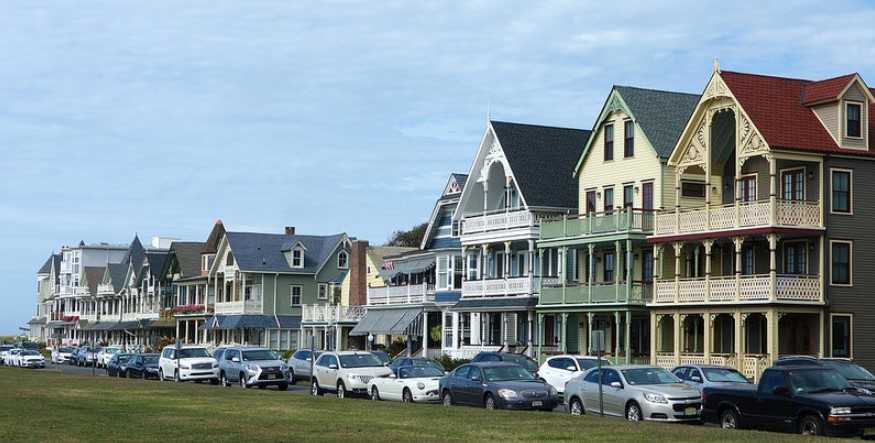 New Jersey is home to a diverse landscape of cities and towns. Head to Newark and you'll find a bustling metropolis with over 280,000 residents. Just eight miles from Manhattan, this area offers easy access to the highlights of New York City. Public transportation is outstanding, so you don't need a car to live here. You may, however, want to invest in purchasing a home, as roughly a quarter of Newark residents have.
Nestled along the Hudson River, Jersey City is the second-largest city in New Jersey, and the fastest-growing metropolitan area in the state. In 2016, the New York Times reported that 7,000 homes were under construction here, with another 19,000 approved to begin building. Jersey City's richly diverse population offers a welcoming home for everyone. You'll find thriving Puerto Rican, Indian, Cuban, Jewish, Italian, Irish, and African communities here.
If city life isn't for you, you may still find New Jersey the perfect place to call home. Though this is the most densely populated state in the country, there are a few areas that boast a quieter rural charm. Consider the small oceanfront resort town of Ocean Grove, with a population well under 5,000. Hammonton, New Jersey, is a town of less than 15,000 residents. Known as the "Blueberry Capital of the World," this is a sweet place to settle down in a small, affordable ranch or cozy cottage on a wooded lot.
New Jersey's climate offers a bit of everything. On average, highs are in the mid-80s during summer with lows in the 20s during the winter. Along the eastern coast, residents experience higher humidity levels and direct exposure to hurricanes and other extreme weather coming in from the Atlantic Ocean. In the northwestern part of the state, New Jersey's elevation rises more than 1,500 feet as it reaches into the Appalachian Mountains. Those in the mountainous part of the state are exposed to more snowfall. In the mountainous part of New Jersey, annual snowfall averages 40 to 50 inches, while those in the southern part of the state have just 10 to 15 inches a year.
No matter where you're located, it's important to maintain a safe home that's prepared for anything. From freezing temperatures that can wreak havoc on your plumbing, to high humidity levels that will put your appliances to work, New Jersey residents have their share of challenges.
Protect Your New Jersey Home and Appliances
Whether you're in a small condo in a crowded metropolitan area, or you own a sprawling piece of land in a small town, it's important to protect your New Jersey home from potential hazards. You don't want to find yourself without a major appliance or home system when you need it most. Perhaps one of the most important systems in your New Jersey home is your HVAC system. Due to the extreme high and low temperatures here, it's crucial that your heating and cooling systems operate properly.
New Jersey residents use slightly less air conditioning than average, with cooling accounting for just three percent of energy use in homes. Space heating, however, is responsible for nearly half of all energy use in New Jersey homes. Appliances account for another 30 percent, and water heaters consume about 18 percent of household energy.
It's clear that these appliances are getting plenty of use, but how are homeowners caring for them? The best way to protect your home comfort systems is with a home warranty. A basic plan from Choice Home Warranty covers the home's heating systems, ductwork, and water heater. If you upgrade to a total plan, you'll enjoy coverage for your air conditioning system as well. Your home warranty ensures that you have the coverage you need for a fast and affordable repair if your heating or cooling system fails. If the system can't be repaired, your home warranty covers a complete replacement for the same modest service fee that you pay for any visit.
Electricity is more expensive in New Jersey than in other states, so energy efficiency will really pay off for residents here. If you're investing in new ENERGY STAR rated appliances, you want to make sure they're protected. Even the best appliances can suffer from unexpected failures. A basic home warranty plan includes coverage for your oven, range, cooktop, built-in microwave, exhaust fans, garbage disposal, and stove. With a Total Plan you'll enjoy coverage for your refrigerator and clothes washer and dryer as well.
Why is a Home Warranty Necessary in New Jersey?
Since New Jersey is so densely populated, residents are often at a higher risk here for disasters and other threats. The state ranks 27th in the country for lightning strike density, experiencing around 47,000 cloud-to-ground strikes per year. However, individual residents here are at a higher risk of sustaining damage from one of these strikes simply because homes are packed so closely together. Residents in New Jersey have a higher risk factor for lightning damage than those in nearby Rhode Island, Connecticut, and Massachusetts.
With a basic home warranty, your electrical system is covered, so you can get quick repairs if you're having issues related to your electrical system. This plan also covers your plumbing system, including plumbing stoppages.
If you live in a more rural part of New Jersey, you may want to consider additional add-ons for your plan that can provide coverage for items like your septic system and septic tank pumping or a sump pump. Do you have a pool and spa? This is an add-on feature you can put in your home warranty as well. Additional appliances like a second refrigerator, stand-alone freezer, or central vacuum system are other add-ons you may want to consider.
New Jersey residents can keep their homes safe, comfortable, and well-maintained with the features of a home warranty. Keep in mind that most appliance repairs are easier to fix when they're caught early on. If you let your appliances limp along with malfunctioning parts, you'll suffer decreased energy efficiency. As previously mentioned, energy is a prime resource here. You'll pay more for electricity in New Jersey than in many other states, so you want to make sure your appliances are in top shape and using as little power as possible.
With a home warranty in place, it's easier and more affordable to take care of repairs when you need them.
What Does a New Jersey Warranty Cover?
| | | |
| --- | --- | --- |
| Covered Items* | Total Plan | Basic Plan |
| Air Conditioning System | | |
| Heating System | | |
| Electrical System | | |
| Plumbing System | | |
| Plumbing Stoppage | | |
| Water Heater | | |
| Whirlpool Bathtub | | |
| Refrigerator | | |
| Oven / Range / Stove | | |
| Cooktop | | |
| Dishwasher | | |
| Built-In Microwave | | |
| Garbage Disposal | | |
| Clothes Washer | | |
| Clothes Dryer | | |
| Ductwork | | |
| Garage Door Opener | | |
| Ceiling and Exhaust Fans | | |
Optional Coverage
| | | |
| --- | --- | --- |
| Pool / Spa | Well Pump | Sump Pump |
| Central Vacuum | Limited Roof Leak | Septic System |
| Second Refrigerator | Stand Alone Freezer | Septic Tank Pumping |
*
Click Here
to view complete limits of liability and any exclusions. CHW offers service contracts which are not warranties. ** See policy for specifics on response times. ***CHW reserves the right to offer cash back in lieu of repair or replacement in the amount of CHW's actual cost (which at times may be less than retail) to repair or replace any covered system, component or appliance.
It's important to choose your New Jersey home warranty carefully to make sure it's appropriate for your home. A small home in Newark will have different needs than a sprawling property in Hammonton. Make sure your home warranty covers all the items that are most important to you.
Begin by walking through your home and listing all the appliances and systems that you rely on. Make a note of everything in your kitchen, bathrooms, and laundry room. Proceed to the garage and basement and see if there are any additional appliances or features there. Do you have ceiling fans throughout the house? Is there a sump pump in the basement? Does your bathroom feature a whirlpool tub? Every item counts, so make sure to account for them all.
Once you're done inside the house, go outside and check for features like your septic system or pool. Make a note of anything that you want to purchase coverage for, so you can make sure you're getting the right plan. When you sign up for your home warranty, read through the fine print carefully to make sure you're including all the necessary features of your home. The right home warranty should give you peace of mind that everything in your New Jersey home is covered.
How a New Jersey Home Warranty Works
A home warranty plan provides coverage for your home systems and appliances. Unlike homeowner's insurance, which only covers you in the event of certain disasters, a home warranty will kick in even when you're dealing with standard wear and tear. Over time, it's inevitable that your appliances and home systems will need repairs and replacements.
The average HVAC system lasts for about 15 to 20 years. A dishwasher will live just under a decade, and your refrigerator may last between 9 and 13 years. Look for a range to last around 15 years, and a microwave oven to live for 9. Nearing the end of your appliances' life spans, you'll likely incur more frequent repair costs. Eventually, you'll be faced with the expense of a full replacement.
A home warranty will cover both repairs and replacements. You simply pay one pre-determined service fee for the visit, and the rest is covered under your warranty. This makes it much easier to plan for the unexpected. Keep enough funds on hand for the service fee should something go wrong, and you can rest assured that the rest will be taken care of for you.
When you want to use your home warranty, call your warranty provider first. They will connect you with qualified repair professionals in your area. This frees you from the hassle of finding someone who can service your system. Your warranty provider handles the leg work to make the whole process as painless as possible.
A home warranty will protect your New Jersey home systems and appliances from many different issues. Make sure your home is always equipped with the comforts you need and enjoy. With the right home warranty in place, you can protect your home maintenance budget and keep your family comfortable with one simple investment. Start exploring your options with Choice Home Warranty today.