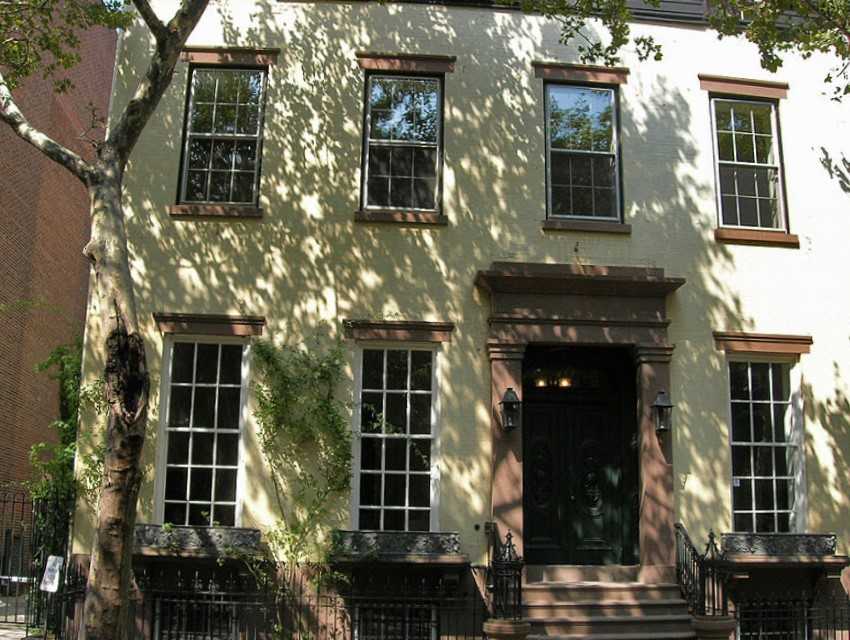 You probably think of New York City when you hear "New York," but this is far from the only place you can live in the state. New York City is an iconic destination in the area to be sure, with a population of over 8.4 million people. However, you can also enjoy metropolitan living in smaller cities like Buffalo, on the Canadian border, or Rochester, located on the southern shore of Lake Ontario.
If you're interested in small town living, you can find this in New York state as well. The charming hamlet of Pearl River has less than 16,000 residents. Aurora is a small village of just 724 people. Shoreham is a small village with just over 530 residents, yet the tiny town has a big reputation. This was the site of Nikola Tesla's laboratory. The inventor's lab is now a museum that demonstrates how big things can come from small beginnings.
Just as you can live in nearly any size city or town in New York, so too can you enjoy a vast diversity of climates. The state is generally considered to have a humid continental climate. However, it has 10 distinct climatic zones. The coldest recorded temperature in the state was a record low of -52 degrees at Stillwater Reservoir. The highest record temperature in the state was 108 in Troy.
Mean temperatures in the state range from 40 degrees in the Adirondacks to 55 around New York City. In the plateau area, winters are extremely cold, with temperatures that regularly dip to -15 in the east-central highlands and -25 in the northern highlands. Subzero temperatures occur around 40 days each winter in the Adirondack region. Around the St. Lawrence River and Lake Champlain, subzero days typically number around 15 in a year. In the Great Lakes plain, winter temperatures tend to stay above -10. In Long Island and New York City, subzero temperatures only occur every two or three years.
Summers are equally diverse across the state of New York. You can expect cool, comfortable summers in high-elevation locations, such as the Catskills and Adirondacks. Throughout the rest of the state, you'll typically find summer temperatures in the 70s and 80s. At lower elevations, residents experience both high temperatures and high humidity. In the New York City area and Hudson Valley, there are between 18 and 25 days each summer with temperatures over 90 degrees.
Regardless of the climate in your individual area, it's important to have the proper home systems and appliances in place for comfort and safety. With subzero temperatures, a heating system is more than a convenience, it's a necessity. A home warranty will make sure that your home has everything it needs to keep you happy and healthy throughout the year in New York.
Protect Your New York Home and Appliances
Homes in New York use about 15 percent more energy than the national average. However, electricity consumption is lower in the state, as many dwellings rely on alternative sources of power. Homes here typically use more energy for heating than the national average. About 56 percent of energy consumption goes toward space heating. 26 percent of energy use is for appliances, electronics, and lighting, while 17 percent is used for water heating.
A home warranty can help protect essential home systems throughout the state. A Basic Plan from Choice Home Warranty will cover your heating system, electrical system, plumbing system, and water heater.
Though just one percent of energy goes toward air conditioning in New York state, this is still an important system for home comfort, particularly in warmer parts of the state with a lower elevation. Though window and wall AC units are relatively uncommon in the US, they are a popular choice in New York. Here, 53 percent of homes use this type of air conditioning, while just 20 percent have a central air conditioning system. If you upgrade to a Total Plan from Choice Home Warranty, you'll get coverage for your air conditioner included in your plan. You'll also enjoy coverage for items like your refrigerator and clothes washer and dryer, which aren't included in a Basic Plan.
Why is a Home Warranty Necessary in New York?
Homes in New York are more likely to be older. Nearly 32 percent of homes in the state were built in 1939 or earlier. In contrast, less than eight percent of homes were built after 2000. In an older home, it's particularly important to be mindful about the state of your home systems and appliances. These have a limited lifespan, even in the best circumstances.
If your home systems sustain extra damage or wear and tear, they may fail sooner. Most storm systems that move eastward across the United States will move through or near New York state. This may put added strain on things like your roofing and exterior HVAC units.
Indoor appliances that are sheltered from the elements will still only last for a decade or two. Dishwashers and microwave ovens have a lifespan of about nine years. Gas ovens will live for 10 to 18 years. A gas range lives between 15 and 17 years, while an electric range has a slightly shorter lifespan of 13 to 15 years. Consider the age of your home appliances. Are they nearing the end of their expected life spans?
A Basic Plan will cover your oven, range, cook top, dishwasher, and built-in microwave. This will keep most of your kitchen appliances in good working order and ensure that you're always able to cook up a warm dinner to fight off the winter chill.
What Does a New York Warranty Cover?
| | | |
| --- | --- | --- |
| Covered Items* | Total Plan | Basic Plan |
| Air Conditioning System | | |
| Heating System | | |
| Electrical System | | |
| Plumbing System | | |
| Plumbing Stoppage | | |
| Water Heater | | |
| Whirlpool Bathtub | | |
| Refrigerator | | |
| Oven / Range / Stove | | |
| Cooktop | | |
| Dishwasher | | |
| Built-In Microwave | | |
| Garbage Disposal | | |
| Clothes Washer | | |
| Clothes Dryer | | |
| Ductwork | | |
| Garage Door Opener | | |
| Ceiling and Exhaust Fans | | |
Optional Coverage
| | | |
| --- | --- | --- |
| Pool / Spa | Well Pump | Sump Pump |
| Central Vacuum | Limited Roof Leak | Septic System |
| Second Refrigerator | Stand Alone Freezer | Septic Tank Pumping |
*
Click Here
to view complete limits of liability and any exclusions. CHW offers service contracts which are not warranties. ** See policy for specifics on response times. ***CHW reserves the right to offer cash back in lieu of repair or replacement in the amount of CHW's actual cost (which at times may be less than retail) to repair or replace any covered system, component or appliance.
How to Choose a Home Warranty in New York
When you're shopping for a home warranty plan in New York state, it's important to consider your home's unique needs. Are you in a rural area? You can choose add-on coverage for many home features that are common to rural homes, such as a septic system, sump pump, or well pump. If you have a larger home with features like a second refrigerator or stand-alone freezer, you can get added coverage for these as well.
Walk around your home and property and make a list of all the appliances and systems that you'd like to cover. Consider their conditions and ages. The best home warranty plan will include all the essentials in and around your home.
How Does a New York Home Warranty Work?
A home warranty plan provides coverage for repairs and replacements related to the appliances and systems that are included in your coverage. If one of these home features fails, you simply call your home warranty provider to set up a visit from a professional repair technician.
Your home warranty provider will help connect you with a reliable service provider in your area. Most companies work only with a selection of carefully vetted providers who offer services in your area. Having a home warranty in place saves you from the hassle of having to find a provider on your own. Simply call your home warranty company and they'll connect you with a repair professional and help you make an appointment.
You'll typically pay a one-time service fee for the first appointment. Your service technician will diagnose the issue and determine whether you need a repair or replacement. Your warranty will then cover either the cost of the repair or the expense of a new installation.
Having a New York home warranty in place will give you the essential protection you need to make sure your home systems and appliances are always in working order. Whether you're suffering the hot humid summers and need a repair for your pool, or you're replacing your heating system to brave the New York winters, a good home warranty plan will have you covered.
[/vc_column_text][/vc_column][/vc_row]