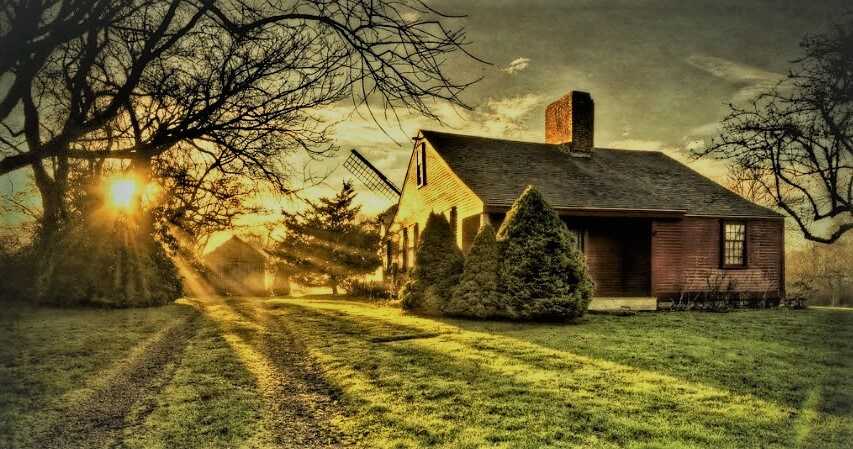 This state may be the smallest in the nation, but Rhode Island is one of the biggest in terms of action. It is a land of firsts in politics, industry, social change, and more. Though Rhode Island is only slightly larger than half the size of Delaware, the second smallest state in the country, its contributions to American history are huge. Choice Home Warranty is proud to contribute to this great state by offering reliable home warranty protection to the residents of Rhode Island.
Rhode Island and Providence Plantations cover an area of approximately 1,545 square miles, encompassing 36 islands, like Block Island well off the coast, and Aquidneck (Rhode) Island. The state's unique geographic composition presents its own brand of hazards to homeowners. Residents know all too well, how climate, weather, and even normal wear and tear can affect their home's systems and appliances. Choice Home Warranty's professional technicians stand ready to tackle whatever problems may occur so that your enjoyment of your home is interrupted as little as possible.
Surprisingly, as sparse as many believe Rhode Island is, it is in fact, well populated. Estimates for 2019 show a whopping 1.06 million people inhabitants. That's an average of 1,018.1 people per square mile! This makes Rhode Island the second most densely populated state in the nation. Only New Jersey beats it on this score.
One of the 13 original colonies, Rhode Island was the first to formally declare its independence from the British. It was also the first to take martial action against the Crown when it sank one of Britain's ships in the Narragansett Bay between Providence and Newport. Carrying on its tradition of firsts, the very first African American regiment to fight for the U.S. against Britain fought in the Battle of Rhode Island.
Since its founding in 1636, the state of Rhode Island has been forward thinking. The first traffic law and street lights in the country were created here. The oldest library building, as well as oldest schoolhouse in the country, came out of this wonderful state.
Choice Home Warranty proudly recognizes the independent, Rhode Island tradition. In our way, we hope to participate in it and encourage self-determination in the offering of our warranty services.
One of Rhode Island's chief industries is tourism. And it's no wonder, with 400 miles of coastline and more than 100 beaches to choose from. But this state is also known for making fine silverware and fine jewelry. In fact, its chief industries include jewelry, shipbuilding, tourism, metal products, electrical equipment and healthcare.
Narragansett Bay, famous for its clams, sweeps up through the state from the Atlantic. Therein you will find the Port of Providence, one of New England's two deep water ports. There are three major islands in the Bay, Aquidneck, Conanicut and Prudence. However, most of the state of Rhode Island is part of the mainland U.S.
Proximity to the ocean has a definite effect on Rhode Island weather, as do the "prevailing westerlies," air masses moving east with storm producing air masses that pass over or near the state numerous times each year. In fact, according to NOAA data, the most common natural hazard in Rhode Island is thunderstorm and lightning, occurring, on average, every 24.7 days from March to October. Hurricanes are also an occasional threat to the state.
Rhode Island has rather high humidity levels and its climate tends to run from mild to cold. July high temperatures in the state are approximately 81°F, with a few days each summer getting up to 90°F. January lows are around 20°F, on average. Temperatures in Providence tend to follow this same pattern. The record high temperature in Rhode Island was recorded at 104°F at Providence in 1975, and the record low of -25°F was recorded at Greene in 1996.
Precipitation generally falls evenly over the four seasons. Average annual rainfall in Rhode Island is about 48 inches, while the U.S. average is 39 inches. Snowfall amounts for the state, on average, are 34 inches per year, with the U.S. average being 26 inches. Providence sees slightly more rain and snow than this, with an average of about 49 inches of rain and 36 inches of snow. The second most common natural hazard identified by NOAA data is winter storm and extreme cold, occurring, on average, every 68.9 days from October to March.
No matter what the season, a Rhode Island home warranty can help to protect your home from damages to its critical systems and appliances when the unforeseen occurs. A home warranty is not the same as a homeowner's policy. The home warranty will provide you with protections beyond and supplemental to what you may be able to get from your homeowner's insurance. In fact, a Rhode Island home warranty from Choice Home Warranty even covers damages to your systems and appliances caused by normal wear and tear.
Protect Your Rhode Island Home and Appliances
The median home value in Rhode Island is $278,900. That figure represents an increase of 6.1 percent since November of 2017 and is expected to rise another 8.4 percent through November of 2019. A home warranty can protect your Rhode Island home and its critical appliances and systems when unexpected problems and breakdowns occur.
Do you wish to sell your Rhode Island home? This can be a stressful proposition. However, home warranty companies will cover your home's systems and appliances while it is up for sale, taking the worry out of it for you. That way, you don't have to worry about the added burden of dealing with repairing or replacing an appliance or home system if the unexpected happens. Eight out of ten people buying homes prefer one with a home warranty, so you'd be improving the marketability of your home as well.
Are you in the market for a home in Rhode Island? Making such a huge commitment can stretch your finances tight. The last thing you'd need would be for a home system or appliance to need unexpected repairs or even need to be replaced once you've taken possession.  Purchasing a home with a home warranty already in place will give you the peace of mind to know that if such a thing were to happen, you'd be covered.
In Rhode Island, 60 percent of residents own their homes. The median age of these homes is 48 to 57 years, while the national median age of homes is 37 years. Rhode Island's homes have the third oldest median age of any of the states. It is easy to see how a home of this age would have needed appliances and home systems repaired or replaced, probably more than once, in all these years. Consider this: the average lifespan of a household appliance is 9 to 15 years. In Rhode Island, where heat, humidity, extreme cold, wind and thunderstorms and lightening can all be hazards, doesn't it make sense for you to want to protect your Rhode Island home and appliances?
Even though Rhode Island has no natural gas reserves or production of its own, more electricity is generated in this state from natural gas than any other state in the nation, more than 90 percent. Only about 1 in 10 residents use electricity to heat their homes. Over half of the homes heat with natural gas, but Rhode Island must rely on natural gas pipelines from other states for its supply. Around three-tenths of households use fuel oil to heat their homes in winter. Still, Rhode Island is the most energy efficient of all the states as it is the smallest consumer, per capita, of energy in the nation. In 2017, the Block Island Project, the very first operational offshore wind farm, began delivering power to Block Island via its 5 turbines.
It gets cold in Rhode Island during winter months, averaging lows around 20°F. The last thing you need is for your water heater to go on the fritz. But you can keep your water heater in good working order year-round with a Basic Plan from Choice Home Warranty. Just call at the first sign of trouble and your plan will cover your water heater for any needed repairs or even a replacement, if necessary. That's quite a boon, as a new water heater could cost you well over $1,000.
Additionally, with an average of 34 to 36 inches of snow on the ground, you'll want to protect your heating system as well. The Basic Plan will cover this critical system as well as your ductwork for any necessary repairs, or a replacement, just as with your water heater. A Rhode Island home warranty gives you the peace of mind to know that your critical comfort systems are covered when you need them the most and all year round.
Summers in Rhode Island are moderate, with temperatures hovering around 80°F. Still, humidity can be very uncomfortable. Upgrade to a Total Plan and your air conditioning system will also be covered.
It isn't difficult to understand the importance of keeping your Rhode Island home systems and appliances in good working order. With Choice Home Warranty, you can do so with ease. At the first sign of trouble, just make a service call. In this way, you will help protect your systems and appliances from a total breakdown and you from the inconvenience of being without them.
Why is a Home Warranty Necessary in Rhode Island?
Heat, humidity, extreme cold, wind and thunderstorms and lightening are all hazardous to your home's critical systems and appliances by causing them to work overtime. A Rhode Island home warranty can help to protect you when covered items break down, even if it's due to normal wear and tear.
After a day at any of Rhode Island's hundred or so beaches, you just want to come home, toss your suit and towels in the wash and maybe cook up some clams. But what if your washer or dryer quits on you? Don't worry. The Total Plan from Choice Home Warranty covers both the clothes washer and dryer. And, with a Rhode Island home warranty, if you call as soon as you hear that knocking noise coming from the washer, you can probably save yourself from a total breakdown.
Speaking of clams, there are so many great ways to cook the little treasures from Narragansett Bay. Say you want to steam some, but your electric range isn't performing properly. If your electric range has traditional coil-type burners, it could mean several things, from a tripped breaker, to burnt out wires at the terminal block where the burner plugs in, to a bad or damaged power cord. It could also mean that your "infinite switch," the switch inside the dial that controls the power to the burner, needs to be replaced. And, If your glass or ceramic cooktop is cracked, don't use it until you've had the top replaced; the risk of electrical shock is too high.
The good news is, the Basic Plan from Choice Home Warranty has you covered. It includes your oven, range, cooktop, built-in microwave, dishwasher, and disposal. Upgrade to a Total Plan and your refrigerator is covered too. The best part is that with the Total Plan, you also get all the benefits of the Basic Plan.
With all the rain that Rhode Island gets, not to mention the numerous storm systems brought about by the prevailing westerlies, you may be interested in limited roof leak protection as an add-on to your home warranty plan. In addition, Choice Home Warranty has many other add-ons to suit your needs, from protections for your septic system to protections for pool or spa. Do you own a second refrigerator or stand-alone freezer? You can add these on to your plan as well. Your Rhode Island home warranty plan can be customized to fit the way you live
.
What Does a Rhode Island Home Warranty Cover?
| | | |
| --- | --- | --- |
| Covered Items* | Total Plan | Basic Plan |
| Air Conditioning System | | |
| Heating System | | |
| Electrical System | | |
| Plumbing System | | |
| Plumbing Stoppage | | |
| Water Heater | | |
| Whirlpool Bathtub | | |
| Refrigerator | | |
| Oven / Range / Stove | | |
| Cooktop | | |
| Dishwasher | | |
| Built-In Microwave | | |
| Garbage Disposal | | |
| Clothes Washer | | |
| Clothes Dryer | | |
| Ductwork | | |
| Garage Door Opener | | |
| Ceiling and Exhaust Fans | | |
Optional Coverage
| | | |
| --- | --- | --- |
| Pool / Spa | Well Pump | Sump Pump |
| Central Vacuum | Limited Roof Leak | Septic System |
| Second Refrigerator | Stand Alone Freezer | Septic Tank Pumping |
*
Click Here
to view complete limits of liability and any exclusions. CHW offers service contracts which are not warranties. ** See policy for specifics on response times. ***CHW reserves the right to offer cash back in lieu of repair or replacement in the amount of CHW's actual cost (which at times may be less than retail) to repair or replace any covered system, component or appliance.
How does a Rhode Island Home Warranty Work?
At the first hint of trouble with one of your covered systems or appliances, call customer service. They will get you in contact with a service professional who can take care of the necessary repairs. All of Choice Home Warranty's service providers are fully insured, licensed, highly rated, and carefully checked out before ever being sent out to your home. Your complete satisfaction is our goal.
At the first visit, a small service fee will be collected. After that, any further work on your covered item will be handled by your home warranty plan. If your service technician determines that your covered item can't be repaired, it will be replaced under your warranty plan. This is invaluable in Rhode Island where homes are so much older, and systems and appliances are certainly beginning to show their age.
With a Rhode Island home warranty, you won't have to worry that your savings or emergency accounts will be gutted by a single repair or replacement. Just keep a modest repair fund on hand for service fees as they may come due and you're covered. You really do get peace of mind with a home warranty from Choice Home Warranty.
With two plans to choose from, and an array of add-on protections, Choice Home Warranty allows you to customize a plan to fit the way you live. If you're looking for a comprehensive home warranty plan in Rhode Island, Choice Home Warranty is an excellent pick.