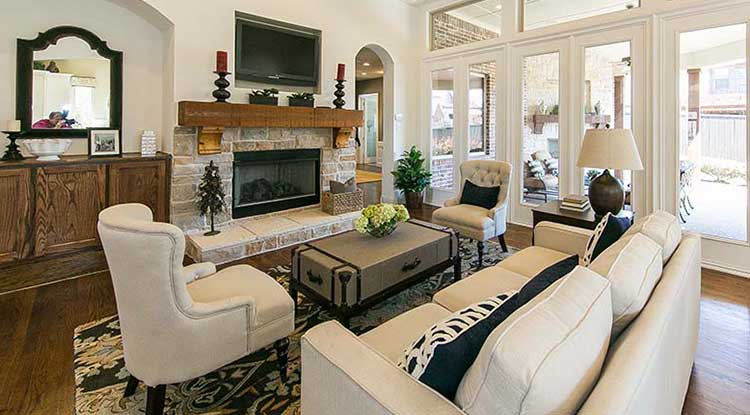 According to the U.S. Census, the state of Texas had an estimated population of over 27,800,000 in July 2016. Over 62 percent of these residents live in owner-occupied housing units. The median value of these homes is $136,000. A significant number of Texas residents are gathered in Texas's major metropolitan areas. Houston has a population over 2.3 million. San Antonio boasts nearly 1.5 million residents and Dallas has more than 1.3 million. Austin, Fort Worth, El Paso, and Arlington are major metropolitan hubs in the vast state of Texas as well. The second-largest state in the United States, Texas covers about 266,907 square miles. This puts it within several diverse climates including mountain, continental steppe, and modified marine. Homeowners in the state need to understand the unique elements of their individual area to best protect their homes from potential threats. Home insurance and warranty rates vary significantly by city. Value Penguin reports that Texas is the third most expensive state in the country for homeowner's insurance, yet it exhibits a broad range of prices depending on your area. While the state average is $1,639, El Paso residents pay less than half that with an average annual premium of just $824 a year. Head to Needville, however, and you'll find rates at the extreme upper end of the spectrum, averaging $2,569 a year. Protect your Texas home and the valuable systems and appliances in it with a home warranty that's tailored to the unique needs of your neighborhood and climate.
Why is Choice Home Warranty the Best Option in Texas?
Choice Home Warranty is an award-winning company, mainly due to our professionalism and service. Our plan is to work with any home in Texas, giving you the peace of mind that if one of your major systems of appliances break down, we got you covered. If and when such item breaks, simply call our sales department at (888) 373-0969, and one of our trained professionals will be able to assist you. We will schedule a service request at a small fee to you, the service call fee. This is a fee charged to cover our cost of plumbers, electricians, and other tradespeople who work for our company. After diagnosing the issue with your system or appliance, we will do what it takes to get it repaired and working for you again. We may follow up with you after the job to hear about your experience. Our process is simple and we avoid the hassles often related to finding a home repair professional. Often times, if you contact an electrician or an HVAC company, your cost can run up from a few hundred to a few thousands for repairs. With us, you have the peace of mind that your home appliances are protected, but your pocket too. Also, if you are planning to sell your house in TX, getting a warranty with us will boost buyer confidence. They will know that their appliances have been taken care of and in good condition. A warranty can surely help sell your home faster.
Protect Your Texas Home and Appliances
Compared to the rest of the Unites States, Texas has a much higher rate of air conditioner use. While AC systems account for just 6 percent of annual energy consumption in the US as a whole, they use 18 percent of yearly home energy in the state of Texas. Over 80 percent of Texas homes use central air conditioning. A comprehensive home warranty plan will extend beyond standard coverage to cover this essential home system. When it comes to heating, Texas homes use less energy than the national average. Heating systems in Texas account for just 22 percent of residents' energy bills compared to 41 percent for the US on average. Electric heating systems are the most common option in Texas, followed by natural gas systems. Though the heating season is shorter in Texas than other parts of the United States, winter lows can still dip into the 30s, making an efficient heating system a critical component for safe winters. Standard home warranty plans will cover your heating system and ductwork, protecting you from the inconvenience of sudden repair needs in the chill of winter. Water heaters are typically covered as well. These account for 19 percent of home energy use in Texas, which is marginally higher than the national average of 18 percent. While these home comfort systems are some of the most critical, they're far from the only things you enjoy in your home. The remaining 41 percent of the average home's energy use goes toward other electrical appliances, electronics, and lighting in Texas. Though a home warranty won't cover your television or stereo, it will protect the electrical system that you use to power these entertainment systems. It also covers kitchen appliances like your oven, range, stove, and microwave as well as exhaust fans, garbage disposals, and more.
Why is a Home Warranty Necessary in Texas?
Home warranties offer valuable coverage to homeowners throughout the United States, but the threats that you face are likely to change with your physical location. Every part of the country has a different climate. In Texas, you'll find that floods, storms, and severe wind are more likely to cause damage than other types of hazards. A lightning strike can fry your appliances, and flooding in the home will have a disastrous effect on any major appliances that sit at floor level. Hot Texas summers put extra strain on appliances that are stored outside the home. A refrigerator or freezer in the garage will have to work much harder to keep your food cold when it's exposed to the heat and humidity that's typical of this area. If you keep your washer and dryer in the garage, these appliances will feel the impact of summer weather even more, as their regular operation generates extra heat and humidity of its own. From keeping your kids' football uniform fresh for those Friday night lights games to cleaning the towels from your dip in the backyard pool, these appliances have an essential job. If you live in a part of Texas that's prone to dust storms, your exposed appliances face a new set of threats. The dust and dirt can easily clog up exterior heating or cooling units, diminishing your capacity and creating the need for frequent repairs or an early replacement. Home warranties are important for Texas residents because it's impossible to accurately predict the threats that may impact one's home. Homeowner' insurance and home warranties work well together to offer comprehensive protection that will keep Texas residents' homes safe inside and out. One typically covers what the other does not, and the combination of the two keeps residents well-covered. While a standard home warranty covers appliances inside the home, optional expanded coverage can protect you in the event of certain types of exterior damage as well. You can add optional coverage for your pool and spa, well pump, sump pump, septic system, and roof leaks.
What Does a Texas Warranty Cover?
| | | |
| --- | --- | --- |
| Covered Items* | Total Plan | Basic Plan |
| Air Conditioning System | | |
| Heating System | | |
| Electrical System | | |
| Plumbing System | | |
| Plumbing Stoppage | | |
| Water Heater | | |
| Whirlpool Bathtub | | |
| Refrigerator | | |
| Oven / Range / Stove | | |
| Cooktop | | |
| Dishwasher | | |
| Built-In Microwave | | |
| Garbage Disposal | | |
| Clothes Washer | | |
| Clothes Dryer | | |
| Ductwork | | |
| Garage Door Opener | | |
| Ceiling and Exhaust Fans | | |
Optional Coverage
| | | |
| --- | --- | --- |
| Pool / Spa | Well Pump | Sump Pump |
| Central Vacuum | Limited Roof Leak | Septic System |
| Second Refrigerator | Stand Alone Freezer | Septic Tank Pumping |
*
Click Here
to view complete limits of liability and any exclusions. CHW offers service contracts which are not warranties. ** See policy for specifics on response times. ***CHW reserves the right to offer cash back in lieu of repair or replacement in the amount of CHW's actual cost (which at times may be less than retail) to repair or replace any covered system, component or appliance.
How to Choose a Texas Home Warranty
If you're shopping for a Texas home warranty, it's important to take local considerations into account. Ensure the home warranty company is licensed to offer residential service contracts in Texas, as Choice Home Warranty is fully licensed in the state.Take stock of the appliances in your home. Texas homes, like many other things in the state, tend to be larger than average. In San Antonio, the average home is 2,175 square feet, making these the third-largest in the nation. El Paso and Austin homes are over 2,050 square feet on average, though the US average is just 1,632. Homes constructed recently are even larger. The average size of an Austin home built between 2010 and 2016 is 2,200. In El Paso, homes constructed in this period average 2,324 square feet. Does your Texas home have an oversized kitchen? Make sure all the appliances in it are covered by carefully examining your home warranty. While a standard plan will cover an oven, stove, range, dishwasher, and built-in microwave, you'll need to upgrade to a Total Plan to cover the refrigerator. If you have a second refrigerator or stand-alone freezer, this requires specialized coverage. What exterior features does your home have? Home warranty coverage for a pool and spa is available as a special add-on. Always read the fine print carefully when you're considering your coverage plan to make sure you know which appliances and systems are on the plan and which are not.
Using Your Texas Home Warranty
Texas homeowners make a significant investment in their spacious homes. It only makes sense to keep these homes and the systems within them covered under a home warranty plan. Once you've chosen a home warranty, you need to take the appropriate steps to make sure you're ready to cash in on the benefits you've just purchased.
Keep a copy of your home warranty handy, particularly the details that specify what appliances and systems are covered.
Determine how much you're responsible for paying for a service call under your warranty. Put this amount in savings so you're always prepared to meet your financial obligation and get a quick repair if something goes wrong.
Store the phone number for your home warranty provider in a convenient place. This might mean posting it on the fridge or storing it in your phone. Make sure it's handy so you're not left searching through your desk desperately when the air conditioning goes out and your home is sweltering.
If a covered system or appliance fails, you'll find it's time to enjoy all those perks you've paid for. Any time you suspect your system needs a repair, you should contact your home warranty company. Handling your claim typically includes:
Connecting you with a local service provider
Getting a diagnosis of the problem from a local repair professional assigned by your home warranty provider
Determining the best course of action – either a repair or a replacement depending on the state of your system
Scheduling your service
Enjoying covered repairs or a fully covered replacement
A home warranty in Texas will give you peace of mind any time there's a problem with your essential home appliances and systems. Depending on your plan, you might have coverage for your washer and dryer, refrigerator, air conditioner, sump pump, stand-alone freezer, and more. Even a standard plan will include basic necessities like your plumbing systems, electrical systems, garage door opener, ceiling fans, and more. If you're a Texas resident looking for a smart way to protect your home, consider investing in a comprehensive home warranty plan for all your needs.