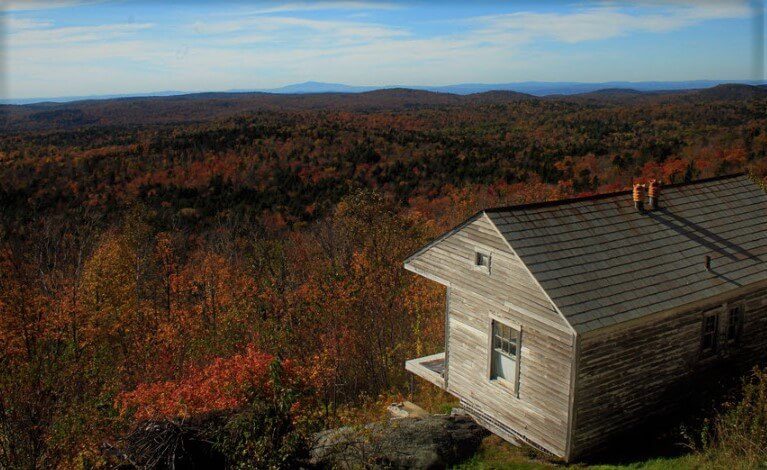 Vermont may be our second smallest state by population, with only Wyoming having fewer residents, but it certainly makes up for it in character. Whether it's the State's stunning landscape, its historic homes, or its unique history, Vermont is a place worth investigating. This state is well known for many things, not the least of which is its maple syrup. At Choice Home Warranty, by providing reliable home warranty protection, we aim to sweeten the pot even further, for all residents of Vermont.
While Vermont really has no large urban areas, as none of its cities have more than 50,000 residents, the combination of Burlington, South Burlington and several other cities and towns makes up the Burlington Metropolitan area, which boasts over 200,000 people. Vermont's homeowners are aware that climate, weather, and even normal wear and tear can affect their home's systems and appliances. The certified technicians at Choice Home Warranty stand ready to help whenever problems occur, so that you are free to enjoy all that Vermont has to offer. We provide peace of mind to the residents of this state.
Vermonters, as they are affectionately called, have always been forward thinking, independent people. In 1777, during the American Revolution, they declared themselves to be an independent republic. Vermont had its own money, postal service, and constitution. In this constitution, Vermont was the first to outlaw slavery. It also did away with property requirements for voting. Vermont remained independent for 14 years until 1791 when it became our 14th state, the first state to be admitted to the union after the first 13 colonies.
In 1775, Ethan Allen (one of the founders of Vermont) and a group of settlers calling themselves the Green Mountain Boys captured the British Fort of Ticonderoga. This was one of the first important American victories during the Revolution. Both Chester A. Arthur and Calvin Coolidge were presidential Vermonters.
The next largest city is South Burlington, with only 19,472 people living in it. Montpelier, the capital city, ranks sixth in population, with just 7,352 residents. In fact, it is the smallest capital city in the nation.
One of the major reasons for Vermont's small population is its geography. The Green Mountains, a range of the Appalachian Mountains, cover the largest part of Vermont. They run the length of the state, roughly down the center.
Continuing the tradition of forward thinking, Burlington is the first city in the country to operate entirely on renewable energy. With nearly four-fifths of the state covered in forest, byproducts from the state's forestry industry are used to fuel the rest of the state's electricity and heating. This industry also provides approximately 1.5 billion in yearly revenues.
Tourism is the second most important element of Vermont's economy, and it's no wonder with all the amazing and eye-popping scenery alone. People come to Vermont in the warm seasons for all the outdoor activities the mountains, forests and multitude of parks have to offer. And, you might want to check out Harvey's Lake in Barnet. This is where the famous Jacques Cousteau made his first dive as a boy.
But oft overlooked are the historic homes to be found all over Vermont. If you look, you will find an array of different style homes:
Chateau-Style Victorian
High Style Queen Anne
Italianate style
Queen Anne style
French Second Empire style
Federal style
Authentic log cabins
If you look closely enough in the neighborhoods of South Hero, you may be fortunate enough to find miniature stone castles, all made by hand by the gardener. Each castle is different, some even have working drawbridges and other unique features.
In the fall, it's the blazing colors of the changing leaves that draw people to Vermont. In the winter, there's skiing, snowboarding, snowshoeing, snowmobiling, ice skating, and the list goes on.
The climate and weather in Vermont are ideal to support all the many winter activities it offers. Average snowfall for the state is 86 inches, while the U.S. average is only 26. However, snowfall in the mountains can reach up to 110 inches.
Vermont gets a good amount of rain, with an average annual precipitation of 43 inches. The U.S. average is 39 inches of rain. Interestingly, the most common natural hazard in Vermont, according to NOAA data, is thunderstorms and lightening, occurring, on average, every 12.6 days from March to October. Coming in a close second, not surprisingly, is winter storms and extreme cold, occurring, on average, every 13.5 days from October to March.
No matter which of Vermont's four spectacular seasons it happens to be, a Vermont home warranty can help protect your home from damages to its critical systems and appliances when the unexpected occurs. Home warranty coverage is not the same as homeowner's insurance. A home warranty provides you with protections beyond and in addition to what your homeowner's policy will. In fact, a Vermont home warranty from Choice Home Warranty will even cover you for damages to your systems and appliances due to normal wear and tear.
Protect Your Vermont Home and Appliances
Nearly 71 percent of Vermont residents own their homes. However, more than 1 in 6 is occupied only seasonally. The median home value in this state is $202,700. That's an increase of 4.5 percent from November of 2017, but values are expected to rise another 1.5 percent through December of 2019. In Burlington, the median home value is $316,800, with an expected rise of 1.4 percent through December of 2019. A home warranty can protect your Vermont home and its critical systems and appliances, wherever you may be located, when unexpected problems and breakdowns occur.
Are you planning on selling your Vermont home? This can be a stressful experience, especially if it's your first one. Home warranty companies will cover your systems and appliances while your home is up for sale, giving you peace of mind. You'll know that if the unexpected occurs, you won't have the hassle and expense of having to repair or replace one of your home's systems or appliances during this already stressful time. 80 percent of homebuyers prefer to buy a home with a home warranty; so, you may be improving the marketability of your home as well.
Are you in the market for a home in Vermont? Buying a home anywhere is a big investment and can stretch anyone's finances. The last thing you need is for a home system or appliance to break down unexpectedly right after you buy. What a nightmare. Wouldn't it just be better to buy a home with a home warranty already in place? That way you know that if the unexpected should occur, you'd be covered for any necessary repairs, or even a replacement.
Homes in Vermont have a median age of 35 to 39 years. This is in line with the national median of 37 years. Still, it is quite easy to see how homes of this age could require repairs, or even replacements of their home's systems and appliances, perhaps more than once, during all that time. After all, the average working life of a household appliance is 9 to 15 years. In Vermont, where extreme cold and thunderstorms and lightening are frequent hazards, doesn't it just make good sense to want to protect your Vermont home and appliances?
Vermont is forward thinking even in its energy generation. Although more than half of its hydroelectric power comes from Canada and surrounding states, almost all its total electricity generation is from renewable sources. Of the electricity that is generated in-state, one-fifth is from biomass. Only about 1 in 20 Vermont homes are heated with electricity.
A considerable amount of Vermont's power is generated by wood or wood waste. In fact, almost 1 in 6 homes use wood as their primary source for space heating. Vermont has limited access to natural gas; it is piped in from Canada primarily to three counties in the Burlington area such that nearly 1 in 5 homes are able to use natural gas for space heating. The largest number of households, three-fifths, use fuel oil, kerosene or propane for home heating.
Your hot water heater is an appliance you rely on year-round for everything from dishes, to laundry, to hot showers. The last thing you want, in any season, is for this critical appliance to break down on you. With the Basic Plan from Choice Home Warranty, you can keep your water heater in good working order, as you will be covered for any necessary repairs, or even a replacement. This is a good thing as a new water heater could cost you more than $1,000.
And what about your heating system. It really takes a work out in Vermont, with temperatures running 7°F and below in the winter and 86 inches of snow on the ground. But the Basic Plan covers your heating system and ductwork too. With Choice Home Warranty, you get peace of mind, knowing that your critical comfort systems will be repaired or replaced, as necessary, so you don't have to go without when you need them the most.
Although the turning leaves and the excellent skiing may be what most often come to mind when one thinks about Vermont, it does get warm in the summertime, with average high temperatures hovering around 79. Naturally, it gets warmer than that, and you'll want your air conditioner to be in good repair when you need it. Upgrade to a Total Plan and it's covered too.
It isn't difficult to see how taking good care of your Vermont home systems and appliances is so important. With Choice Home Warranty, this is easy to do. Just make a service call at the first sign of trouble. In this way, you can help protect your systems and appliances from total breakdown and protect yourself from having to go without them.
Why is a Home Warranty Necessary in Vermont?
Extreme cold and thunderstorms are quite hazardous to your home's critical systems and appliances. A Vermont home warranty can help to protect you when covered items break down, even if the problem is from normal wear and tear.
After a day of hiking in the Green Mountains or cycling around South Hero Island looking for miniature castles, you may have some laundry to do. But laundry is a chore that's distasteful enough without having trouble with your washing machine. Happily, the Total Plan from Choice Home Warranty covers both your clothes washer and dryer, so you can spend your evening enjoying some down time, checking out all the pictures you took.
What if you've just made an apple pie with some choice Champlain Valley apples and you're ready to run the dishwasher, but it goes on the fritz? Our dishwashers are appliances that we really don't want to go without, but there are several things that can go wrong with them, necessitating repairs, or replacements. The average life of a dishwasher is around 10 years. Of course, a lot depends on how well you take care of it.
There are a couple of major parts to the dishwasher that can go bad, which will probably mean you need a replacement: the motor and the pump. If the heating element goes bad, it's possible it may just need to be replaced. But if the door won't latch, and it's not just the gasket, it may have warped and it's time for a new machine. Not to worry, the Basic Plan covers your dishwasher, oven, range, cooktop, built-in microwave and disposal. Upgrade to a Total Plan and your refrigerator is also covered.
And you aren't limited by the Basic and Total Plans. Choice Home Warranty has several add-on protections to allow you to customize your plan to fit the way you live. Those of you in the more rural areas may be interested in protections for well pumps, sump pumps and septic systems. And with the rain and thunderstorms, our limited roof leak protection may also be of interest to you. Do you own a second refrigerator or stand-alone freezer to save on trips to the city, or just stock up on things you use most? These can be added on as well. Your Vermont home warranty can be custom-fit to your lifestyle
.
What Does a Vermont Warranty Cover?
| | | |
| --- | --- | --- |
| Covered Items* | Total Plan | Basic Plan |
| Air Conditioning System | | |
| Heating System | | |
| Electrical System | | |
| Plumbing System | | |
| Plumbing Stoppage | | |
| Water Heater | | |
| Whirlpool Bathtub | | |
| Refrigerator | | |
| Oven / Range / Stove | | |
| Cooktop | | |
| Dishwasher | | |
| Built-In Microwave | | |
| Garbage Disposal | | |
| Clothes Washer | | |
| Clothes Dryer | | |
| Ductwork | | |
| Garage Door Opener | | |
| Ceiling and Exhaust Fans | | |
Optional Coverage
| | | |
| --- | --- | --- |
| Pool / Spa | Well Pump | Sump Pump |
| Central Vacuum | Limited Roof Leak | Septic System |
| Second Refrigerator | Stand Alone Freezer | Septic Tank Pumping |
*
Click Here
to view complete limits of liability and any exclusions. CHW offers service contracts which are not warranties. ** See policy for specifics on response times. ***CHW reserves the right to offer cash back in lieu of repair or replacement in the amount of CHW's actual cost (which at times may be less than retail) to repair or replace any covered system, component or
appliance.
How does a Vermont Home Warranty work?
When you notice a problem with one of your covered systems or appliances, like leaking from your dishwasher door, give customer service a call. They will get you in touch with a service professional who can affect the necessary repairs. All of Choice Home Warranty's service providers are highly rated, fully insured, licensed and carefully vetted before being sent to your home. Our goal is your complete satisfaction with your repair experience.
At the time of the first visit to your home, a small service fee will be collected. Any further work on your covered item will be taken care of by your home warranty plan. If your service technician finds that your covered item can't be repaired, it will be replaced under your warranty. This is important in Vermont where homes are of an age where systems and appliances are wearing out.
You never have to worry with a Vermont home warranty that your savings or emergency accounts will be gutted by a single repair or replacement. You only need to keep a modest repair fund on hand for service fees as they may be needed. Choice Home Warranty certainly gives you peace of mind.
With two plans to choose from and several add-on protections as well, Choice Home Warranty lets you tailor a plan to fit your lifestyle and individual needs. If you are looking for a comprehensive home warranty in Vermont, there is truly, only one option.