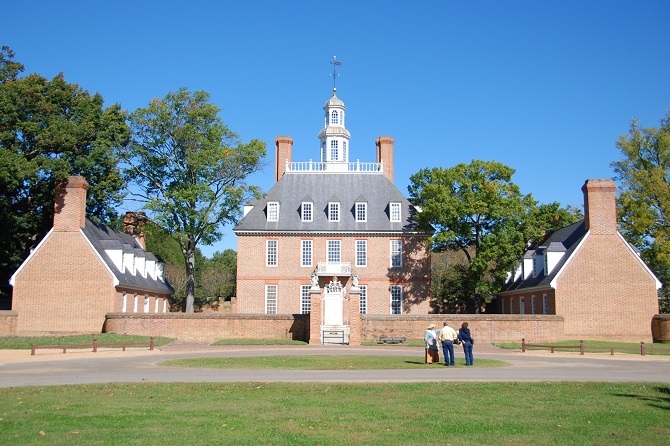 A home warranty is a service protection plan that covers home repairs. Such plans have a modest annual fee, no hidden charges, and provide full protection for repairing systems and appliances in your home.
A warranty from Choice Home Warranty can cover heating and electrical systems, indoor plumbing, and appliances such as water heaters, dishwashers, HVAC systems, refrigerators, ovens and more.
People often assume that a home warranty is the same policy as homeowner's insurance. However, they are separate products that serve a different purpose.
Homeowner's insurance only provides coverage for damage to your home from storms, theft and fires. A home warranty is an annual contract covering the repairs and/or replacement of major systems and home appliances. Both unexpected breakdowns and normal wear are covered by our warranties.
Living in Virginia
Nicknamed the "Old Dominion" because of its history as an English colonial possession, Virginia is one of the most geographically diverse states in the United States. Coastal plains, mountains and valleys make up the terrain of this great state.
Much like its geography, Virginia has a varied climate. It is hot warm during the summer months, with highs in the high-80s to early-90s common. It can also get quite cold in the winter, with temperatures reaching the mid-20s in some instances.
The humidity is very high in Virginia, especially in the summer, fall and spring months. It may be a concern to Virginia homeowners, as humidity is known to cause damage to appliances and home systems.
Given the warm spring and fall months, and the hot summers, most homes in Virginia have air conditioning. It is increasingly common for modern homes in the state to have central cooling systems running continuously from May to September.
The months of April and October air fairly mild, while temperatures in November, December, January and February mean that home heating systems are often running.
Heavy HVAC system use will result in quicker degradation of the various systems, especially those placed outdoors. It is why homeowners may want to consider a policy from Choice Home Warranty to protect the systems and appliances in their home.
Keep Your Appliances Safe
Given Virginia's humid subtropical climate, many home appliances are adversely affected by the weather throughout the year. Temperatures regularly go up to the high 80s in the summer and the low 30s in the winter! Components of HVAC systems that are located outside could have a reduced lifespan due to these extreme temperatures.
Even appliances that are kept inside are susceptible to damage, if the homeowner turns off their heating or cooling when they are not home. When the humidity is factored into the equation, home appliances are going to develop problems sooner than later.
This is especially true in areas where the climate is mild. The humidity can go up to 90 percent in the summer, which is not good for appliances and home systems.
As mentioned before, a policy from Choice Home Warranty would guard against needing to spend a lot of money on home appliance and system replacements. Appliances such as washers, dryers, HVAC components, window ACs, and water heaters are protected.
Home Warranty and Real Estate Deals
Not only is a home warranty excellent coverage for your home, but it also provides you with a layer of protection if you ever need to sell.
Selling may not be in your plans right now, especially if you recently purchased a home in Virginia. However, circumstances change. Perhaps you would contemplate selling your home in the next decade.
According to AngiesList.com, if your home has a warranty, you are likely to sell it faster than a comparable home that is not similarly protected.
Buyers are aware of the pitfalls of damaged appliances and systems when they are searching for their next home.
If a home has a warranty, buyers will have the peace of mind that every system appliance and system has been maintained. Even if something breaks down, they know the warranty will cover the mechanical repairs.
Receive Extra Protection Through Add-Ons
They say that anytime you visit a friend or relative in Virginia, you should be treated to their famous hospitality. And it is true that Virginians love to entertain guests, close friends and family.
People in the area also love spending time outdoors, especially if they have a lovely backyard space. Hearing about a massive barbeque going on in the neighborhood is a common occurrence. You can often step outside on a Saturday evening and smell the delicious aroma of ribs or steak cooking on a grill!
Roof Leaks
There is no convenient moment for a roof leak to occur. They can happen anytime, but the danger is even greater during storm season.
Virginia does get a significant amount of rainfall during the year, which exposes homes to roof leaks. Older homes are more likely to develop such issues, as the roof may have been installed 10 or 20 years ago.
Choice Home Warranty offers an add-on to our policies for roof leak protection. Roof leaks can be caused by any number of problems. For that reason, it's important to work with our professional roofing specialists, so that your roof leak and subsequent repair can be professionally diagnosed and treated.
We believe the roof leak add-on is a must for every Virginia homeowner, as it ensures quick and painless roof repairs. Letting roof leaks fester is a bad idea, as it can cause water getting into your home and potentially compromising its foundation.
Pools and Jacuzzis
Many modern Virginia homes have swimming pools in the backyard. Land is inexpensive compared to other parts of the country, while the weather is warm enough to swim for nine to ten months in the year!
Some homes may have a small hot tub too. It is so relaxing to sit in the warm hot tub, especially after a hard day at work. But pools and spa equipment can be expensive to service and repair.
Luckily, our Choice Home Warranty policies come with an add-on for pools and spas. With the add-on, your pool or spa mechanical items may fall under the warranty umbrella.
Standalone Freezers
Most homes in Virginia will have a standalone freezer, as grilling is such a common hobby. Buying meat can get take up a lot of space. Choice Home Warranty does provide an add-on coverage for a standalone freezer, ensuring protection for the appliance.
How to Identify the Best Home Warranty
A home warranty from Choice Home Warranty offers you peace of mind, knowing that if a covered item breaks down, it is not going to cost a fortune to replace.
Whether you live in a five or twenty-year-old home in Virginia, a policy from Choice Home Warranty will help you. When you request a quote, a professional will speak with you to ensure that you pick the policy that suits your circumstances.
It is also important to select the add-ons available from Choice Home Warranty, as they can provide extra protection to systems and appliances in your home.
Investing in a Home Warranty
Many homeowners are hesitant to spend money on a home warranty. They see it as an unnecessary expenditure. Some may prefer to put money away in an emergency fund, savings account or retirement account.
Not only is a home warranty a worthwhile investment, but it can help grow a family's savings over time.
A home warranty from Choice Home Warranty has a modest annual fee. It is an affordable investment that provides protection against damage to your homes major systems and appliances.
When an appliance or system breaks down, the mechanical repairs or replacement can be covered by the warranty. Over five to ten years, it can save homeowners thousands of dollars on repair or replacement of washing machines, dishwashers, dryers, HVAC systems, fans and water heaters.
Consider a home warranty a financial investment in your home, as it will help protect your emergency fund. Instead of putting that money towards broken appliances and systems, it is safe for other emergencies.
Even if you end up selling your home down the road, a home warranty will net you a higher sale pricea>. It is another way this investment pays off for families in Virginia.
What Does a Virginia Warranty Cover?
| | | |
| --- | --- | --- |
| Covered Items* | Total Plan | Basic Plan |
| Air Conditioning System | | |
| Heating System | | |
| Electrical System | | |
| Plumbing System | | |
| Plumbing Stoppage | | |
| Water Heater | | |
| Whirlpool Bathtub | | |
| Refrigerator | | |
| Oven / Range / Stove | | |
| Cooktop | | |
| Dishwasher | | |
| Built-In Microwave | | |
| Garbage Disposal | | |
| Clothes Washer | | |
| Clothes Dryer | | |
| Ductwork | | |
| Garage Door Opener | | |
| Ceiling and Exhaust Fans | | |
Optional Coverage
| | | |
| --- | --- | --- |
| Pool / Spa | Well Pump | Sump Pump |
| Central Vacuum | Limited Roof Leak | Septic System |
| Second Refrigerator | Stand Alone Freezer | Septic Tank Pumping |
* Click Here to view complete limits of liability and any exclusions. CHW offers service contracts which are not warranties. ** See policy for specifics on response times. ***CHW reserves the right to offer cash back in lieu of repair or replacement in the amount of CHW's actual cost (which at times may be less than retail) to repair or replace any covered system, component or appliance.
How to Get a Home Warranty
If you are hoping to get a home warranty from Choice Home Warranty, the process is quick and easy. All you need to do is fill out a short online form to get a free quote – or give us a call for more information.
The online form requires details such as your name, email address, phone number and home address. We also ask for the square footage of your home, as it helps us provide a more accurate quote.
When you receive an initial quote and wish to proceed, a Choice Home Warranty professional may ask you further questions about your home systems and appliances to get a more accurate quote.
They will also ensure that you have the right policy for your home. When you are comfortable with the details of your coverage and annual fee, you can finalize the contract to ensure that your appliances and systems are protected!
Common Questions on Home Warranties
I own a homeowner's insurance policy. Do I need a home warranty?
Homeowner's insurance is not the same type of policy as a home warranty. Homeowner's insurance is a necessity and provides protection in the event of a natural disaster, theft, or similar, however it does not offer appliance os major system protection. A home warranty covers the mechanical repairs to your home's appliances and major systems.
I have some very old appliances in my house. Will they be covered by your warranty?
Yes, a policy from Choice Home Warranty can provide coverage for mechanical repairs to appliances and major systems in your home, even if they are ten years old. The only criteria that matters is the working condition of the appliance or system, not its age.
Should I get a home inspection before signing on to a policy?
It is not required, as we provide Choice Home Warranty policies without any inspection.
When will my coverage begin?
When you sign the contract and submit your first payment, your Choice Home Warranty policy will be active in 30 days. The warranty will continue for 365 days from that start date.
How do I file a claim for service? Is there any extra cost to filing claims?
When you find there is an issue with a system or appliance in your home, you are encouraged to file a claim within 24 hours. You can file claims online or by contacting us over the phone.
Choice Home Warranty policies have a low one-time charge for every service call, regardless of what work is done by the service professional.
What if an item in my house is broken, but is no longer being sold?
Choice Home Warranty will handle the steps to ensure your item is adequately repaired or replaced.
Final Thoughts?
Whether you recently bought a home in Virginia or you are a longtime homeowner, a home warranty provides you with financial security. When appliances or systems in your home require mechanical repairs, just contact choice home warranty to begin the repair process.
Homeowners no longer need to stress about dipping into their savings and can rest assured that they will never have to pay for covered home repairs again.
A policy from Choice Home Warranty is an affordable and efficiency solution to protecting your home's appliances and systems.
A single appliance replacement or repair can cost more than our warranty's annual fee. Our home warranty is the financially responsible way of protecting your home.