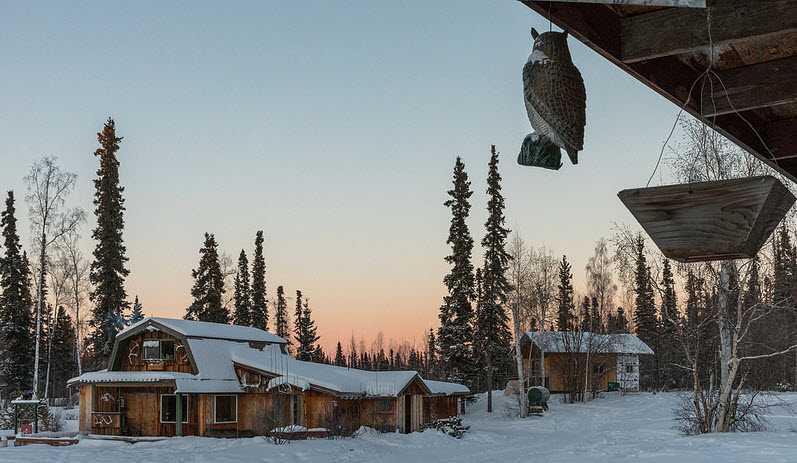 The land of the midnight sun, as Alaska is often called, is a land of exquisite beauty, as well as amazing phenomena. In Barrow, about 330 miles north of the Arctic Circle, there are more than 80 days of continuous daylight, and about 67 days of continuous darkness each year. Of course, not all cities in Alaska experience such extremes. Like the climate, it depends on where in Alaska you are. Anchorage, for example, gets only up to 19 hours of daylight in the summertime; but, on the shortest day in the winter, Anchorage will only get about 5 ½ hours of daylight. The daylight/darkness in Alaska has its challenges, which have prompted many to capitalize on the benefits of a home warranty.
This state is also known for the beauty of the often elusive, aurora borealis or northern lights. When charged electrons and protons collide with the Earth's upper atmosphere, the aurora borealis is created. And if you are in Fairbanks, you have a good chance of viewing the aurora about 243 days a year.
Alaska was purchased from Russia in 1867 by Secretary of State, William H. Seward for $7.2 million. That works out to about two cents an acre. For a time, it was called "Seward's Folly." But of course, gold was discovered here, and later a wealth of oil. Although Alaska became a territory in 1912, it wasn't admitted as the 49th state until 1959. Alaska increased the size of the United States by almost 20 percent and is our largest state.
Surrounded on three sides by water, Alaska is bordered by the Gulf of Alaska and the Pacific Ocean to the south, the Bering Strait and the Bering Sea to the west, the Chukchi Sea to the northwest, and the Beaufort and the Arctic Ocean to the north. Canada separates Alaska from the Lower 48 and its eastern boundary is with the Yukon Territory and the British Columbia province. The Inside Passage of Alaska's panhandle, between the Pacific Ocean and British Columbia is home to Glacier Bay National Park, with 3.3 million acres of land, and includes approximately 1,000 islands.
Huge expanses of land are not the only standout in our northernmost state. There are also an estimated 100,000 glaciers in Alaska. In fact, more active glaciers and ice fields exist in Alaska than anywhere else in the inhabited world.
Alaska also boasts 17 of the United States' 20 highest mountain peaks. The tallest mountain in North America, Denali (originally called Mount McKinley), is among them. It stands 20,310 feet above sea level in the 6 million acre Denali National Park and Preserve. Over 100 state parks grace this state as well. And, it is also home to the "last great race on Earth," the 1,200 mile long Iditarod Trail Sled Dog Race, run from Anchorage to Nome each year.
There are many potentially active and active volcanoes in Alaska, including those in the Aleutian Island chain which is part of the state. Additionally, approximately 5,000 earthquakes occur in Alaska every year. One of the strongest ever recorded in the United States hit Prince William Sound with a magnitude of 9.2 in 1964.
But what about the weather? It really isn't cold all the time in Alaska. In fact, summers in some regions can be quite warm, getting into the 80s and sometimes 90s in the interior in places like Fairbanks. The thing about Alaska is that the temperature will vary dramatically depending on where you are. It has microclimates; so, in some instances, if you were to drive an hour or two, you might see a 30-degree difference in temperature. The record low temperature for the United States was recorded at Prospect Creek Camp in 1971 at -80°F. The highest recorded temperature in Alaska to date was 100°F.
Anchorage has an average July high of about 65°F and an average January low of about 11°F. Its average annual rainfall is about 17 inches; and, its average annual snowfall is about 74 inches. Thunderstorms with severe lightning are common in the interior of Alaska in the summertime and can cause forest fires. The weather fluctuations pose a varied array of issues when it comes to household systems or appliances. In these conditions, it's advisable to properly maintain all the equipment that provides for a well-functioning home. At Choice Home Warranty, our job is making sure that happens.
With neighbors hard to come by in Alaska, Choice Home Warranty takes pride in being that friendly voice when the need arises. Alaska has only 738,068 residents, as of 2018 estimates. With approximately 665,000 square miles, Alaska has only 1.2 people per square mile, making it the least densely populated state in the nation. This state has considerable uninhabited land. The most populous city in Alaska is Anchorage, with 297,952 residents, making it the only Alaskan city with more than 50,000 people. Over 40 percent of Alaska residents live in Anchorage. The capital of Alaska, Juneau, comes in third with 32,198 residents. Curiously, it is the only city in our nation that you can only get to by boat or plane, as there is no access by road. At 3,108 square miles, it is also Alaska's largest city by area.
As you might suspect, petroleum is a large part of Alaska's economy. Of the oil produced in the United States, 25 percent comes from Alaska. And, living in this state can certainly have its perks. Since 1982, all eligible state residents receive a yearly dividend based upon the value of the oil earnings in the Alaska Permanent Fund.
Whether you live in the Anchorage area, or one of the many small cities, towns and villages of Alaska, an Alaska home warranty can help protect you against damages to your home's critical systems and appliances when unexpected problems occur. A home warranty is not the same as a homeowner's policy but provides protections beyond and in addition to it. In fact, an Alaska home warranty from Choice Home Warranty even covers you for damages caused by normal wear and tear.
Protect Your Alaska Home and Appliances
Up just 0.8 percent from June of 2017, the median home value in Alaska is still sizeable at $307,900. However, the median home value is expected to fall by 4.0 percent through June of 2019. About 64 percent of Alaska residents own their homes. A home warranty can protect your Alaska home and its critical systems and appliances from unexpected problems and breakdowns.
If you are selling your Alaska home, it may be good to know that home warranty companies will cover your systems and appliances while your home is on the market. This provides peace of mind, since you know that you won't have the extra burden of a large bill to repair or replace something during this stressful period. And, your real estate professional will tell you that a home warranty can increase the marketability of your home. Eighty percent of people searching for a new home would rather buy one with a home warranty.
Are you looking for a new home in Alaska? Wouldn't you rather purchase a home that has critical systems and appliances already covered for repairs or replacements should the unexpected happen? After all, you're making a big investment buying a home in Alaska. The last thing you want is to have to pay out another large sum to have a system or appliance repaired or replaced right after you've bought your new home.
Not all of Alaska has access to an interconnected electrical power grid. In fact, only those on the Railbelt, which provides power to the populated areas from Fairbanks to the south of Anchorage do. That's about 75 percent of Alaska's population. Some of the remaining 25 percent in the more rural areas get their power from electric co-operatives owned by consumers. But many use diesel fueled electricity generators for part or all their power. Alaska gives financial help to local communities because electricity prices in these rural areas can reach three to five times more than the Railbelt.
But the people of Alaska are nothing if not resourceful. Wind-diesel hybrid systems are used in some rural communities. And, fish oil may be used to run boilers. Every year, over 100,000 cords of wood are burned for space heating in Alaska. Finally, more than 70 communities combine heat and power systems so that they can use the waste heat from the generation of electricity to heat their homes as well as other buildings.
The median age of homes in Alaska is 30 to 39 years. While this is comparable to the national median of 37 years, it isn't a stretch to see where a home of this age would need to have critical systems and appliances repaired or replaced, even more than once. The average working life of most household appliances is 9 to 15 years. In Alaska, where long days and nights, thunderstorms and lightning, not to mention extreme cold and snow can be a hazard, doesn't it make sense to want to protect your Alaska home and appliances?
In Alaska, where even the summers can be cool in many places, the last thing you want is for your heating system to break down. A Basic Plan from Choice Home Warranty will cover not only your heating system, but also your duct work. It also covers other essential home systems, like your electrical system and your plumbing system.
But what if your water heater, another critical appliance, should go on the fritz? The Basic Plan covers this as well. Since a new water heater could run you over $1,000, wouldn't you feel better knowing that you are covered should something go wrong?
It's very important to keep your systems and appliances in good working order in Alaska. With a home warranty plan from Choice Home Warranty, you can do just that. All you need do, is make a service call as soon as you notice a problem. This will help you protect your critical systems and appliances before they break down completely.
Why is a Home Warranty Necessary in Alaska?
Obviously, the climate can be a problem in Alaska. Extreme cold, snow, thunderstorms and lightning can all take their toll on your mechanical systems. An Alaska home warranty can help protect you when covered items break down, even from normal wear and tear.
Fairbanks and other places in the interior can get quite warm in the summertime. An upgrade to a Total Plan will cover your air conditioner should it malfunction. And the best part is, with a Total Plan, you still get all the benefits and protections of the Basic Plan.
Thunderstorms are also common in the summertime; and, some areas of Alaska see quite heavy rainfall. Limited roof leak protection is available as an add-on to your Alaska home warranty plan. And, there are add-on protections for many other systems and appliances, depending on your needs. No matter where you choose to live in Alaska, there is a plan for you.
What if you've just spent the day exploring one of the 100 plus Alaskan state parks, or enjoying one of Alaska's millions of lakes? You'd expect to be able to come home and wash and dry your dirty clothes, not have to deal with an unexpected breakdown. A Total Plan from Choice Home Warranty covers both clothes washers and clothes dryers, so you won't have to worry.
Let's say you're making Alaskan Salmon and wild berry tarts for your Iditarod party and your oven quits working. No worries, the Basic Plan covers your oven, range, cooktop, built-in microwave, dishwasher and disposal. Upgrade to a total plan, and your refrigerator is covered as well.
With so many of you living in hard to reach cities, towns and villages, it's a good bet you have a second refrigerator or stand-alone freezer to stock up on the things you use most. These items can be added on to your Alaska home warranty plan also. Then, should you have a problem, you can get repairs or a replacement, if needed.
What Does an Alaska Warranty Cover?
| | | |
| --- | --- | --- |
| Covered Items* | Total Plan | Basic Plan |
| Air Conditioning System | | |
| Heating System | | |
| Electrical System | | |
| Plumbing System | | |
| Plumbing Stoppage | | |
| Water Heater | | |
| Whirlpool Bathtub | | |
| Refrigerator | | |
| Oven / Range / Stove | | |
| Cooktop | | |
| Dishwasher | | |
| Built-In Microwave | | |
| Garbage Disposal | | |
| Clothes Washer | | |
| Clothes Dryer | | |
| Ductwork | | |
| Garage Door Opener | | |
| Ceiling and Exhaust Fans | | |
Optional Coverage
| | | |
| --- | --- | --- |
| Pool / Spa | Well Pump | Sump Pump |
| Central Vacuum | Limited Roof Leak | Septic System |
| Second Refrigerator | Stand Alone Freezer | Septic Tank Pumping |
*
Click Here
to view complete limits of liability and any exclusions. CHW offers service contracts which are not warranties. ** See policy for specifics on response times. ***CHW reserves the right to offer cash back in lieu of repair or replacement in the amount of CHW's actual cost (which at times may be less than retail) to repair or replace any covered system, component or appliance.
How does an Alaska Home Warranty Work?
Simply call customer service whenever you have trouble with a covered system or appliance and you will be put in touch with a service professional who can perform the requested repairs.  All service providers are highly rated, licensed, fully insured and thoroughly vetted before ever being sent to your home.
The first time a technician comes out on an issue, you will need to pay a small service fee. After that, everything for that covered item is taken care of by your protection plan. No more worrying about a single repair or replacement decimating your savings or emergency fund. All you need to worry about it a modest repair fund to take care of service fees.
If the service technician discovers that your covered item can't be repaired, it will be replaced under your plan. This is particularly valuable in Alaska where homes are in their fourth decade and systems and appliances are coming to the end of their useful lives.
With Choice Home Warranty, you have two plans to choose from, plus many add-on coverages that let you tailor a plan to fit your situation. So, if you want to protect your home and appliances in Alaska, the offered comprehensive home warranty plans from Choice Home Warranty are an excellent way to go.