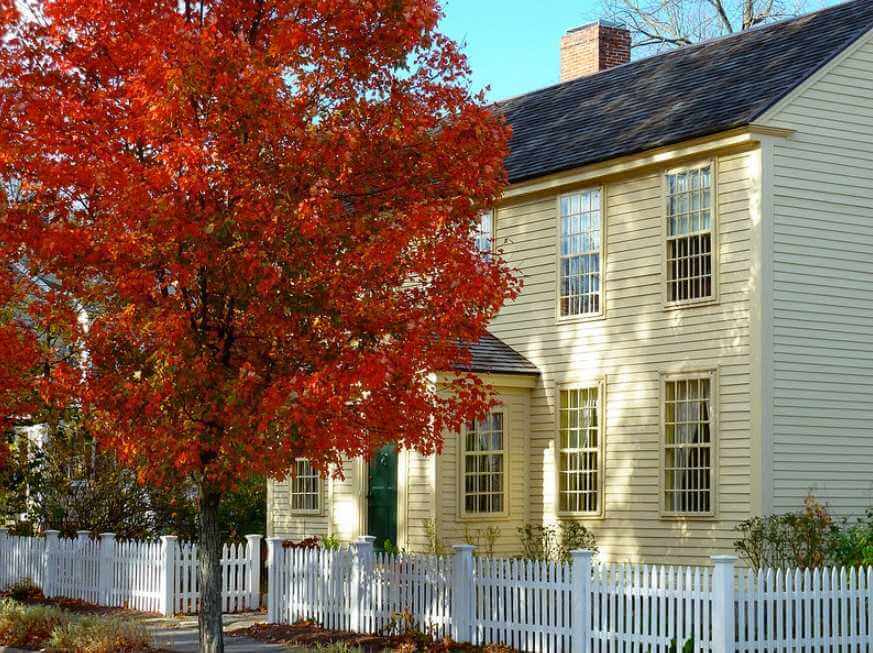 Massachusetts was first settled by the Pilgrims in 1620 and was founded as the Plymouth Colony. It was one of the thirteen original states and is one of the six New England states today. Interestingly, until 1820, Maine was part of Massachusetts. Now Massachusetts is bordered on the south by Rhode Island and Connecticut, on the west by New York, on the north by Vermont and to the east and southeast by the Atlantic Ocean. Choice Home Warranty is committed to making your Massachusetts home's reliability as solid as Plymouth Rock.
It was named by John Smith, one of the colonists, after the Massachusetts Indian Tribe. Its current nickname is the Bay State, and aptly so. Massachusetts has over 1500 miles of coastline, which includes numerous bays. This coastline is believed to have been created by glaciers. Massachusetts claims the islands of Nantucket and Martha's Vineyard as well. The coast of Cape Cod alone is 65 miles long and includes Cape Cod Bay.
In the east, Massachusetts is primarily flat and rocky. Except for the Connecticut River Valley, there is little fertile land. The west has gently rolling hills. Only about one tenth of the state is actual farmland, and half of that is woodland or pasture. About two thirds of Massachusetts is still natural forests. However, this state produces the country's second largest cranberry crop. In fact, it supplies about two fifths of the nation's cranberries.
There are nineteen primary river systems and over 1,000 lakes and ponds in Massachusetts. Henry David Thoreau made Walden Pond the most famous, with his writings about it. Other famous people from Massachusetts who helped shape this state and our country include presidents John Adams, John Quincy Adams, John F. Kennedy, and George H.W. Bush, as well as Samuel Adams, Emily Dickenson, Ralph Waldo Emerson, Benjamin Franklin, John Hancock, Paul Revere, Norman Rockwell, Edgar Allen Poe and Eli Whitney, to name a few.
Massachusetts is also famous for the Boston Tea Party, decrying "taxation without representation". The American Revolution began right here in 1775, adding to the rich history of the state. Living so close to the epicenter of the country's beginnings is a huge benefit to owning a home in Massachusetts. Choice Home Warranty is committed to ensuring that you continue to enjoy living amongst such vivid history. While your homeowner's insurance protects you from calamities, a home warranty typically covers your HVAC, electrical, plumbing, washer/dryer, and a host of other systems and appliances, due to inevitable wear and tear.
Massachusetts was the first state to have more residents living in towns than cities. At Choice Home Warranty, we'd like to think that we're adding to the state's promise of family and prosperity.
Massachusetts pioneered the first public park, first secondary school, first post office, first free public school, first public library and first newspaper. No small feat, considering it's the seventh smallest state in the United States. Massachusetts is also the most populous and fastest growing of the New England States, representing about half of all residents of New England.
The capital city of Boston is by far the most populous city, with over 687,000 residents. The next largest city, Worchester, has only about 184,500 people. There are only 56 cities, but 259 towns in Massachusetts. The city governments include mayors and councils while the towns have open town meetings or representative town meetings. The smallest city in Massachusetts is Palmer with 12,140 residents; and, the smallest town is Gosnold with a scant, 75 people living in it.
The climate in Massachusetts is essentially temperate, although the weather does differ some between the eastern and western parts of the state. It tends to be colder and drier in the west, except that snowfalls in the winter are more severe than near the coastline, as you would expect. However, even the coast can see heavy snow at times.
The most notable thing about Massachusetts weather is that it is wet. It averages between 42 and 48 inches of rain per year, depending on the location, but this is pretty much evenly distributed throughout the year. The U.S. average is 39 inches. And, snowfall averages between 42 and 46 inches, with the U.S. average being only 26 inches. Summer highs average in the low 80s and winter lows get down into the high teens. The added moisture can age your home systems and appliances more quickly than in drier areas.
The most common natural hazard in Massachusetts, according to NOAA, is thunderstorms and lightning. These occur, on average, every 6.3 days during the months of March through October. Extreme cold is the second most common hazard, and occurs, on average, every 19 days throughout October to March.
No matter where you live in the state, a Massachusetts home warranty can protect you from the high costs of home maintenance. A home warranty is different from a homeowner's policy, which protects you from insured losses. Your home warranty is a service contract between you and your service contractor in Massachusetts, that provides for repair or replacement of deteriorated or damaged home systems and appliances, due to things like age and normal wear and tear.
Protect Your Massachusetts Home and Appliances
The median home value in Massachusetts is just over $398.000. This is up 7.0 percent from June of 2017 and is expected to continue to rise another 7.7 percent by June of 2019. Just over 62 percent of Massachusetts residents own their homes. A home warranty in Massachusetts can help to protect you from the unexpected breakdown.
Have you recently, or do you currently plan to put your Massachusetts home up for sale? A home warranty may be a great investment for you, if you do. Home warranty companies will cover your home's systems and appliances during the time it is up for sale, taking the burden of this worry from your shoulders. You will have peace of mind knowing that, should something go wrong while your home is on the market, you won't have to spend a lot of cash on a big repair or replacement part during this already stressful time. In addition, you will likely be increasing the marketability of your home because 80 percent of home buyers prefer homes with home warranties.
Many Massachusetts cities, towns, and counties boast very interesting reals estate facts. For example, in Massachusetts, home buyers place a great deal of trust in real estate websites like Trulia and Zillow, which is evident in the fact that 21 percent of residents have made an offer on a house without ever seeing it in person. When considering millennials, that number jumps to one-third.
Louisville, which is the home of many upscale neighborhoods including Seneca Gardens and Deer Park, was ranked at the vey top of Realtor.com's "America's Hottest Zip Codes".
Are you planning on purchasing a home in Massachusetts? If so, wouldn't you prefer to buy a home with an existing home warranty? In this way, you can be sure you're covered for unexpected breakdowns after you take possession of your new home. After all, you're already making a big investment. You don't want to get hit with another huge bill right off the bat.
If you've ever purchased a home in Massachusetts, you know that they tend to be older homes. In fact, the median age of Massachusetts homes is 53 years, the second oldest in the nation. Compare that to the national median age of 37 years. When homes are older, it's easy to see how things can wear out over time and need to be repaired or replaced, even multiple times. Nine to 15 years is the average working life of most household appliances. In Massachusetts, where the annual snowfall is up to 20 inches greater than the national average, and annual rainfall exceeds it by up to nine inches, doesn't it make sense to want to ensure your home equipment and appliances are in top working condition?
More than 50 percent of people in Massachusetts heat their homes with natural gas. Almost 1 out of every 6 people use electricity to heat their homes and, as of 2016, 27 percent were still using fuel oil as their primary heating source. Because of the generally cooler weather in Massachusetts, people there use the most energy for space heating, about 59 percent, while only about 1 percent is used for air conditioning. Most Massachusetts residents do not even have central air conditioning, instead relying on window or wall units. Another 16 percent of energy usage is for water heating, while 24 percent is for appliances, electronics and lighting.
With so much of your home's energy and your energy dollars going toward home heating, doesn't it make sense to want to keep your heating system in good repair? After all, you don't want it going out on you in 17-degree weather. Not to worry, a Basic Service Plan from Choice Home Warranty covers your heating system and ductwork. At the first sign of trouble, make a service call to your home warranty company and let them do the worrying for you. Every home in Massachusetts should consider the value of a Massachusetts home warranty for just this type of scenario.
The Basic Plan also covers other essential home systems, such as your electrical system and your plumbing system. It is important to keep your home systems and appliances in good working order, regardless of where you live. With a home warranty contract from Choice Home Warranty it's easy to ensure that these critical items will be there for you when you most need them.
Why is a Home Warranty Necessary in Massachusetts?
Massachusetts can be quite cold, and even though the weather differs somewhat between the eastern and western parts of the state, 42 inches of snow or rain is still a lot. This and all the thunderstorm activity can have you constantly adjusting settings such as temperature and therefore place added stress on your systems and appliances. A Massachusetts home warranty can be your prevention from damage due to lingering equipment issues. With your coverage plan, the moment something goes awry, you are empowered to fix it right away, not hesitating due to repair or replacement costs.
Since thunderstorms occur in Massachusetts on average every 6.3 days from March through October, these can be a threat. Providers in Massachusetts, such as Choice Home Warranty, offer limited roof leak protection as an add-on to their home warranty plans. For those of you who do still live in more rural parts of Massachusetts, there is also add-on protection for well pumps, sump pumps, septic systems and even septic tank pumping. No matter where you choose to live in Massachusetts, there is a plan that can be tailored for your specific needs.
What if you're whipping up a batch of your famous cranberry tarts and your oven goes on the fritz? The Basic Plan also covers your oven, as well as your range, cook top, built-in microwave and dishwasher. A simple upgrade to a Total Plan will cover your refrigerator as well. Remember, with the Total Plan, you still get all the benefits of the Basic Plan. The Basic Plan even covers garage door openers.
Suppose you spent a warm summer's day on Nantucket Island and your clothes are wet and sandy. You'd want to pop them straight into the washer. And, you wouldn't have to worry with a Total Plan from Choice Home Warranty because both your clothes washer and clothes dryer would be covered should something go wrong.
If you live in one of Massachusetts' smaller cities or towns, you may have invested in a second refrigerator or a stand-alone freezer, so you could stock up on the things you need. If so, these can easily be added on to your Massachusetts home warranty plan. After all, you've made quite an investment in these appliances; it makes sense to want to protect them against breakdowns.
What Does a Massachusetts Warranty Cover?
| | | |
| --- | --- | --- |
| Covered Items* | Total Plan | Basic Plan |
| Air Conditioning System | | |
| Heating System | | |
| Electrical System | | |
| Plumbing System | | |
| Plumbing Stoppage | | |
| Water Heater | | |
| Whirlpool Bathtub | | |
| Refrigerator | | |
| Oven / Range / Stove | | |
| Cooktop | | |
| Dishwasher | | |
| Built-In Microwave | | |
| Garbage Disposal | | |
| Clothes Washer | | |
| Clothes Dryer | | |
| Ductwork | | |
| Garage Door Opener | | |
| Ceiling and Exhaust Fans | | |
Optional Coverage
| | | |
| --- | --- | --- |
| Pool / Spa | Well Pump | Sump Pump |
| Central Vacuum | Limited Roof Leak | Septic System |
| Second Refrigerator | Stand Alone Freezer | Septic Tank Pumping |
*
Click Here
to view complete limits of liability and any exclusions. CHW offers service contracts which are not warranties. ** See policy for specifics on response times. ***CHW reserves the right to offer cash back in lieu of repair or replacement in the amount of CHW's actual cost (which at times may be less than retail) to repair or replace any covered system, component or appliance.
How does a Massachusetts Home Warranty Work?
If ever you should have a problem with a covered system or appliance, just make a call to customer service and make a service request. Be sure to provide all helpful information when you call. You will be referred a service technician in a timely manner who can then provide service for your issue. All service providers are highly rated, licensed, fully insured and thoroughly checked out before they are sent to do any work at your home.
A small service fee will be expected at the first visit, but after that, all covered repairs will be included in your service contract. When you have protected your home's systems and appliances with a Massachusetts home warranty contract, you need only worry about keeping a modest repair fund on hand to cover service fees. This is especially helpful if you haven't yet had time to build up an emergency fund. You don't have to worry that a single repair or replacement will drain your savings.
If the service technician determines that your covered item is not able to be repaired, your plan will cover a replacement. In Massachusetts, where homes are so much older than the national average, this can be particularly important. Many of these homes will have systems and appliances that are in dire need of repair or replacement.
If you are looking for a comprehensive plan that fits your lifestyle, Choice Home Warranty offers an outstanding option. With two plans and add-on coverages to choose from, you can tailor a plan to suit your individual needs.