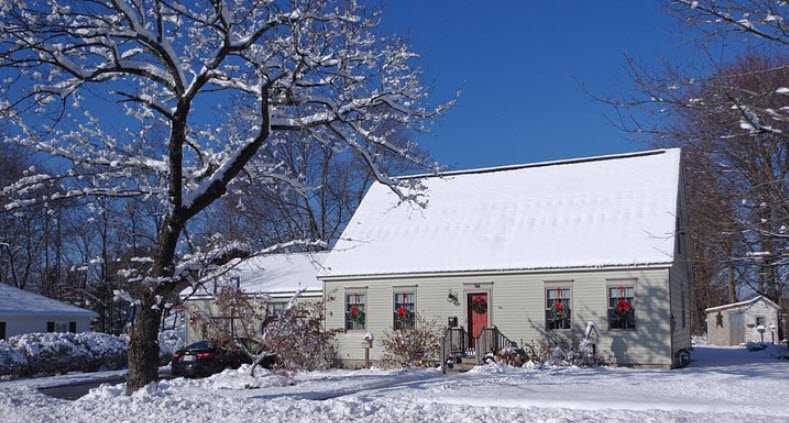 Located in the northeast corner of the United States, New Hampshire has the shortest coastline of all states with an ocean bordering them. It has only about 13 miles of Atlantic coastline at its southeast corner. It is bordered on the south by Massachusetts, the west by Vermont (whose boundary is the Connecticut River), the north by Canada and the east by Maine. Although it is the 5th smallest state in the country, Choice Home Warranty knows how much these north easterners value their homes. Our warranty plans can be tailored to the many different concerns and lifestyles present in New Hampshire.
Not only is this little state geographically fascinating, but also it is steeped in American History. New Hampshire was one of the 13 original colonies. Captain John Smith sent settlers to a point near modern day Rye and Dover to establish a fishing community in 1623. In 1630, Portsmouth was founded. New Hampshire was named by Captain John Mason after Hampshire, his home county in England.
The most impressive feature of the land is the mountains, specifically the White Mountains which run the length of the state from south to north. New Hampshire is part of the Appalachian Highlands. The White Mountains are a northern range of the Appalachian Mountains.
Several of these mountain peaks soar above 5,000 feet. Mount Washington, at 6,288 feet above sea level, is not only the highest point in the state; but the highest point in New England. You can find it in White Mountain National Forest, north of New Hampshire. The second highest inland wind speed in the world was recorded at Mount Washington in 1934 at 231 miles per hour.
White Mountain National Forest covers fully one-tenth of the state. In fact, more than 80 percent of New Hampshire is forested. Only Maine has more wooded land. The forest produces, among other things, wood pellets for space heating. In addition to the national forest, there are 65 state parks in New Hampshire. This state is home to a wealth of wildlife, including white tailed deer, moose (once scarce), black bears and beavers. With such amazing outdoor beauty packed into so small an area, it's easy to focus on outside and forget about inside your home. When it comes to the inner workings of your New Hampshire home, Choice Home Warranty has you covered.
Six months before the Declaration of Independence was signed, New Hampshire was the first to break with England. In fact, the New Hampshire delegates were given the first vote on that document. Later, in ratifying the Constitution of the United States in 1788, New Hampshire was the ninth and determining vote. Currently, it has the second oldest constitution in the country. Not surprisingly, New Hampshire's state motto is "Live Free or Die."
New Hampshire may be a tiny state, but it has plenty of full time residents. 2018 estimates put the population at 1.35 million, making it the 42nd most populous state in the nation. That may not sound too impressive, but when you consider that this works out to 147 people for every square mile, it is put more into perspective. This makes New Hampshire the 21st most densely populated state; and, that population is concentrated in the river valleys and near the coast. Only about five percent of the population live in the northern one-third of the state.
Manchester, with 111,386 residents, is the most populous city. It is the only city in New Hampshire with over 100,000 people living in it. Nashua is next, with 88,266 people. It is the only city besides Manchester with over 50,000 residents. The capital of Concord is third, with only 43,428 people.
New Hampshire is almost completely incorporated into towns and cities. There are 221 towns and only 13 cities in the state; but it is one of the six most industrialized states in the country. Still, New Hampshire has one of the slowest growth rates of any state in the nation at .16 percent.
The climate in New Hampshire is diverse and highly changeable, with both daily and seasonal temperatures that can vary greatly. It experiences short, cool summers and long, cold winters, lasting from late October through March. The average summer high comes in around the 80s and the winter low falls to just below 10°F.
Average rainfall is about 47 inches per year, evenly distributed over the four seasons. Snowfall, however, can range between 50 or 60 inches to 100 inches, on average, over the state. The last snowfall usually occurs in April.
Protect Your New Hampshire Home and Appliances
The median home value in New Hampshire is $266,100, rising 8.2 percent from June of 2017. This upward trend is expected to continue as values climb another 5.8 percent through June of 2019. About 71 percent of New Hampshire residents own their homes. Another 1 in 10 New Hampshire homes are second homes. Whether you are a full-time resident, or a seasonal one, the advantages of protecting your home with a New Hampshire home warranty are measurable. Your home warranty is different from homeowner's insurance; it offers protections beyond and in addition to what you can get from that policy.
Is your New Hampshire home currently on the market? If so, a home warranty may be just right for you. Home warranty companies will cover your home's appliances and systems while it is for sale, so you don't have to worry about an unexpected repair during this stressful time. Not only do you gain peace of mind but having a home warranty while you are selling your home can increase its marketability. Eighty percent of homebuyers would rather have a home that is already covered by a home warranty.
Are you in the market for a home in New Hampshire, perhaps even a second home? Wouldn't you prefer to buy a house with a home warranty already in place to cover you for any unexpected repair or replacement once you take possession? Buying a home is a huge investment. It could be devastating to have to pay hundreds or even thousands more for home repairs before you've had a chance to recover.
Almost half of all households in New Hampshire use heating oil as their primary heating source. This is one of the highest percentages in the nation. One in five households use natural gas as their primary heating source, while one in twelve depend on wood to heat their homes. Another one in twelve homes relies on electricity for space heating. The demand for electricity in New Hampshire is relatively low, in part due to low demand for air conditioning. Interestingly, as of 2016, New Hampshire has been getting more of its electricity from wind power, than from coal-fired plants.
The median age of homes in New Hampshire is 30 to 39 years, right around the national median age of 37 years. Homes of this age are certainly beginning to feel it, right around their appliances and critical home systems. These appliances and home systems would likely need repair or replacement, at least once, during all that time. In fact, the average working life of most household appliances is 9 to 15 years. In New Hampshire, where it is wet and cold and snows a lot, reliability of your home's critical systems and appliances is paramount.
What if your heating system went out during a period of heavy snow? With a Basic Protection Plan from Choice Home Warranty, you won't have to worry about things going that far. This plan covers your heating system and duct work, so at the first sign of trouble, you can get help. The Basic Plan also covers your water heater. The average lifespan of a water heater is about 12 years. If you had to replace yours, especially if it is a gas water heater, it could cost you well over $1,000. With a New Hampshire Home Warranty, you can have peace of mind that your essential comforts, like heat and hot water, can be secured.
The Basic Plan also covers your other critical home systems, such as your plumbing system and your electrical system. You always want to keep your home in good working order. With home warranty plans from Choice Home Warranty, it's easy to do this. Just make a service call when you first note a problem. That way, you can be assured that your appliances and systems will be there for you when you need them the most.
Why is a Home Warranty Necessary in New Hampshire?
New Hampshire is beautiful, but it can also be cold, wet and snowy. Extreme temperatures and moisture can wreak havoc on your mechanical systems. A New Hampshire home warranty can protect you when covered items break down, even from normal wear and tear.
A lot of rain falls in New Hampshire. In fact, it gets about 17 percent more than the national average. Limited roof leak protection is available as an add-on protection. For those of you living in the smaller towns in New Hampshire, there is also add-on protection for septic systems, well pumps, sump pumps and even septic tank pumping. No matter where you live in New Hampshire, there is a plan that can be customized for your needs.
Suppose you've just spent the day on the Appalachian National Scenic Trail, or climbing Mount Monadnock, one of the world's most climbed mountains? Wouldn't you want to know you could count on your clothes washer and clothes dryer to get your gear clean afterwards? Not to worry, the Total Plan from Choice Home Warranty covers both. And, you still get all the benefits of the Basic Plan as well.
You would probably never try to make maple syrup at home. After all, it takes 40 gallons of sap just to make one gallon of syrup. But, your kitchen is still of paramount importance to you. The Basic Plan covers your oven, range, cooktop, stove, built-in microwave, dishwasher and disposal. Upgrade to a Total Plan and your refrigerator is also covered.
Do you own a second refrigerator or stand-alone freezer? You can add them on to your coverages as well. These appliances are not only important as equipment, but also because of the foods they are stocked with. Wouldn't it be a good idea to protect them with a New Hampshire home warranty?
What Does a New Hampshire Warranty Cover?
| | | |
| --- | --- | --- |
| Covered Items* | Total Plan | Basic Plan |
| Air Conditioning System | | |
| Heating System | | |
| Electrical System | | |
| Plumbing System | | |
| Plumbing Stoppage | | |
| Water Heater | | |
| Whirlpool Bathtub | | |
| Refrigerator | | |
| Oven / Range / Stove | | |
| Cooktop | | |
| Dishwasher | | |
| Built-In Microwave | | |
| Garbage Disposal | | |
| Clothes Washer | | |
| Clothes Dryer | | |
| Ductwork | | |
| Garage Door Opener | | |
| Ceiling and Exhaust Fans | | |
Optional Coverage
| | | |
| --- | --- | --- |
| Pool / Spa | Well Pump | Sump Pump |
| Central Vacuum | Limited Roof Leak | Septic System |
| Second Refrigerator | Stand Alone Freezer | Septic Tank Pumping |
*
Click Here
to view complete limits of liability and any exclusions. CHW offers service contracts which are not warranties. ** See policy for specifics on response times. ***CHW reserves the right to offer cash back in lieu of repair or replacement in the amount of CHW's actual cost (which at times may be less than retail) to repair or replace any covered system, component or appliance.
How does a New Hampshire Home Warranty Work?
If you should have a problem with a covered system or appliance, just call customer service 24 hours a day and you will be put in touch with a service technician who can make the necessary repairs. All service providers are highly rated, fully licensed and insured, and thoroughly vetted before ever being sent to your home.
At the first service call, you will be expected to pay a small service fee. After that, all covered repairs will be handled by your home warranty plan. Protecting your home with a New Hampshire home warranty will also protect your budget. You won't need to worry about a single repair or replacement wiping out your entire savings or emergency account. All you will need is a modest fund for service fees.
If the technician finds that the covered item can't be repaired, it will be replaced. This can be very valuable in New Hampshire, especially if you are maintaining multiple homes. Thirty-nine years is a long time to expect your systems and appliances to hold on.
With two plans to choose from, as well as multiple add-on coverages, you can find something to fit your lifestyle. If you're looking for a comprehensive home warranty plan in New Hampshire, Choice Home Warranty is a great option for you.