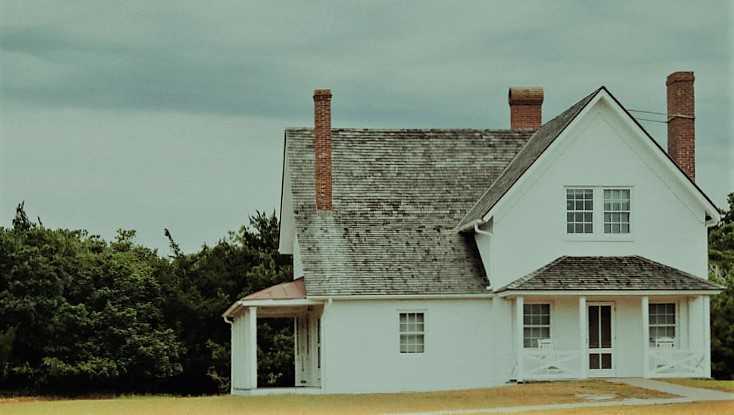 Did you know that neither the people of North nor South Dakota know for sure which state entered the nation first? It's true. The region was part of the Louisiana Purchase in 1803; and, the Dakota Territory was organized in 1861. In 1883, the people in the northern part of the Territory selected Bismarck as their capital, but the people in the southern part wanted Pierre, so the Territory was officially divided by Congress before they were declared states. However, President Benjamin Harrison made sure it was kept secret which state was admitted first. North Dakota is usually considered the 39th state because it comes first in the alphabet. As for the specialists at Choice Home Warranty, North Dakota homeowners are squarely under our protection.
Lewis and Clark spent more of their time in North Dakota than any other place during their explorations of the region. They arrived in North Dakota in the autumn of 1804 and built Fort Mandan on the Missouri River to survive the winter. North Dakota homeowners know that weather, climate, and even wear and tear can threaten their home's systems and appliances. Choice Home Warranty's expert team of technicians stands ready to provide service, giving North Dakota residents peace of mind.
Today, North Dakota is still not heavily populated. In fact, 2018 estimates place its current population at 755,238 people. That's a tiny decrease from the U.S. Census Bureau's 2017 estimates. Although North Dakota is our 19th largest state, at approximately 70,700 square miles, it is the third least populated state in the nation. Fargo, established in 1871, just 10 years after the Territory was created, is the state's largest city, with 125,202 residents. This number represents 15 percent of North Dakota's entire population. Fargo is the only city in North Dakota that has more than 100,000 residents. With so much expanse, the state is considered one of the most rural in the country, with more than 90 percent of the land devoted to farming.
Given the nature of North Dakota's land regions, this should come as no surprise. The state can be divided into three basic zones
The Red River Valley lies along the eastern border with Minnesota, is basically flat, and is one of the most fertile areas in the world. This region runs from about 10 miles in width at the South Dakota border to the south, to about 40 miles wide near the Canadian border to the north.
The Drift Prairie ascends from about 200 to 2000 feet above the valley. This prairie, large, treeless and covered in grasses, also has good soil for farming. It extends from about 75 miles across in the south to about 200 miles across in the north. It consists of rolling hills, little valleys, and many lakes. In the north lie the Turtle Mountains.
The Great Plains, here called The Missouri Plateau, takes up the southwestern half of the state. This plain is higher still than the Drift Prairie. It includes the famed "Badlands." A valley of wind and water-eroded buttes, domes, and cones in many colors, covering about 1 million acres, these lands are part of Theodore Roosevelt National Park. Some rocks here contain lignite coal and have been burning for years. The Badlands and surrounding areas are mostly used for cattle ranching.
North Dakota is the nation's leading producer of spring and durum wheat, among other grains, beans and seeds. It is also the number one producer of sunflowers and honey in the U.S. But what might surprise you is that North Dakota is the nation's second largest producer of crude oil, after Texas. Oil was discovered in the state in 1951. But, the oil boom didn't really hit until the 21st century. In fact, the oil boom made North Dakota the fastest growing state in the country in 2012.
But this state isn't just about farming and oil mining. It's about fun and about great traditions too. Take the annual Halloween themed trail run in Arvilla. In 2018 it's called the "Extreme North Dakota Terrifying Run Amongst Innumerable Lost Souls." If running isn't your thing, how about lawn mower races in Bowman to benefit scholarship funds? Or, you could go to Garrison, where, for more than 20 years, people have been dressing up for the Dickens Festival and acting out versions of A Christmas Carol.
Why, North Dakota has been in the Guinness Book of World Records at least twice just for having fun. In 2007, 8,962 people converged on the grounds of the state capital and made snow angels, beating the previous world record of 3,784. Earlier, in 1982, Rutland captured the world record for cooking and serving the World's Largest Hamburger, at 3,591 pounds. Speaking of food, the World's Largest French Fry Feed is held every year at Potato Bowl USA in Grand Forks, where, in 2015, 5,220 French fries were served, setting a record. Potato Bowl fun includes a week-long festival with football, golf, a parade and more.
North Dakota is also home to the International Peace Garden, or at least half of it. Built between North Dakota and Manitoba, Canada, its approximately 2,300 acres of gardens stand as a reminder of the lasting peace between our two nations. This is where North Dakota got its nickname as the Peace Garden State. The Dakota Territory was named for the Dakota Sioux Indians. Dakota is a Sioux word which means "friend" or "ally."
Now the climate of North Dakota is another story. It is considered continental, meaning the state has long, cold winters and short, hot summers. And, it is very windy. In fact, North Dakota is one of the top three windiest states in the nation.
Average January lows in North Dakota are around 1°F, while average July highs come in at about 82°F. Fargo, on the Red River, sees average January lows of about 0°F and July highs, on average, of around 83°F. The lowest and highest temperatures ever recorded in North Dakota occurred in 1936. The city of Parshall saw -60°F in February and Steele hit 121°F in July.
North Dakota receives an average of 18 inches of rain annually, while the U.S. receives 39. But in Fargo, nearly 23 inches of rain falls each year. The Red River Valley experiences both more wind and more humidity than other regions of the state. Unfortunately, Fargo also gets more snow than the state's average of 38 inches per year, with 50 inches as the city's average annual snowfall.
According to NOAA data, the most common natural hazard in North Dakota is not winter storms and extreme cold, but thunderstorms and lightening, which occur, on average, every 4.8 days from March to October. This is undoubtedly due, at least in part, to the influence of the Jet Stream, which flows west to east through North Dakota, bringing arctic air when it dips down, and warm air from the Gulf of Mexico when it rises. Winter storms and extreme cold are the second most common natural hazard in North Dakota, according to NOAA data, occurring an average of every 16.4 days from October to March.
North Dakota is an amazing place. It is the geographical center of all North America. And, this state is home to more wildlife refuges than any other state. It is also the place to find iconic Victorian homes done in the Queen Anne style, with their characteristic elaborate woodwork. Of course, you will also see plenty of the popular modern split-level style homes in North Dakota. Whatever style of home you choose to live in, a North Dakota home warranty can help protect your home from damages to its critical systems and appliances should the unexpected happen.
A home warranty isn't the same thing as a homeowner's policy. A home warranty in North Dakota will provide you with protections beyond and in addition to those afforded by your homeowner's insurance. In fact, a North Dakota home warranty from Choice Home Warranty will even cover you for damages caused by normal wear and tear.
Protect your North Dakota Home and Appliances
Currently, the median value of homes in North Dakota is $203,300. This figure is down a bit (0.1 percent) from August of 2017, but home values are expected to rise by 3.0 percent through September of 2019. Approximately 64 percent of North Dakota residents own their homes. A home warranty in North Dakota can protect your home and its critical appliances and systems should unexpected problems and breakdowns occur.
Are you planning to sell your North Dakota home? Did you know that home warranty companies in North Dakota will cover your systems and appliances while your home is for sale? This can certainly give you peace of mind to know that if something should go wrong during this stressful time, you can get the repairs you need. This is especially so since a single repair or replacement could cost you hundreds or even thousands of dollars. Better yet, having a home warranty can increase the marketability of your home, as 80 percent of home buyers prefer to buy a home with such a warranty already in place.
Will you be buying a home in North Dakota? Naturally, you want to get the most for your investment. The last thing you need is for an unexpected home repair to hit you right off the bat. Purchasing a home with a North Dakota home warranty already in place can save you this hassle and expense. You'll know you've protected yourself against the cost of repairs or even a replacement of your home's critical systems and appliances should an unexpected problem or breakdown occur.
North Dakota has very cold winters. Fargo, the largest city, gets 52 percent more snow than the national average of 26 inches. To heat their homes in the winter, 2 out of every 5 homes in this state use natural gas, while the same number uses electricity. About one fifth of the state's net electricity is generated by wind. In fact, in 2017, North Dakota ranked fifth in the nation in wind generated electricity. Most of the rest of the state's homes, 1 in 6, use fuel oil, propane, or kerosene as their primary source for home heating.
Summer temperatures aren't extreme In North Dakota, but the unpredictability of the jet stream and the air masses associated with it can bring foul weather. And, of course, there's the wind to contend with all year long. In North Dakota, where thunderstorms and lightening, humidity, winter storms and extreme cold can all take their toll on your systems and appliances, doesn't it make sense to want to protect them?
The median age of housing in the U.S. is 37 years, while in North Dakota it is 48 to 57 years. At this age, it's not hard to imagine that these homes have needed repairs to or replacements of their systems and appliances, maybe more than once. Considering that the average lifespan of a home appliance is 9 to 15 years, envisioning this isn't difficult.
Whether you use gas or electricity to power your appliances, the last thing you need during a North Dakota winter is for your water heater to go out on you. A new one, especially a gas water heater, could cost well over $1,000. A Basic Plan from Choice Home Warranty can take the worry out of this for you. It will cover this appliance for any needed repairs, or even a replacement.
Water heaters can be quite complex. For example, if you hear noises, such as popping or banging, it could indicate buildup of scale on the heating elements, or in the bottom of the tank itself, which would require a new water heater. Other problems include a bad thermostat, a bad dip tube – the thing that keeps the cold water from mixing with the hot – or a bad anode rod. The best practice is, at the first sign of trouble, such as a noise, a leak, smelly or discolored water, call for service so the matter can be handled before it gets any worse.
With winters long, cold and with heavy snowfall, heating your home is also a prime concern. The Basic Plan covers your heating system and duct work as well, so you don't have to worry about doing without this critical system when temperatures fall to zero and below and you're buried under 50 inches of snow. Summer temperatures in the low to mid-80s can still get toasty, especially with the humidity. Upgrade to a Total Plan, and your air conditioner is covered too.
In North Dakota, it's important to maintain all your systems and appliances in good working order. With a home warranty plan from Choice Home Warranty, that's easy to do. Just make a service call at the first sign of trouble, like noises from your water heater. Then, you can get the help you need to protect your critical systems and appliances and avoid a total breakdown.
Why is a Home Warranty Necessary in North Dakota?
Excessive snowfall, extreme cold, winter storms, constant wind, and thunderstorms and lightening can wreak havoc with your home's systems and appliances. A North Dakota home warranty can help protect you when covered items break down, even if the damages are due to normal wear and tear.
Hundreds of cowboys attend North Dakota's nearly 50 local and regional rodeos every year. The dust and grime from even one event there could make the sturdiest clothes washer groan. But don't worry, the Total Plan covers both your clothes washer and clothes dryer for needed repairs or even a replacement. Best of all, with a Total Plan, you get all the benefits of the Basic Plan too.
With North Dakota's thunderstorm's, you might like to know that your North Dakota home warranty plan offers limited roof leak protection as an add-on. With this state being so rural, residents here may also be interested in add-on protections for sump pumps, well pumps, and septic systems. There is even add-on protection for septic tank pumping.
Do you own a second refrigerator or stand-alone freezer to stock up on groceries and save trips to the city? These can also be added on to your home warranty plan in North Dakota. And there are even more add-ons to choose from, allowing you to put together a home warranty plan that works for you.
What Does a North Dakota Warranty Cover?
| | | |
| --- | --- | --- |
| Covered Items* | Total Plan | Basic Plan |
| Air Conditioning System | | |
| Heating System | | |
| Electrical System | | |
| Plumbing System | | |
| Plumbing Stoppage | | |
| Water Heater | | |
| Whirlpool Bathtub | | |
| Refrigerator | | |
| Oven / Range / Stove | | |
| Cooktop | | |
| Dishwasher | | |
| Built-In Microwave | | |
| Garbage Disposal | | |
| Clothes Washer | | |
| Clothes Dryer | | |
| Ductwork | | |
| Garage Door Opener | | |
| Ceiling and Exhaust Fans | | |
Optional Coverage
| | | |
| --- | --- | --- |
| Pool / Spa | Well Pump | Sump Pump |
| Central Vacuum | Limited Roof Leak | Septic System |
| Second Refrigerator | Stand Alone Freezer | Septic Tank Pumping |
*
Click Here
to view complete limits of liability and any exclusions. CHW offers service contracts which are not warranties. ** See policy for specifics on response times. ***CHW reserves the right to offer cash back in lieu of repair or replacement in the amount of CHW's actual cost (which at times may be less than retail) to repair or replace any covered system, component or appliance.
How does a North Dakota Home Warranty Work?
When you first notice a problem, give customer service a call; and, they will get you in touch with a service professional who can take care of your repair needs. All service providers are licensed, fully insured, highly rated, and carefully checked out before ever being sent to your home. This ensures your highest satisfaction with your service experience.
On the first visit, you will pay a small service fee. After that, all work done on your covered item will be taken care of by your home warranty plan. With a North Dakota home warranty, all you need to be concerned with is keeping a modest repair fund available for service fees. You don't have to worry that a single repair or replacement will wipe out your hard-earned savings or emergency account.
If your service technician determines that your covered item cannot be repaired, it will be replaced under your plan. With North Dakota homes being so much older than the national median age, this is very valuable. Especially when you consider that the systems and appliances in these homes could certainly be reaching the end of their useful lives.
With two plans to choose from, as well as various add-on protections available to you, Choice Home Warranty allows you to tailor a home warranty plan to meet the needs of your family and lifestyle. If you are looking for a comprehensive home warranty plan in North Dakota, Choice Home Warranty is an excellent option.