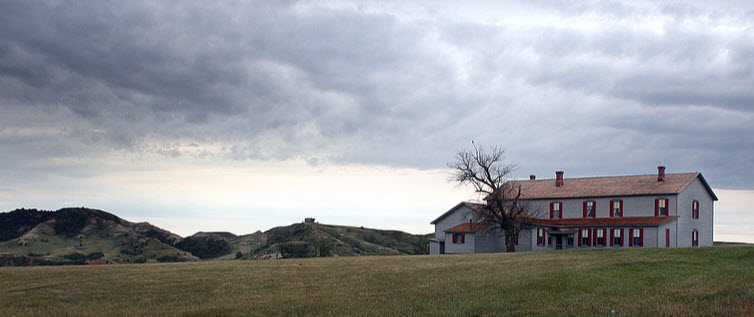 Wyoming is the smallest of our states in population, with only 568,125 residents as of 2019 estimates. Only Hawaii is more sparsely populated. With over 97,810 square miles of area, Wyoming is our 10th largest state, but has only a little over 5.8 people per square mile. Still, the Equality State is big in heart and has much to offer. Choice Home Warranty is proud to serve the free-spirited residents of Wyoming with excellence, by providing reliable home warranty protection.
Established in 1867, the capital city of Cheyenne is also Wyoming's largest city with 65,864 residents. This state has only 10 more cities with populations in excess of 10,000 people. Wyoming's homeowners know that climate, weather, and even normal wear and tear can affect their homes' systems and appliances. And the sparse availability of resources in certain areas can make for inconvenient breakdowns. The professional technicians at Choice Home Warranty are prepared to tackle whatever problems may occur to minimize any disruptions to your way of life. We provide peace of mind to Wyoming's residents.
The Wyoming territory was formed in 1869, with President Ulysses S Grant establishing Yellowstone National Park as the first National Park in 1872. The state also boasts the very first National Forest, Shoshone National Forest. There is little doubt as to the Wyoming's appreciation for their vast landscape. There is also a history of appreciation for all people, with Nellie Taloe Ross being elected as Wyoming's 14th governor, and this nation's first female governor, in 1925.
When the Union Pacific Railroad came through, coal mines sprang up along its route. Today, Wyoming is a vital producer of coal, natural gas, and crude oil. In fact, this state is the largest net producer of energy among all the states, producing 15 times the amount it consumes. Wyoming leads the nation in coal production, producing about 40 percent of all coal mined in the nation.
But Wyoming isn't just about mining. There's still plenty of room on the plains for herds of cattle, sheep and bison. In fact, you're more likely to get injured by a bison in Yellowstone National Park than you are by a bear. Wyoming ranks second in the nation in wool production, with its more than 810,000 sheep. That's over 1.4 sheep for every person in the state.
The second largest industry in Wyoming is centered around natural tourism. And it's no wonder with marvels like Yellowstone National Park, Grand Teton National Park, Devils Tower National Monument, Fossil Butte National Monument and the many splendid mountain ranges that cut through the state. Wyoming is also well known for Jackson Hole, a favorite ski destination. And there are over 2000 miles of snowmobile trails to enjoy in this state.
Wyoming has certainly earned its nickname as the Cowboy State. Along with real work, there's lots of fun to be had, including during the 10 days of Frontier Days, the largest outdoor rodeo in the world. This event is held in the state's capital city of Cheyenne every July and includes rodeo events from steer wrestling and bull riding, to barrel racing and team roping. There's also plenty of other entertainment, cook-offs and parades.
Wyoming is essentially a great plateau, split by Mountain ranges, where the Great Plains lies at the foot of the Rocky Mountains. There are three geographical regions:
Great Plains, which covers the eastern part of Wyoming and is characterized by short grasses and shrubs. Devils Tower is in the section of this area that contains a portion of the Black Hills.
Rocky Mountains. Running north to south, a series of Rocky Mountain ranges crosses most of Wyoming. A wide plateau of the Great Plains lies between the Big Horn Mountains in the north and the Laramie Range in the south. The highest point in Wyoming is Gannet Peak, at 13,804 feet, found in the Wind River Range in this region. There are eight more mountains which soar over 13,000 feet high in this Range. Both Grand Teton National Park and Yellowstone are found in this land region.
Intermontane Basins. These are the relatively flat areas of land between mountain ranges, with short grasses and brush. This land region includes the Red Desert, the largest living dune system in the nation.
The Continental Divide runs through Wyoming from the northwest to its south-central border. Therefore, rivers to the east of this imaginary line will ultimately drain into the Atlantic Ocean, while rivers to the west of this line will ultimately drain into the Pacific Ocean. There is a place you can find in Bridger-Teton National Forest on horseback or by hiking called "Parting of the Waters." It is the exact spot where Ocean Creek splits along the Continental Divide into Pacific Creek and Atlantic Creek.
This state can be a land of extremes. Its mean elevation is 6,700 feet above sea level, making Wyoming the second highest state in the nation behind Colorado. From Gannett Peak in the Rocky Mountains, to the lowest point, found at the Belle Fourche River at 3,099 feet, there is a difference in elevation of 10,705 feet. These extremes can and do affect the weather and climate of Wyoming.
While this higher elevation gives Wyoming a generally cooler climate. Preparation is a must as the fall season approaches, with extreme temperatures being a common occurrence. The highest temperature recorded in Wyoming was 115°F at Basin in 1983, and the lowest was -66, recorded at Riverside in 1933. Average July highs in this state are around 85°F, while average January lows are about 10°F. However, several factors can affect these averages, especially the lows.
Chinook winds coming down from the eastern slopes of the Rocky Mountains can bring a warming effect leading to snowmelt and can cause flooding. Due to its closeness to the jet stream, Wyoming frequently experiences winter storm systems, which include high winds, low wind chill factors, and heavy snows. Winds can reach 30 to 40 mph in the winter, with gusts up to 50 or 60 mph. The mountains just channel the winds and send them whipping across the plains. No wonder Wyoming ranks 16th in wind generated power in the country.
Wyoming gets only about 14 inches of rain per year, on average, while the U.S. average is 39 inches. However, this state gets an average of 54 inches of snow annually, with the U.S. average being 26 inches. The higher elevations receive about 200 inches of snow per year.
Wyoming is also susceptible to wildfires and droughts, sometimes severe, due to its dry conditions in the warmer months. It is prone to tornadoes as well, albeit usually weak ones.
Despite Wyoming's somewhat unique weather and climate, its overarching beauty and majesty cannot be denied. A Wyoming home warranty can help to protect your home from damages to its critical systems and appliances when the unexpected occurs. A home warranty is not the same as a homeowner's policy. A home warranty provides you with protections beyond and in addition to that which you could obtain from your homeowner's insurance. In fact, a Wyoming home warranty from Choice Home Warranty will even cover you for damages to your appliances and systems due to normal wear and tear.
Protect Your Wyoming Home and Appliances
The median home value in Wyoming is $225,400. That's an increase of 6.0 percent since December of 2017; and, prices are expected to increase another 2.3 percent through December of 2019. Over 69 percent of Wyoming residents own their homes. A home warranty can protect your Wyoming home and its critical appliances and systems when unexpected troubles or breakdowns occur.
Do you wish to sell you Wyoming home? Wouldn't it be great if you didn't have to worry about unexpected system and appliance repairs while your home is on the market? Well, you don't. Home warranty companies will cover you while your home is up for sale. Now, being aware of this, you'll have peace of mind knowing that you won't get hit with a big bill for an unexpected home repair or replacement during this already stressful period. And, since 8 out of 10 people buying homes prefer one with a home warranty, you could be increasing your home's marketability as well.
Are you looking to buy a home in Wyoming? Wouldn't you like to know that if something unexpected were to happen to one of your home's systems or appliances right after you take possession, that you wouldn't get hit with the bill? Just buy a home with a Wyoming home warranty already in place and you're covered for just such an eventuality. After all, isn't buying a home a big enough investment as it is?
The median age of homes in Wyoming is 35 to 39 years. One can easily see how a home of this age could need repairs, or even replacements of its home systems and appliances, maybe more than once, over all those years. The average lifespan of a home appliance is 9 to 15 years. In Wyoming, where extreme cold, wind, hail and thunderstorms and lightening are all common hazards, doesn't it make sense to want to protect your Wyoming home and appliances?
Wyoming has a lot to contend with, having jet stream-induced winter storms, heavy snows, low wind chill factors, and high winds in the wintertime. Having a well-operating heating system is more about safety than about mere convenience. The Basic Plan from Choice Home Warranty covers your heating system and ductwork, so you don't have to worry about the frigid conditions catching you unawares. You'll have the peace of mind to know that, should something go wrong, you will get the repairs, or even a necessary replacement to keep you going.
The same goes for your water heater, a year-round necessity. The Basic Plan covers it as well. This is good to know, especially since a new one could cost you well over $1,000.
But Wyoming isn't always cold. Summers can get quite warm, with average temperatures around 85°F. This is no time for your air conditioner to conk out. Upgrade to a Total Plan, and it's covered too.
It's easy to see how taking care of your Wyoming home systems and appliances is so very important. With Choice Home Warranty, you can do just that. All you must do is make a service call at the first hint of a problem with one of your systems or appliances. That way, you can get the repairs and attention you need to help protect them from a total breakdown and yourself from the loss of their use.
Why is a Home Warranty Necessary in Wyoming?
Extreme cold, heat, wind, hail, and thunderstorms and lightening are all hazardous to your home's critical systems and appliances. A Wyoming home warranty can help protect you when covered items break down, even if it's from normal wear and tear.
After a days' hard riding during Frontier Days, you'll just want to get cleaned up, then get those dirty clothes clean and dry. But what if your dryer is on the fritz? There are several things that can go wrong. One common problem is the drum not turning because the belt is worn out. Another is a worn-out heating element. You just can't get your clothes dry that way. Whether it's the thermostat, the thermal fuse, the motor, or some other problem, you can be sure the technicians at Choice Home Warranty will find and fix it. And if they can't, your dryer will be replaced under your warranty. All you must do is upgrade to a Total Plan to have both your clothes washer and dryer covered under your Wyoming home warranty plan.
Now that you're clean and the laundry is going, you're ready to eat. No worries here. The Basic Plan covers your oven, range, cooktop, build-in microwave, dishwasher and disposal. Upgrade to a Total Plan and your refrigerator is covered too.
To make things even better, Choice Home Warranty has several add-on protections to choose from as well. These allow you to customize your plan to suit the way you live. For those of you in more rural areas, there are protections for well pumps, sump pumps and septic systems. And with all the storms Wyoming gets, you may be interested in our limited roof leak protection. Do you have a second refrigerator or stand-alone freezer? These handy appliances can be added on to your warranty as well. Your Wyoming home warranty can be custom-made to fit your lifestyle.
What Does a Wyoming Warranty Cover?
| | | |
| --- | --- | --- |
| Covered Items* | Total Plan | Basic Plan |
| Air Conditioning System | | |
| Heating System | | |
| Electrical System | | |
| Plumbing System | | |
| Plumbing Stoppage | | |
| Water Heater | | |
| Whirlpool Bathtub | | |
| Refrigerator | | |
| Oven / Range / Stove | | |
| Cooktop | | |
| Dishwasher | | |
| Built-In Microwave | | |
| Garbage Disposal | | |
| Clothes Washer | | |
| Clothes Dryer | | |
| Ductwork | | |
| Garage Door Opener | | |
| Ceiling and Exhaust Fans | | |
Optional Coverage
| | | |
| --- | --- | --- |
| Pool / Spa | Well Pump | Sump Pump |
| Central Vacuum | Limited Roof Leak | Septic System |
| Second Refrigerator | Stand Alone Freezer | Septic Tank Pumping |
* Click Here to view complete limits of liability and any exclusions. CHW offers service contracts which are not warranties. ** See policy for specifics on response times. ***CHW reserves the right to offer cash back in lieu of repair or replacement in the amount of CHW's actual cost (which at times may be less than retail) to repair or replace any covered system, component or appliance
.
How does a Wyoming Home Warranty Work?
Just as soon as you notice a problem with one of your covered appliances or systems, like your dryer not turning, or blowing cold air, give customer service a call. They will get you in touch with a service professional who can perform the necessary repairs. All of Choice Home Warranty's service providers are fully insured, licensed, highly rated, and carefully checked out before ever being sent out to your home. Our goal is your total satisfaction.
On the first visit, a small service fee will be collected. Any additional work on your covered item will be taken care of by your Wyoming home warranty plan. If your service technician determines that your covered item cannot be repaired, it will be replaced under your warranty.
With a Wyoming home warranty, you don't have to worry that a single repair or replacement will wipe out your emergency or savings accounts. All you need do is keep a modest repair account for necessary service fees as they may become due. You get peace of mind with Choice Home Warranty.
With two plans to choose from and plenty of add-on protections as well, Choice Home Warranty lets you customize a plan to fit your individual needs and lifestyle. If you are looking for a comprehensive home warranty in Wyoming, Choice Home Warranty is an excellent pick.