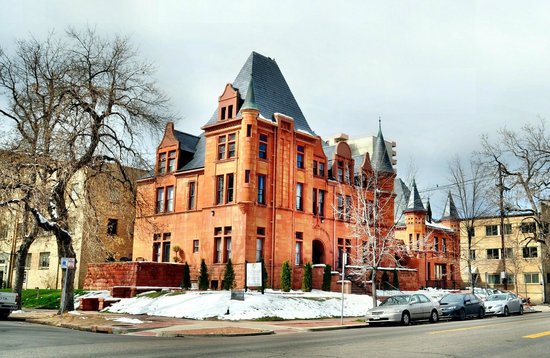 America has no shortage of creepy homes. Homes across the United States have been the sites of murders, unspeakable torture, cruelty, and heartbreak — incidents that many believe have left the spirits of former inhabitants, visitors, and even slaves behind the haunt those who dare to visit.
Many homes throughout the United States are famous for their hauntings, spooky status, and creepy activities. Of course, while every spooky house has a story, there's no way to tell if it's really all true. But it is intriguing to explore the often heartbreaking and disturbing stories (true or false) of some of America's most creepy homes. Here, we've highlighted 14 of the most intriguing haunted houses in the country.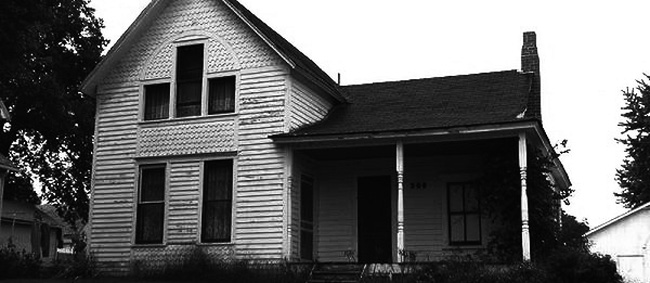 The Villisca Axe Murder House sits on a quiet residential street and looks innocuous at first glance. You might even drive right by it and not take any notice. But take a closer look at it, and you'll notice it's dark, windows are covered, and there's still an outhouse in the backyard. And then there's of course the sign out front that indicates: this is a murder house.
In June of 1912, the entire family of Josiah Moore as well as two overnight guests were bludgeoned to death in the home. The mystery of the the murderer or murderers has still not been solved more than a century after the crime.
Visiting the house is quite creepy: paranormal investigators have identified paranormal activity and psychics have communicated with spirits that live in the home. Some tours have included the sound of children's voices, falling furniture, flying objects, and even moving ladders.
The Villisca Axe Murder House is available for tours and overnight stays. There's a rumor that if you spend the whole night in the house, you get a refund on your tour, but that's simply not true. You just get to walk away with the creepy feeling that accompanies spending time in a house where grisly murders occurred.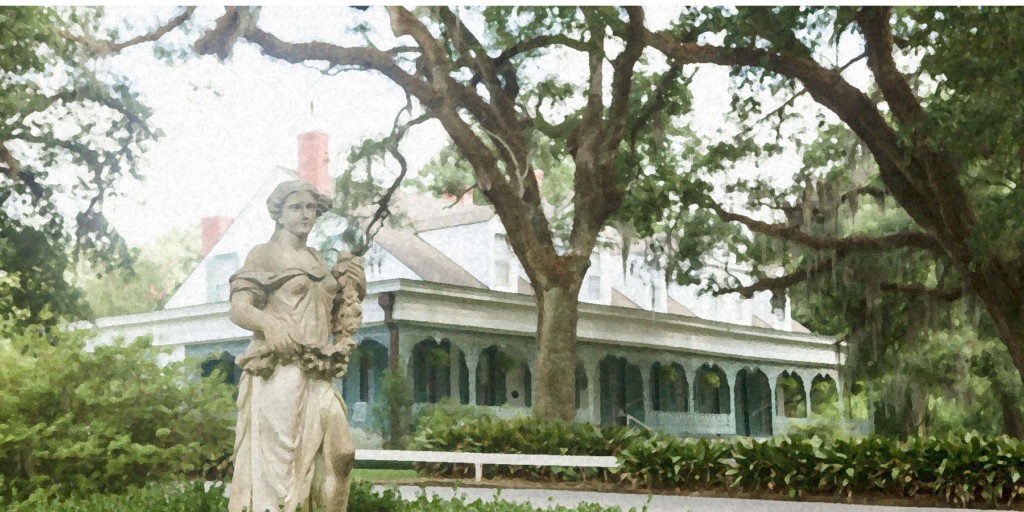 An old Antebellum plantation, The Myrtles Plantation is believed to be infested with ghosts. The site has been the scene of a number of deaths, which have led to many ghost stories about the property.
The most famous Myrtles Plantation ghost story is the legend of Chloe, a slave who murdered the wife and two daughters of one time owner Clark Woodruff. Fed up with repeated rape by Woodruff, Chloe put poison into a birthday cake. The other slaves, likely afraid they'd be punished for Chloe's actions, hung her from a tree. Chloe has reportedly been seen on the property and believed to be photographed. Visitors see her walking around at night in a green turban. Some are awakened by her staring at them from their bedside.
Ghost children are reported to be seen playing throughout the house and the grand piano on the first floor sometimes plays by itself, even in the night.
Today, the Myrtles Plantation is a bed and breakfast. Overnight stays and tours are available, including guided historic and mystery tours.
Woodburn Mansion is the Delaware state Governor's home. It was built in 1790 and is noted as one of the best examples of Georgian homes in the state. In its history, it has been owned and inhabited by many of Delaware's most wealthy and influential citizens, becoming the Governor's Home in 1965. Woodburn was also once a stop on the underground railroad.
Reports of ghosts have permeated Woodburn's history. Many have reported mostly pleasant ghosts throughout the estate. Visitors have reported seeing ghosts on the stairs and especially in the dining room. Governors' wives are said to have heard footsteps in the dining room at all hours as well as Revolutionary era men floating in the room. There are also wine ghosts who are said to drink wine left unattended. A young girl is seen playing in the garden in the pools and fountains.
The mansion is open to visitors most weekdays by appointment. The state acknowledges that Woodburn is the subject of local legends and is thought to be home to ghostly visitors.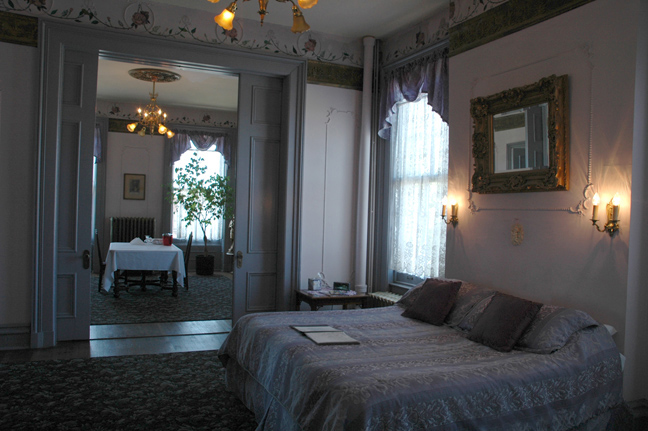 The famous Lemp Mansion in St. Louis is believed to be one of America's most haunted houses. The mansion was once a home for a successful family of brewers. But over the course of the home's history, several members of the Lemp family committed suicide, presumably leaving behind their restless spirits to haunt visitors.
Today, the mansion is a bed and breakfast only for the brave. Guests of the bed and breakfast have experienced cold spots, spontaneously swinging doors, glasses that fall off of tables unassisted, sad feelings, strange objects in their photos, electrical failures, and tapping on their shoulders.
The Lemp Mansion invites the public to explore the home's creepy history with weekly haunted history tours, a mansion ghost cam, comedy mystery dinners, and a big Halloween bash every year. Lunch is also available for those who prefer to visit during the less hair raising daytime hours.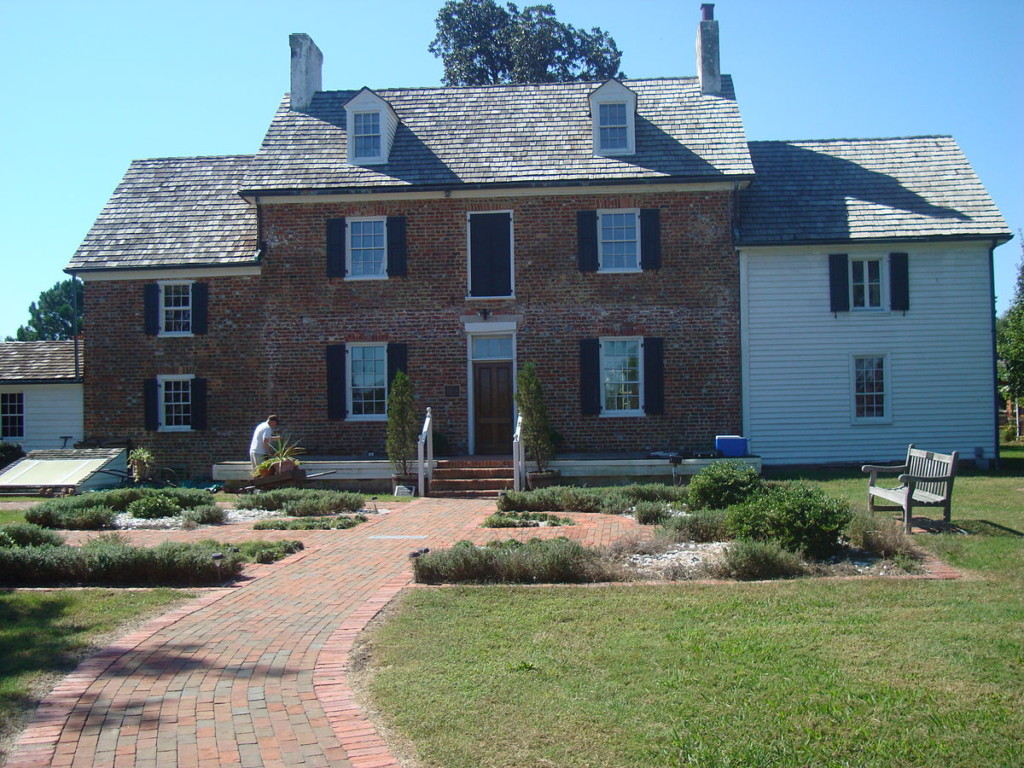 The Ferry Plantation House site dates back to 1642 and has been used as a plantation, courthouse, school, and post office. Today, it is a museum and educational center. The house that stands now was built in 1830 by slaves from the ruins of a previous mansion.
The house is said to be haunted by 11 spirits. Many of the spirits are believed to be people who died in an 1810 ship wreck at the ferry landing. A former slave, artist Thomas Williamson, and the Lady in White, who is said to have died falling down the stairs are believed to haunt the home.
Visitors and paranormal investigators report hearing sounds of dragging chains, potentially from the house's days as a courthouse. Grace Sherwood, the famous Witch of Pungo who was tried by ducking nearby, is said to be heard yelling for her dog Tobias, another spirit of the house.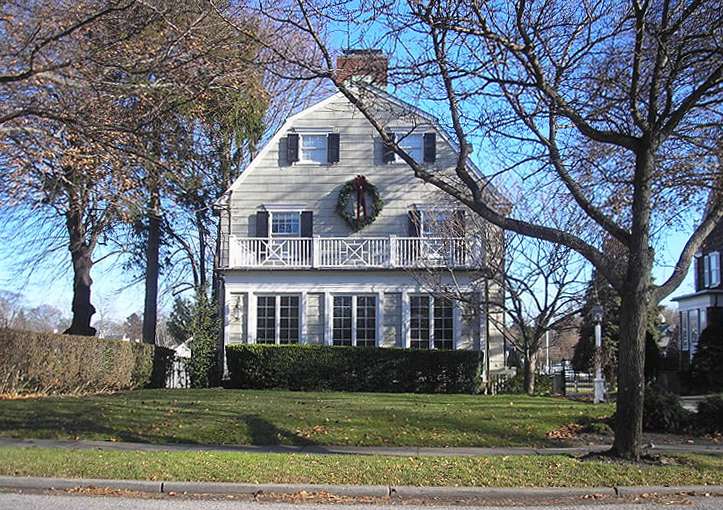 Located in suburban Amityville, New York, the Amityville House is the infamous site of a mass murder and reported hauntings. The house's story was popularized by a book, The Amityville Horror, and later, a number of films including the latest released in 2005.
In 1974, the Amityville House was the site of a mass murder. Ronald DeFeo, Jr. shot and killed six members of his family. They were shot and killed execution style. At trial, DeFeo's attorneys argued he killed his family because he was convinced to do so by voices in the home. The Lutz family in just one year after the murders and reportedly left after less than a month due to paranormal activity including noises, voices, and green slime in the walls. Their experience inspired the book and films.
The story of the hauntings and possession of the house has largely been written off as a hoax. Some believe the story was made up to support a demonic defense for DeFeo, others believe it was started the Lutz family. There have been four owners since the murders occurred.
Epperson House, University of Missouri-Kansas City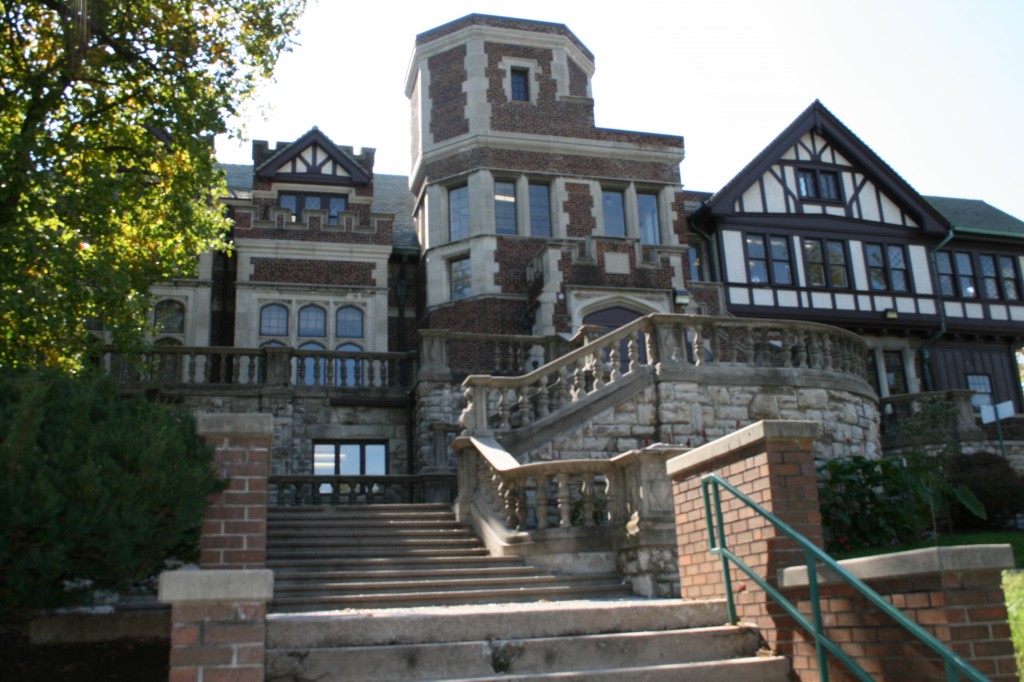 Now part of the University of Missouri Kansas City campus, Epperson House is believed to be one of the most haunted houses in America. Modeled after 15th century English castles, the Epperson House was built by local philanthropist Uria S. Epperson in 1919.
The Epperson House is said to be haunted by the ghost of Harriet Barse. Barse was a Kansas City Conservatory of Music student who lived with the family — and some say was even adopted by them. Visitors and security guards say they've heard music coming from the living room organ loft and have even seen Barse dressed in a recital gown.
Security guards have noted other mysterious happenings, including footsteps and other paranormal activity. One reported that his car was hit from behind while parked in front of the house, but no evidence of another vehicle was found.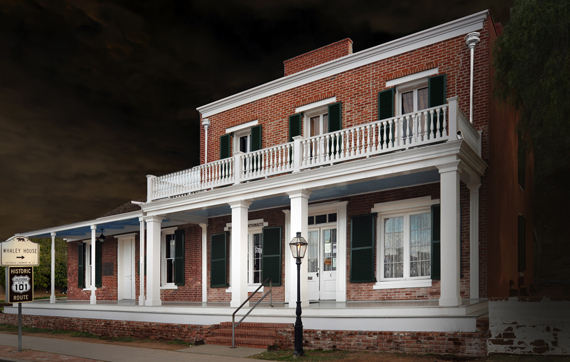 Located on historic Route 101 in San Diego, the Whaley house is historically important and was the site of many significant events. It was once a county court house, commercial theater, school, billiard ball, ballroom, and general store — though not all at the same time. The house has also seen death and tragedy, including hangings on the property before the home's construction and the suicide of Violet Whaley.
Experts believe the Whaley House to be among America's most haunted. Many visitors, expert and layman alike, have experienced visits from resident ghosts who inhabit the Whaley House. Yankee Jim, who was convicted of attempted grand larceny, was hung on the property. The Whaley family believed that they were haunted by the ghost of Yankee Jim, experiencing mysterious heavy footsteps around the home.
Other visitors have encountered the ghosts of the Whaley family. A young girl described seeing Thomas Whaley while on a tour. Others have seen his wife Anna in the garden or in downstairs rooms. A woman in the courtroom (believed to be a former tenant), young girl in the dining room, and even a spotted dog have been reported by visitors.
The Whaley House operates as a historic museum today. The museum offers daytime and nighttime tours including ghost hunting tours, past and presence ghost tours, and private after hours tours. Visitors can also participate in Halloween and Dia de los Muertos events.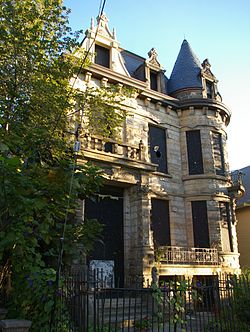 The Tiedemann House, known by many as Franklin Castle, is a grand home located on Franklin Boulevard in Cleveland. It has long been known as the most haunted house in Ohio.
The house is believed to be the site of many grisly deaths in existence dating back to the mid 1800s. Tiedmann's three babies, fifteen year old daughter, and wife all died in the home. A servant girl and mistress are said to have been killed in the home. A pile of baby skeletons was found, the victims of an inept doctor. Nazis were mass murdered in a political dispute. An axe murderer attacked a victim in the front tower room. An illegitimate daughter of Tiedmann, Karen, was hung in a secret passageway around the ballroom.
According to local legend, ghosts have always inhabited the home. They've caused doors to come off their hinges, electrical circuits to behave erratically, and lights to spin around on their own. Visitors have also reported seeing a woman in black from a small window and the sound of a bab crying: this woman is Karen, the illegitimate daughter hung near the ballroom and often seen by people in the neighborhood. And the children of a couple who once lived in the home asked their parents for a cookie to give to a crying little girl.
The house has had several owners over the years. In the mid 1970s, one owner took advantage of the home's haunted reputation and offered public tours of the haunted Franklin Castle. The house was purchased by a couple in 2011. They've worked on significant restoration of the old house, which was damaged by decay and arson.
Rotherwood Mansion is located in Kingsport, Tennessee on a hilly bank of the Holston River. It was the site of tragedy. Originally built by Fredrick Ross and later inhabited by his family including several children, Rotherwood was to be the site of a wedding for one of the daughters, Rowena. But on the wedding day, the bride and both families witnessed the groom and his friends capsize in the river, most of them drowning.
The groom's ghost is said to haunt Rotherwood — so much so that one night, Rowena put on her wedding dress and walked into the river until the water was up to her neck and she vanished below the surface as her groom had.
The plantation was sold to Joshua Phipps, who reportedly abused his slaves and made them live in cells and small rooms together at night. Some had no protection from the elements — and a whipping post was built into the walls so that Phipps could beat his slaves brutally. Injured slaves were shot and killed. Phipps died mysteriously in a swarm of hundreds of flies who disappeared as quickly as they came. At his funeral, a snarling black dog is said to have burst out of his casket.
Inhabitants of Rotherwood reported hearing whisperings in the house's shadows and animal feet in the hallways. Some also said they heard Phipps walking around the home and experienced him ripping sheets off of occupied beds. And slaves reported being haunted by Phipps so much that his coffin was dug up to make sure he was dead — only to find it empty except for animal hairs.
Later owners of Rotherwood renovated the estate and a worker reported seeing the ghost of Phipps materialize out of a wall with a giant, angry black dog who chased him out of the house and even down the road before vanishing. Others have reported seeing Rowena Ross, murdered slaves, and other spirits on the grounds and throughout the property.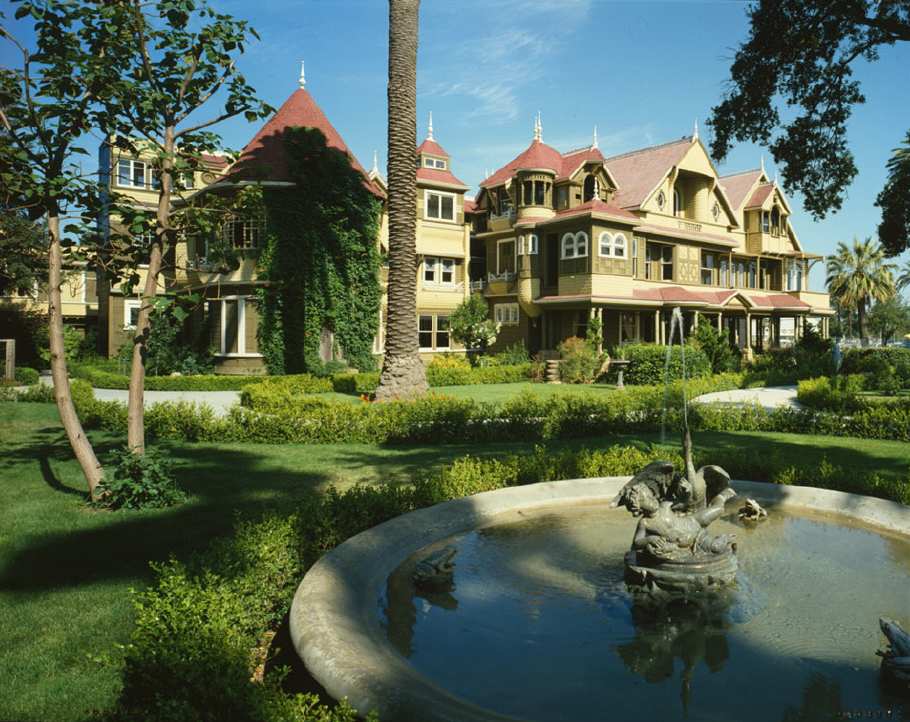 Located in San Jose, California, the Winchester Mystery House was once the home of Sarah Winchester. Winchester was the widow of gun magnate William Winchester. Legends claim that after the death of her infant daughter and husband, her husband told her (through a medium) to build a home for herself and the spirits of victims of Winchester rifles.
The Winchester Mystery House began as an unfinished farmhouse. Winchester hired workers to work on it haphazardly until it became a seven story mansion. There are a number of oddities including doors, stairs with extremely short steps, passageways in the walls, hidden panels, windows that led to steps, and stairs that lead to nowhere. The home has approximately 160 rooms.
Winchester believed deeply in ghosts and is believed to have used secret passageways and hidden panels to confuse mischievous ghosts following her. But it is said that she wanted to be friendly with good spirits, keeping mirrors to a minimum believing that they hated them. It's also said that she slept in a different bedroom every night and held special dinner parties for spirits.
Later occupants of the home have reported odd incidents like hearing footsteps and breathing as well as the sound of a screw being unscrewed and falling on the floor. Locked doorknobs have turned, cold spots have popped up and some people have temporarily lost their eyesight. Others have seen unusual lights and figures in person and photographs.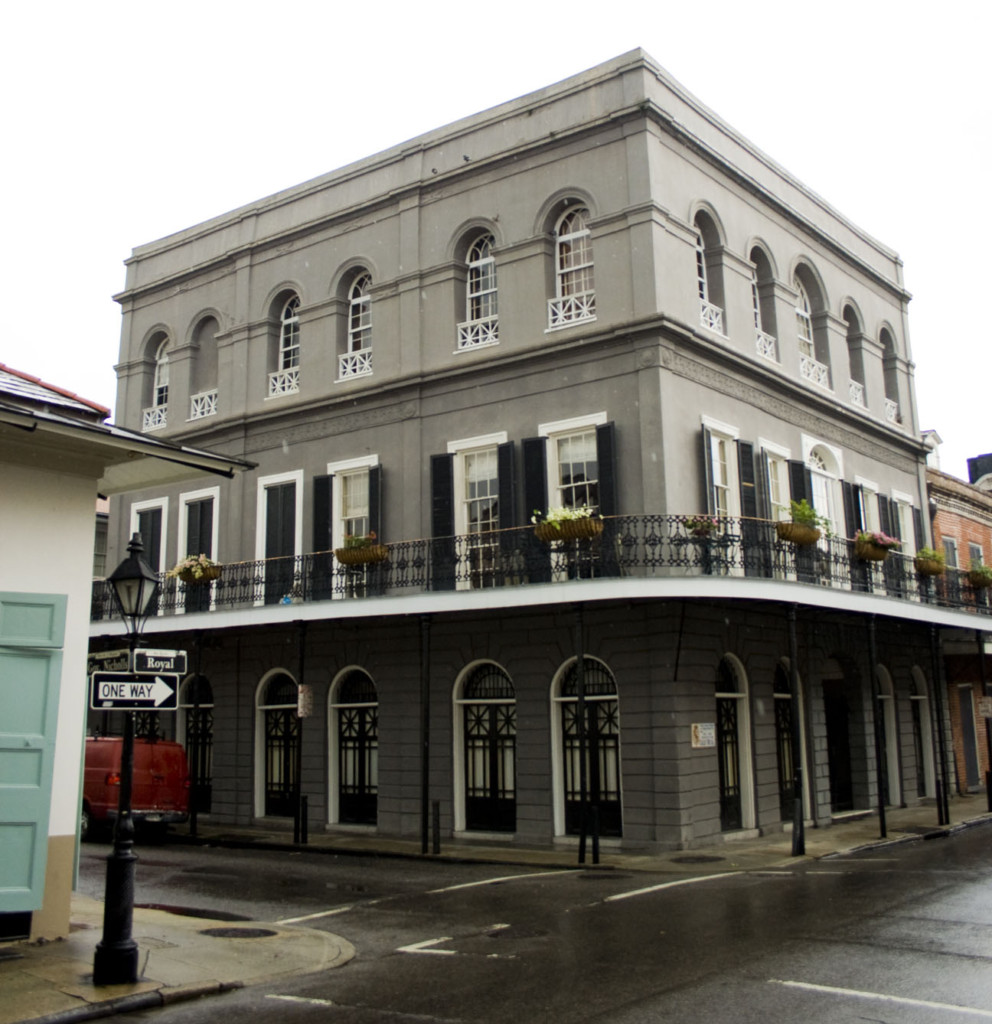 A city with plenty of ghost stories, New Orleans is home to the haunted LaLaurie Mansion on Royal Street. The lavish home was made for grand events and occasions and was owned by Dr. Luois LaLaurie and his wife, Delphine. Known for their social affairs, wealth, and prominence, Madame LaLaurie became known as one of the most influential French-Creole women in the city.
But the LaLaurie mansion had a dark secret beneath its beautiful and elegant affairs: it was kept up by dozens of slaves who were brutally abused. Madame LaLaurie was extremely cruel to them, keeping her cook chained to the fireplace. A neighbor witnessed her chase a young personal servant girl up to the roof of the home with a whip, where the girl ultimately jumped to her death. Parlor maids, stable boys, and other servants disappeared without explanation. After investigation, the LaLaurie slaves were impounded and sold at auction — only to be purchased by relatives of LaLaurie and sold back to her in secret.
The full extent of LaLaurie's tortures was revealed after a fire broke out in the kitchen and firefighters discovered a secret door in the attic. Behind it, they found more than a dozen slaves in cages, chained to walls, and strapped to operating tables, most in varying states of grisly torture and mutilation. They also found body parts and dead slaves throughout the room.
Following the discovery, the LaLaurie family vanished and the house was vandalized by a mob, then left vacant for many years. Since then, there have been owners and inhabitants of the house, but few stay very long. People have heard screams of agony coming from the home at night as well as apparitions of slaves on the balcony and in the yards. Some have claimed to see vagrants enter the home and never come out again. Others have claimed to be approached or even attacked by ghostly figures.
Today, the house is renovated and restored. It's rented out as luxury apartments.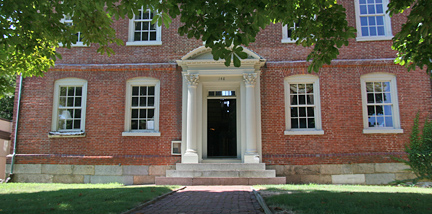 Located in historical Salem, Massachusetts, the Joshua Ward House was built for Joshua Ward and later became an upscale hotel. But before the house was built, the land once had the house and jail of Sheriff George Corwin built upon it. Sheriff Corwin was nicknamed The Strangler.
Corwin interrogated suspected witches and warlocks during the Salem witch hunting era. He executed 19 men and women, often tortured brutally before being executed by hanging. The Sheriff was greatly despised and was interned in his cellar for many years before being moved to a cemetery.
Visitors report seeing Sheriff George as well as his witch trial victims. They've seen an unhappy woman with wild black hair roaming the hallways as well as a male entity believed to have been tortured and killed on the property. Visitors also report seeing Sheriff George in a rocking chair by the fireplace and have even reported being choked — presumably by the sheriff. Others have noticed tampering of candles, cold spots, and items moved around the mansion.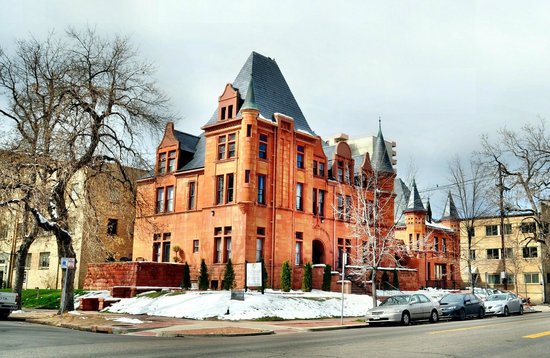 The Croke-Patterson Mansion is one of Denver's spookiest homes. It's said that Thomas Croke, a state Senator, had the mansion built, but only entered the completed building once. Legend has it that he was spooked and never returned, selling the home to Thomas Patterson two years after its completion.
The mansion has a number of spooky stories. Some claim to see Patterson wandering the grounds. Others say a young girl is buried in the cellar. And another story involves two guard dogs jumping from a third floor window and dying.
The ghost of Patterson's wife Kate is said to have helped a pregnant woman roll over in bed. Drawers are opened and closed, phantom voices are heard, typewriters type in the middle of the night, party noises come from a back closet, and a woman at the top of the stairs.
The Patterson Historic Inn is now a bed and breakfast with themed rooms — but no mention of any hauntings.
Save