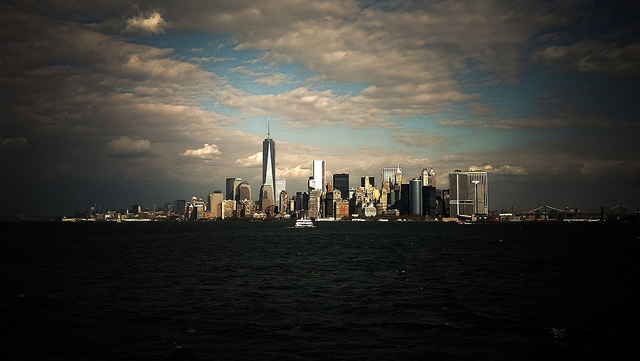 In the world's most famous city, real estate is big business. In fact, the total value of all New York City property is assessed at $914.8 billion for the 2015 fiscal year, and much of the world's most valuable real estate is in New York City.
New York City often has more people than homes, making it a tough market for renters or buyers. The city is known for tough to find dream apartments, bidding wars, and sky high prices. It can be rough out there — but working with a trusted real estate professional can help you move easily through the process.
Whether you're buying, selling, or renting, you'll need a qualified, tenacious real estate professional to help you navigate NYC, and we've found the best ones out there. These real estate professionals are experienced, well loved by their clients, and accomplished in the field of real estate. You can trust that you're in good hands with them.
We've listed New York City's best real estate agents without ranking order, but we all know that ultimately, one of them has to be the best. But who are we to judge? That's why we've included a poll at the end of this article: please share your opinion and vote to tell us who is the best real estate agent in New York City!
Mike Mishkin: Mike Mishkin was born and raised on the Upper West Side, and that's the area where he loves to buy and sell homes. As a lifelong resident, Mishkin understands the Upper West Side Market innately, and is an excellent resource for finding a smart buy in the neighborhood — or an interested buyer. He also maintains great relationships with renters, helping them find the perfect apartment, and making finding renters a breeze for property owners. Mishkin's clients say that he makes the daunting task of moving in New York City a joy, and that he's seemingly always available, loves to build long term relationships with his clients, and is an expert at showing a sense of urgency without being pushy.
Annette LaMatto: Broker/Owner of LaMatto Properties, Annette LaMatto has been a real estate professional for more than 25 years. LaMatto is a lifelong resident of North Brooklyn, and specializes in the neighborhood, using her insider knowledge to help her clients sell, purchase, and rent with success in the area. Renters, buyers, and sellers alike say that LaMatto is helpful, knowledgeable, and is happy to patiently find the perfect match for her clients.
Vince Rocco: Vince Rocco is the managing partner of BLU Realty Group. He got started in real estate in the mid-1990's while renovating and selling co-ops and condos for his own personal real estate projects, and decided to make it his full time profession. Since then, he's worked to build strong relationships and deliver quality service to buyers and sellers. He takes great pride in managing every deal's details, and enjoys taking a straightforward approach. You may recognize Rocco as the voice from Good Morning New York Real Estate on the VoiceAmerica Variety Channel. Rocco has also appeared on the DIY Network, HGTV, and The New York Times.
Elliot Nicks: Owner of Elliot Nicks Realty, Elliot Nicks is a specialist in residential sales for first time home buyers and those with distressed properties. His area of specialization is Brooklyn, and clients are often impressed by his knowledge of the neighborhood. He is especially beloved by his clients because he's quick to respond, honest, and is happy to go above and beyond expectations to take care of them.
Elizabeth Stribling: Founder and chairman of Stribling & Associates, Elizabeth Stribling is a cheerleader for New York — and is often asked if she will run for mayor of the city. Stribling takes a practical approach to the real estate business with hard work and honesty as her foundation for success. Her real estate firm specializes in the luxury real estate market in New York, and is largely referral based, with 80% of business coming in from referrals. Stribling is proud to serve multiple generations of clients in their real estate transactions, and it's a testament to her (and her firm's) outstanding success in New York real estate.
Brad Malow: Rutenberg Realty's Brad Malow is a compassional New York real estate professional who understands how personal buying and selling real estate can be. He's represented New York City buyers and sellers for more than a decade, and enjoys an incredibly loyal customer base that continues to return and refer business to him. Malow's clients call him a go getter, and love that he is extremely knowledgeable about the New York City real estate market, helping them find the perfect solution with patiences and expert assistance.
Tammy Shaw: As a broker with TB Shaw, Tammy Shaw takes a boutique, yet high tech approach to New York real estate. Shaw utilizes technology to reach qualified buyers, sellers, and property owners — and makes the most of each transaction with her extensive knowledge of New York real estate. Shaw's clients enjoy her personable and honest approach, and appreciate her professionalism, even in difficult real estate situations.
Rolan Sereny: As founder and CEO of Brick and Mortar, Rolan Sereny has more than 10 years of experience in east coast real estate. He prides himself on excellent customer service with emotional investment, and it shows. Brick and Mortar's clients say that they feel well taken care of, appreciate the professionalism offered, and incredible knowledge of the New York real estate market.
Vanessa Saunders: As CEO and principal broker of Global Property Systems Real Estate, Vanessa Saunders specializes in international marketing, with more than 80% of GPS's listings selling to global investors and overseas buyers. Saunders is an excellent choice if you're interested in opening your property up to the international market. Saunders is lauded for her ability to successfully market properties — and her clients say she is a master at her craft.
Dottie Herman: President and CEO of Douglas Elliman Real Estate, Dorothy "Dottie" Herman is at the helm of a company that serves a variety o real estate needs, from residential real estate brokerage and rentals to relocation and new development consulting. New York may be the city that never sleeps — and she stays up right along with it, often sending important emails out well into the night. Herman has been recognized for her excellence in New York real estate by a numner of organizations, including The New York Observer's Power 100.
Alfred Baione: Owner of New York Residential Real Estate, Alfred Baione is proud to provide clients with a boutique style real estate service in New York. He boasts a strong background of professional sales experience and a love of homes, property, and people. Baione loves to please his clients, and it shows. They say he is willing to step out of his comfort zone to help find the right property, and especially appreciate that he is honest, straightforward, and always available to his clients as much as possible.
Nelson Aybar: A former Special Forces Airborne Sergeant in the U.S. Army, Nelson Aybar brings his dedication and professionalism to rentals and sales in Manhattan and Brooklyn. Clients are frequently amazed by the level of personal service that Aybar offers, and love that he goes the extra mile as an honest and efficient real estate professional.
Diane Ramirez: As CEO of Halstead Property, Diane Ramirez has 35 years of experience in the residential real estate industry. Ramirez takes a marketing minded approach to real estate, and is known for bringing polish to management and transactions. She is widely recognized for her leadership, with current and former appointments as Governor to the Department of State Real Estate Board, membership on the Real Estate Board of New York, and membership on the Real Estate Brokerage Managers Council.
Edward Longley: Edward Longley is CEO and fouder of The Hollingsworth Group in New York City, and has been a resident of Manhattan since 1998. He specializes in real estate financial consulting, and enjoys focusing on sales and rentals in Manhattan, Queens, and Brooklyn. He works hard to get top value for his clients, and enjoys being a real estate resource that they can count on. Longley's clients appreciate that he is knowledgeable, tenacious, and that they are in good hands with him.
Derek Lee: The cofounding partner of LG Fairmont Group, Derek Lee has a background in investments, economics, and finance. His extensive financial knowledge makes him an asset in any real estate transaction, and he is an expert in finding the perfect property matches for his clients. Lee's clients are frequently impressed by his professionalism and effectiveness throughout the real estate transaction process, whether they're buying, selling, or renting in New York City.