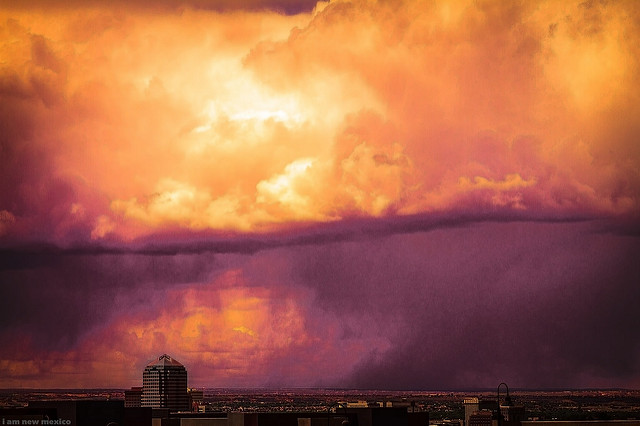 Albuquerque is one of America's most unique cities. The high desert city is steeped in history, dating back to its founding as a Spanish colony in 1706. And historic neon signs still glow on the old Route 66 through the city.
But Albuquerque is more than its past, offering a modern, exciting downtown, laid back atmosphere, an active outdoor culture, and reasonably priced real estate. Albuquerque has been name one of the best cities for millennials, a top city for retirement, one of America's best cities for beer lovers, and a top 10 best city for foodies.
The appeal of Albuquerque is hardly a well kept secret as buyers continue to flock to the city. Sales and median home prices have surged, putting Albuquerque on a six percent increase in sales over last year. Sales dollar volume is three percent higher as well. Albuquerque has become a competitive market with a lower than usual inventory of homes for sale. Some of the best performing areas in Albuquerque are Pajarito, Foothills South, Southeast Heights, Four Hills, Academy West, and Southwest Heights.
Albuquerque's competitive housing market requires the guidance of a professional. With one of Albuquerque's best real estate agents, you'll be prepared to maximize the city's real estate opportunities whether you're buying, selling, or investing. They have the experience, knowledge, and skills to guide you through any real estate transaction in Albuquerque.
Each of the top Albuquerque real estate agents in our list is highly qualified with excellent reviews and a good reputation. They have a long history of satisfying clients throughout the Albuquerque area. Any one of the real estate professionals we've shared here would be a great choice for your next real estate transaction in Albuquerque.
As we trust all of the Albuquerque real estate agents on our list to deliver superior service and results, we've listed them in no particular order without ranking. But we would like to know what you think. We've included a poll at the end of this article and encourage you to place your vote to let us know which of Albuquerque's top real estate agents you think is the best. Just don't wait to vote: the poll closes in 30 days!
Heather Meadows
Heather Meadows is the owner and qualifying broker of Desert Meadows Real Estate in Albuquerque. She has spent more than nine years providing top notch professional real estate services to buyer,s sellers, and investors. A longtime resident of New Mexico, she has an excellent understanding of the Albuquerque area, neighborhoods, and real estate market. Meadows is proud to deliver professional real estate services and take a personal interest in the needs and wants of her clients. Clients of Meadows say she is knowledgeable and particularly skilled at marketing properties. They find her to be helpful, cooperative, competent, and always upbeat and friendly in any situation. Her clients value her honest opinion and ability to deliver fast results.
Mary Padilla is the owner and broker of YES! Realty. She has more than 11 years of experience in real estate and has lived in all four quadrants of Albuquerque. Padilla is proud to have an excellent understanding of the metro area. She works tirelessly for clients whether they're relocating to Albuquerque or simply looking for a new home. Padilla is committed to being available to her clients and earning referrals with excellent customer satisfaction. Her clients say she is helpful throughout the entire process and is knowledgeable, answering questions quickly and thoroughly. She is always on top of details, reminding them of deadlines and important tasks. They appreciate how well she is able to make herself available and make buying a home easy.
Jennifer Wilson is a real estate broker with more than 21 years of experience. She specializes as a buyer's agent and listing agent with interests in relocation and foreclosure. Wilson is committed to working with her clients to discover the best property for their needs, or find the right buyer for their home. She is always happy to alleviate the stress of relocation, helping her clients learn about new neighborhoods and explore Albuquerque. Her goal is quality service and she guarantees a quality experience for every client. Wilson's clients say she is a pleasure to work with and she always goes out of her way to be flexible and helpful for them. They appreciate her problem solving abilities and thorough nature. She's also able to take care of all the details with patience and reliable communication. They trust her for excellent insight into real estate and the local market, enjoying an easy process for every real estate transaction.
Val King is a senior consultant at Q Realty. She boasts more than 22 years of experience and multi million dollar producer status. King specializes in residential home sales, resale, new construction, vacant land acquisition, builder promotion, and marketing. She has been a member of the Greater Albuquerque Association of Realtors since 1994 and is a Certified Residential Specialist. Clients say King is simply the best. They trust her to know what they are looking for even when they don't — and even to deliver excellent results in a time crunch. Her clients are impressed with her knowledge of the Albuquerque area and ability to zero on in the best neighborhoods and homes that they might not have considered otherwise. They say she is quick to answer all questions, knowledgeable, and offers invaluable sound advice.
Sherry Fowler is the owner and associate broker of Signature Southwest Properties. She has more than 27 years of experience in real estate and specializes in luxury homes and relocations. A leader in Albuquerque real estate, Fowler is a director for the Greater Albuquerque Association of Realtors and one of Albuquerque's top producing Realtors. She is a native of Albuquerque and brings a wealth of knowledge and experience to every real estate transaction. Fowler promises to work hard to meet or exceed all client expectations and earn continued repeat and referral clients. Active in the community, she is a member of the Calvary Chapel of Albuquerque worship team, has served on the board of directors for the Albuquerque Metropolitan Crime Stoppers, and is a member of the Junior League of Albuquerque. Fowler's clients have come to rely on her for knowledgeable, thoughtful real estate advice. They appreciate her ability to understand their needs and desires while making real estate an easy profess. They know they can trust her to deliver a flawless experience with her professionalism, knowledge, negotiation skills, and communication.
Mark Puckett is the qualifying broker for Platinum Properties & Investments in Albuquerque. He has more than 19 years of experience in real estate and has earned the Accredited Buyers Representative and Certified Residential Specialist real estate designations. Puckett is committed to helping every client attain their goals and achieve their dreams, serving as a partner intensely focused on your vision with passion for success. He is proud to offer an unwavering commitment to client needs and complete satisfaction. Every client of Puckett's can trust him to deliver straightforward and dependable advice. Clients say Puckett is professional, patient, knowledgeable, and responsive. They're impressed by his negotiating skills and appreciate his willingness to walk them through every step of the process. They know every question will be answered quickly and appreciate his extraordinary knowledge of the Albuquerque real estate market.
Mella Skow
Mella Skow is a Realtor and broker with more than 16 years of experience. She has spent more than a decade in Albuquerque's real estate market and offers superior knowledge of the area. Skow holds the Certified Residential Specialist designation with advanced training in residential real estate. With a focus on a unique process for each client, Skow delivers a professional experience with personalized service. She is always ready to go above and beyond, delivering professionalism, exceeding expectations, and delivering success. Clients value Skow's knowledge and service, returning to her for multiple transactions over the years and referring her to friends and family. They say she is professional, makes sure all details are covered, and quickly resolves problems. They appreciate that they can always feel comfortable approaching her with questions and trust her to deliver timely and helpful results.
Daniel Armstrong is a native of Albuquerque and an experienced broker with more than 18 years in real estate. He is owner and qualifying broker of Armstrong Properties in Albuquerque. His small brokerage is committed to putting clients first, listening to them, and finding properties that meet their needs as well as their budget. Armstrong is a Certified Residential Specialist and Green certified. Clients say Armstrong is hard working, dedicated, and thorough. They rely on him for his calmness, leadership, and kind and caring nature throughout the process. Armstrong's clients trust him to always answer their questions quickly and understand both their needs and the market.
Tim Lopez is a Realtor and general contractor with more than 18 years of experience. He is a New Mexico native and spent 25 years as a general contractor and home builder in Albuquerque, including town homes, custom homes, multi million dollar commercial projects, and the first LEED Platinum commercial office building in New Mexico. With a long background in construction, Lopez offers a unique knowledge of building methods, construction techniques, and local builders to give his clients an advantage in real estate. As a Realtor, Lopez is a leader in New Mexico real estate. He is in the top 1% of Keller Williams agents in the nation, was named a CoStar Power Broker, and is among the NM Select and Elite 25. Clients of Lopez say he is prompt and professional, keeping them in the loop throughout the whole process and offering a great experience overall. They appreciate his optimism, positive sense of humor, and ability to help them get more out of real estate.
Jackie Bregman is a broker and attorney at law with more than 13 years of experience in real estate. She values the ability to deliver personal attention and knowledge as a real estate professional, helping her clients buy the perfect home or helping sellers find buyers for their homes. Bregman is dedicated to personalized one on one attention from her boutique brokerage and is always available, accessible, and attentive. Her clients are thankful to have her on their team, walking them through every step and offering helpful advice and support along the way. They count on her to quickly help them find what they are looking for and love that she is flexible, knowledgeable, responsive, and fun to work with.
Realtor Rich Cederberg has more than 12 years of experience in real estate. Since 2004, he has sold homes throughout the Albuquerque metro area. He works with both sellers and buyers, but especially enjoys working with home buyers. Cederberg is highly knowledgeable in Albuquerque real estate and maintains a real estate blog on statistics and articles for the Albuquerque market. Clients say Cederberg has an excellent mix of patience and eagerness. They appreciate his honesty, patience, and knowledge and say he goes beyond their expectations.
Kate Southard is owner and broker of Kate Southard Real Estate. She has more than 33 years of experience in real estate. A resident of Albuquerque since 1975, she was inspired to open her own real estate company as she fell in love with Albuquerque, its people, and climate. With more than 30 years in Albuquerque's real estate market, Southard has an astounding knowledge of real estate, the market, and Albuquerque's neighborhoods and areas. Southard is proud to be a problem solver and uses her expertise, knowledge, skill, and perseverance to successfully close every real estate deal. She is proud to serve first time home buyers, move up buyers and sellers, relocations, empty nesters, luxury home sales, and estates. Clients of Southard say she is simply outstanding, finding her to be professional, intelligent, and very experienced and knowledgeable. They're pleased with her results, offering them quick, easy, and profitable real estate transactions.
Jessica Martin is a Realtor with more than 16 years of experience. She is a third generation New Mexican and Albuquerque native with an excellent knowledge of the area and local market. Since 2006, she has owned her own brokerage, J. Martin Realty Services, where she provides clients with exceptional service. Her brokerage team includes professionals in investment and residential real estate in all areas of Albuquerque as well as a seasoned transaction coordinator and Certified Distressed Property Expert. Martin is proud to be responsive, detailed, and knowledgeable, offering smooth transactions with exceptional and diligent service. Martin's clients say she is knowledgeable, responsive, and upbeat. They count on her for fast, profitable transactions, invaluable knowledge, experience, and professional demeanor throughout the real estate sales process.
Kurstin Johnson is the owner of Vista Encantada Realtors, a boutique real estate office serving the Albuquerque area. She has been licensed since 1987, bringing more than 29 years of experience in real estate to every transaction. With the help of 12 real estate professionals and three staff members, Johnson is dedicated and devoted to her clients with exceptional service. She promotes professionalism and integrity in the real estate industry. Active in the Albuquerque real estate community, she serves as a commissioner on the New Mexico Real Estate Commission and is a past president of the Albuquerque Metropolitan Board of Realtors. Clients say the trust her to help them navigate Albuquerque's real estate market, even through complicated purchases. They find her to be knowledgeable and unmatched in experience and professionalism. Her clients are amazed by the results she can deliver — including selling homes in a single day with multiple offers for full asking price.
John Myers is owner and qualifying broker of Myers & Myers Real Estate. He serves Albuquerque buyers and sellers as a buyer's agent and listing agent with special interests in foreclosure and short sales. Myers is an expert in the Albuquerque real estate market with extensive knowledge of neighborhoods, areas, and the real estate climate. He is committed to helping his clients achieve their real estate goals. Myers is a Certified Distressed Property Expert as well as a Certified Investor Agent Specialist. His clients say he is knowledgeable, professional, and reliable. They appreciate that he's made their experiences positive and love that he's able to negotiate on their side. Myers goes above and beyond in making every client's real estate goals a reality.
Save