On the edge of the Rocky Mountains, Colorado Springs is the second most populous city in Colorado. Scenic with a low cost of living and plenty of opportunities, it's not hard to see why so many people love to live in Colorado Springs.
Colorado Springs was recently ranked the fifth best place to live in America (nearby Denver was ranked number one). Colorado Springs is a great place to live, work, and play.
The city has a low cost of living, low unemployment rate, and excellent recreational and entertainment amenities. It's close to ski resorts and is attractive to students, professionals, and military personnel. And it's the home of Pike's Peak, one of the most famous mountains in the United States.
Beyond its overall recognition as a great place to live, Colorado Springs has been identified as one of the best cities for teleworking and best cities for dating. Colorado Springs is also one of the top 10 fastest moving markets in the United States.
Homes sell quickly in Colorado Springs with many home owners selling their homes within a week or less. Construction is also booming in Colorado Springs with new residences also snapped up quickly by buyers. Often, home buyers in Colorado Springs are purchasing properties to save on high rent prices.
Bidding wars and tight home supplies are not unheard of in the Colorado Springs housing market these days. The region has a strong economy, rising home values, and is taking advantage of historically low mortgage rates.
Colorado Springs is an exciting, but sometimes tough, real estate market. Sellers, particularly those unloading homes in the $300,000 and under range, are able to quickly make a sale. But buyers may become frustrated as their hunt for a home turns up more dead ends and homes sold too quickly than viable opportunities. But a great Realtor can help make the most of both of these situations — maximizing the benefits of home sales and minimizing the frustrations of a tight market for buyers.
Whether you're interested in buying, selling, or investing in Colorado Springs real estate, it's clear that you can benefit from the support of a qualified real estate agent. That's why we've compiled a list of the 15 best agents working in the city. These agents understand the Colorado Springs market and how to give their clients the best advantage in any situation. They're experienced, trusted, and helpful every step of the way.
Any one of the Colorado Springs Realtors we've highlighted would be a great choice for your next real estate move in the city, so we've listed them without any regard to ranking order. But we'd like to hear from you on which one you think is the best. Please vote in our poll at the end of this article to share your opinion on the best real estate agent in Colorado Springs. But be sure not to wait: vote today, as the poll will expire in 30 days!
Monica Breckenridge is managing broker of Pink Realty in Colorado Springs. Pink Realty is a family owned and operated independent real estate office. Breckenridge and her team focus on customer service, treating clients they way they want to be treated and going above and beyond to make them happy. She's been in real estate since 2007 and owned Pink Realty since 2009. In 2015, she was named one of the top 25 real estate agents in the nation by Real Trends. Breckenridge and Pink Realty specialize in listings, buyers, property management, rent to own homes, new construction, military, first time home buyers, and buy and resell. Her team includes buyers' agents, listing agents, and additional staff members. Active in the community Pink Realty donates at least $10,000 to Susan G. Komen for breast cancer research each year. Clients say Breckenridge and Pink Realty are great to work with and very responsive. They are happy with the all around fantastic experience and always on availability. Clients are impressed by their knowledge, negotiation skills, and ability to get the best deal.
Matt Pickett is an experienced real estate agent with Skyline Properties in Colorado Springs. He has 14 years of experience in real estate and specializes as a buyer's agent and listing agent with interests in relocations and foreclosures. Pickett is a Colorado native and grew up in Colorado Springs. With his local knowledge and experience, clients of Pickett are always in good hands. His knowledge of Colorado Springs and its neighborhoods is unmatched and he always makes buying a home fun. Pickett looks for homes his clients can be comfortable in and enjoys the home hunt process. As their friend in real estate, Pickett's clients say he is kind, caring, and knowledgeable. They love how good of a listener he is and feel they always have his attention. Clients appreciate how well he is able to coordinate every step of the way with genuine, warm, and friendly service.
Mike MacGuire is broker and owner of The MacGuire Team in Colorado Springs. He has 26 years of experience in real estate with a tradition of sound advice and a reputation for results. MacGuire is dedicated to real estate and loves his work. He shares his enthusiasm for reaching real estate goals with his clients, which has made him one of the most respected and sought after Realtors in Colorado Springs. With a passion for excellence, MacGuire listens carefully to the needs of his clients and often goes the extra mile to protect their interests. It's always his goal to surpass expectations. He takes great care to make sure his clients make informed decisions as they are educated and empowered. Clients are carefully matched with the right home for their needs. He also uses innovative systems, strategies, and ideas to sell homes quickly and for top dollar. Clients see MacGuire as an excellent real estate partner with a responsive, knowledgeable staff. They appreciate his ability to focus on their needs and find them what they need. His professionalism, support, and quick responses don't go unnoticed. They love how well he knows Colorado Springs and value his advice as he shares the pros and cons of each important decision.
Laura Kaan is a real estate agent with Platinum Group Realtors in Colorado Springs. She has been active in real estate for more than 10 years. Kaan is in business to help people and is committed to being a successful, dedicated, caring professional. And it shows: Kaan is ranked in the top 1% of more than 3,000 Colorado Springs Realtors for total residential sales volume and has held that title for the past five years. Her reputation, knowledge, and expertise are invaluable. Kaan's strengths are in her people skills, negotiation, and ability to offer smooth transactions and satisfaction. Her clients are supported with a personal relationship. Kaan is attentive, compassionate, and listens carefully to understand every perspective. Using her expert knowledge, Kaan is able to zero in on the needs and wants of her clients. In addition to personal attention, Kaan is supported by a dedicated team offering extraordinary service, integrity, and honesty. Clients say Kaan and her team are exceptional. They note that Kaan and all of her team members are patient, meticulous, methodical, and enjoyable to work with. And they're impressed by her spot on advice that often proves to be invaluable. Sellers enjoy custom listings, excellent showcases, and fast sales with kind, hard working staff who go the extra mile.
Cherise Selley is broker and owner of Selley Group Real Estate in Colorado Springs. She has more than 19 years of experience in real estate and is among the top tier of Colorado Springs Realtors. Selley and Selley Group Real Estate are committed to ethically helping clients as they make real estate decisions in Colorado Springs. She is proud to offer her clients the same care, wisdom, and service she would extend to her own family. She offers services for all home and real estate needs including buying, selling, investing, and relocating in Colorado Springs. Every service is delivered with trust, integrity, and superior results and she stays on top of business excellence, technical adaptation, and ongoing market changes. Clients say Selley offers exceptional stress relief as they buy or sell a home thanks to her knowledge, personality, and reliability. They're happy with her level of service, communication, and personal interaction. They're impressed by her personal service as well. They feel totally comfortable and knowledgeable about their real estate decisions with Selley by their side.
Kristan Rigdon is a Realtor with Cherry Creek Properties in Colorado Springs. She has 13 years of experience in real estate and has worked with buyers, sellers, investors, new construction, and relocations — even international relocations. She's also lived in Colorado since 1981, giving her an insider's perspective on the Colorado market and the Colorado Springs area. Rigdon is ranked in the top 14 percent of Realtors in the Colorado Springs region. She prides herself on providing an excellent level of service with the latest technologies, research, and strategies. Rigdon understands that purchasing a home is about your life and dreams, not just the number of rooms or stories in a home. Rigdon is proud to support her clients with careful attention to detail, honesty, and diligent service. She has a number of real estate designations including Graduate of the Realtor Institute, e-Pro, Broker Associate, Certified Negotiation Expert, Real Estate Consultant, and 5 Star Zillow Premier Agent. Clients say Rigdon is a pleasure to work with. She is knowledgeable of real estate trends, detail oriented, and keeps clients informed throughout the process. They find her to be very helpful, patient, and compassionate, giving honest and truthful opinions with expert advice.
Candice Graham is broker and owner of the 8z Colorado Springs Team. She has been a licensed Realtor since 2004 and owner of 8z Real Estate since 2010. Graham is proud of Colorado Springs and its heartfelt, welcoming appeal. She loves the Front Range mountain views and the strong sense of community as well as up and coming industries in Colorado Springs. Graham's team is made up of full time Realtors hand picked with specialized experience to offer the best possible real estate experience. She stands behind transparent information and believes in giving clients the best chance available to make decisions for their needs. She considers it an honor to help clients with their real estate transactions. Clients of Graham report that she does a great job. They admire her integrity, responsiveness, work ethic, and ability to smooth over the rough parts of any real estate transaction. Clients also find her exceptionally easy to work with.
Kevin Patterson is a real estate professional with The Patterson Group in Colorado Springs. He has more than 32 years of experience in real estate and specializes as a buyer's agent and listing agent with special interests in relocation and consulting. Patterson is proud to be a trusted advisor in any market with a reputation built on hard work, professionalism, and integrity. In his extensive real estate experience, he has worked in sales, marketing, and management. Now, he specializes in sales with his independent brokerage. Patterson holds a number of real estate designations including Graduate of the Realtor Institute, Certified Residential Specialist and Short Sales and Foreclosure Resource. He is also extensively involved in the Colorado Springs Community, sitting on the board of Penrose St. Francis Hospital, Cheyenne Mountain Zoo, the Greater Colorado Springs Economic Development Corporation, Colorado Springs School, and the Kissing Camels Property Owners Association. He is also a member of the Colorado Springs Home Builders Association, Pikes Peak Association of Realtors, Colorado Association of Realtors, and the National Association of Realtors. Clients call him masterful in his service. They're impressed by his ability to match people with homes and deliver results in any transaction. They find the entire process to be smooth and effortless and put their trust in him to take care of their real estate needs.
Tanya Stevenson is managing broker and co owner of Park Avenue Properties in Colorado Springs. She has more than 21 years of experience in real estate. Stevenson specializes as a buyer's agent, listing agent, and in serving relocations and military veterans. She takes great pride in being a positive, helpful partner for buying or selling a home with answers about the process, expertise, and innovative marketing strategies. Stevenson has strong negotiation skills and offers her clients total support through closing and beyond. She is an expert in the local area and brings a wealth of knowledge and expertise to every transaction. Clients say Stevenson delivers outstanding results as a skilled and dedicated real estate professional. They appreciate her wise guidance through every step of the real estate buying and selling advice and value her advice. They rely on her expertise as they negotiate the real estate market and find the best solution for their needs in Colorado Springs.
Rob Reinmuth is a real estate broker with Acquire Homes in Colorado Springs. He is a native of Colorado Springs and knows every part of the city. Reinmuth places an emphasis on offering his clients extensive knowledge and education in Colorado Springs real estate so that they can make the best possible decisions for their family. In his 14 years of real estate experience, he's successfully negotiated hundreds of property transactions. He uses multimedia, innovative marketing, and old fashioned hard work to deliver the best results in real estate for every client. Reinmuth's clients say he is great to work with and clearly has his finger on the pulse of the Colorado real estate market. They admire his extensive knowledge of Colorado Springs and his understanding of the market. Reinmuth's clients believe him to be very responsive, helpful, and resourceful in marketing. And they enjoy his background in home inspection and contracting as they get helpful preliminary assessments for homes.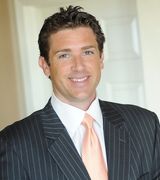 Travis Turner
Travis Turner is managing partner and broker of Turner Associates in Colorado Springs. He has more than 10 years of experience in real estate. Turner Associates is a boutique real estate agency with concierge level service, cutting edge technology, and constant education for clients. Turner is well known for his large online presence and exceptional reputation in Colorado residential transactions. In his career, he's consulted and closed on tens of millions of dollars worth of transactions. Turner is committed to constantly improving the client experience and is always well prepared to represent them with the highest level of customer service. Along with his team, Turner has a dedicated team of professionals to serve every client for a seamless transaction from beginning to end. Clients say Turner has extensive knowledge of the Colorado Springs area and superior responsiveness. He exceed their expectations and displays true professionalism throughout the real estate process. They're impressed by his knowledge of current real estate trends and the best homes in the Colorado Springs area.
Amber Wolcott is an associate broker working in Colorado Springs. She specializes as a buyer's agent and listing agent. Wolcott is a military spouse and relocated to Colorado Springs from Tampa. A leading Colorado Springs real estate agent, Wolcott closed 30 transactions in 2015, earning a spot among the top 15 percent of Pikes Peak Region Realtors. She sees her role as an adviser, offer coordination and execution at a highly professional level for every client. Wolcott delivers exceptional service, high energy, and an excellent work ethic. In addition to recognition among the top Pikes Peak Region Realtors, Wolcott has been named to the RE/MAX Executive Club.
Mike Kenney is a Realtor with Kenney & Company in Colorado Springs. He has more than 16 years of experience. Kenney & Company is a family owned and operated full service Colorado Springs real estate company. Kenney works to develop trust and establish long term relationships with each of his clients. He stays knowledgeable on the Colorado Springs real estate market and industry. And he is committed to creating a community worth living in. Kenney believes he is responsible for making home buying and selling dreams a reality for every client, taking the time to help each understand every step of the transaction. Ultimately, clients of Kenney will receive the highest level of professionalism, expertise, and service. Clients say Kenney's service is flawless from start to finish. They love how he makes their transactions smooth and easy as they're informed every step of the way and don't have to worry about anything. They say he guides and negotiate well to help them get the results they need.
Daniel Armstrong
Daniel Armstrong is a Realtor with Armstrong Real Estate Company in Colorado Springs. He is a buyer's agent and listing agent with interests in relocations and short sales. Dedicated to getting the job done, Armstrong aims to close deals as quickly as possible with the best financial outcome. He is a problem solver and is always looking for creative ways to sell homes, advertising properties effectively to maximize their market exposure. Armstrong works to develop business relationships for life and is proud to call his clients friends. His clients say he offers an excellent experience from start to finish. They value his guidance in the crazy and sometimes stressful process of home buying and selling. They say he does what he promises and always offers a helping hand with any questions they have for him.
Ruth King is a real estate professional with Shorewood Real Estate in Colorado Springs. She has lived in Colorado Springs since 1998 and has practiced real estate since 2001. She is originally from Dublin, Ireland and lived in Germany for 10 years. She speaks fluent German. King is proud to serve all of her clients whether they're first time buyers, sellers, returning to the area, moving away, or relocating. She is glad to reduce client stress and turn what can be an ordeal into a positive experience. Clients call King fantastic and say she goes above and beyond to make things work for them. They say she is always easy to reach, accessible, and happy to explain any part of the process. They love how involved she is and appreciate her work in making every step easy.