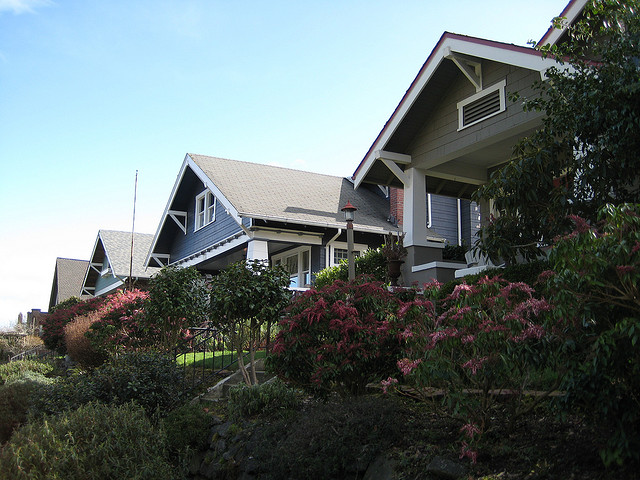 Whether you're buying or selling your home in Tacoma, it's essential that you find a real estate agent that is experienced, knowledgeable, and ready to go to bat for you. It's easy to find a Realtor — but it may not be easy to find the one that's the perfect fit for you.
Though finding the perfect Realtor may be a challenge, it's often easy to spot a good one when you see them: great Realtors offer experience, a good reputation, and dedication to their clients. We've listed 15 of Tacoma's best real estate agents that fit the bill and are ready to provide you with excellent service.
These agents are listed in no particular order, but we'd love to know which of our top picks is the best Realtor in Tacoma. Be sure to vote in our poll at the bottom of this article to tell us who you think is the best real estate agent in Tacoma.
Phil Sharp: A retired Army service member, Phil Sharp's real estate business is dedicated to helping families in the Joint Base Fort Lewis-McChord Washington area find and sell homes for the best price and terms possible. Sharp offers special skills for current and former service members, providing help with VA home loans, relocation, and more. Clients say that Sharp has an excellent knowledge of the area, and is very helpful when picking out neighborhoods. He's also patient and shares a laid back approach that puts clients at ease.
Christopher Seim: Owner of Allied Real Estate Services, Christopher Seim has experience in real estate working not just as a Realtor, but in rehabbing homes and in the mortgage business as a personal loan officer. Seim has gained extensive knowledge of the real estate market both in sales and in finance, and is prepared to help all of his real estate clients in real estate transactions. Clients say that Seim is quick to respond with great advice, is always helpful and easy to work with, and is very knowledgeable about the Tacoma area.
Sharon Jaffee: Sharon Jaffee is a managing broker Realtor in Tacoma specializing in senior real estate. She is an advocate for seniors, and is an expert in assisting elderly home buyers and sellers with issues like home equity, sources of income, senior communities, and downsizing.
Jaime Stenwick: Allegro Realty Group designated broker and owner Jaime Stenwick is an enthusiastic and innovative Realtor. She believes that when buying or selling a home, your time and money should be handled with care. Clients say that Stenwick goes out of her way to help clients, and is always easy to reach, well prepared, and ready to offer helpful suggestions.
Kassandra Rose: Kassandra Rose is active in both the buyer's and renter's marketplace, and has 20 years of experience in sales and management. She is eager to lead clients through the process of renting or purchasing their home in a comfortable, supportive environment. Clients appreciate that she is professional, knowledgeable, and a straight shooter that is always ready to help.
Liz Johnson: Turn to Liz Johnson for cutting edge home sales, with the newest in online marketing for buyers, sellers, and investors. Johnson and her team work to develop aggressive and effective online marketing for every client, and area prepared to take on short sales, challenged credit, and other special situations. Clients share that Johnson always has their best interests in mind, and that she conducts her business with patience and professionalism.
Bobbi Kelly: Bobbie Kelly is an experienced, trusted Realtor with Sound Advantage Realty located in Olympia, Washington. It is her goal to help you feel safe and comfortable in your home, and commits to being with buyers every step of the way to offer tools and education. In addition to her work as a Realtor, Kelly is currently serving as the treasurer elect for the board of Realtors.
Jim Clifford: With more than 35 years of real estate experience, Jim Clifford is highly experienced in residential real estate. Clifford's specialty is in REO and bank owned properties, which he has focused on for more than 20 years. In his career, Clifford has held positions including local MLS president, Board of Realtors director, and State of Washington certified trainer.
Brynne Mcwhirter: Brynne Mcwhirter makes it a regular habit to go above and beyond her clients' expectations: that's why home buyers and sellers alike say that she is an incredible real estate agent. Mcwhirter is persistent, great at negotiation, and has a constantly positive attitude.
Aaron Thomas: Aaron Thomas makes it his professional goal to put himself in his client's shoes and ensure a comfortable experience for them. This customer first approach has allowed him to help more than 400 families buy or sell homes, and has earned him frequent referrals from satisfied clients. His clients appreciate his excellent advice, marketing plan, experience, and professionalism that helps to make each transaction pleasant and stress free.
Toril Schoepfer: Toril Schoepfer boasts 16 years as a professional Realtor, and she is excited to share her experience to help others. Clients turn to her team because they're experts in real estate — and because doing business with Schoepfer is easy. Her team stands out because they offer stability, integrity, persistence, and excellent conflict resolution strategies.
Jonathan Pearlstein: Designated broker for the Summit Real Estate Group, Jonathan Pearlstein makes it his mission to provide each client with integrity and excellence. Boasting 21 years of real estate experience, Pearlstein has seen a variety of real estate transactions, from residences and condos to entire complexes. Pearlstein makes client satisfaction a point of pride, and clients say he is more than qualified to guide buyers and sellers through the sales process with excellent negotiation skills and care.
Michael Holmes: As the designated broker for Lowest Fee Real Estate, Michael Holmes is dedicated to offering his clients real estate transactions without standard high commission fees. Using technological advances to offer savings to clients, Holmes and his team are able to offer clients low commission fees as well as valuable tools and service. Clients say that he is knowledgeable, and works hard to make sure both buyers and sellers receive a real estate experience they're happy with.
John Schlanbusch: With more than 18 years of experience selling real estate, John Schlanbusch is an experienced, helpful Realtor that puts service and satisfaction first. Schlanbusch and his team offer specialization in REO properties and provide clients with an extensive advertising program.
Wesley Jones: Wes Jones has worked in many different areas of real estate, as a development and construction project manager investment property manager, and a listing agent. Jones is now a managing broker specializing in distressed property, helping clients avoid foreclosure and qualify for short sales. He is recognized as one of the best real estate agents in the Seattle area, earning Seattle Magazine's award for Best in Client Satisfaction.