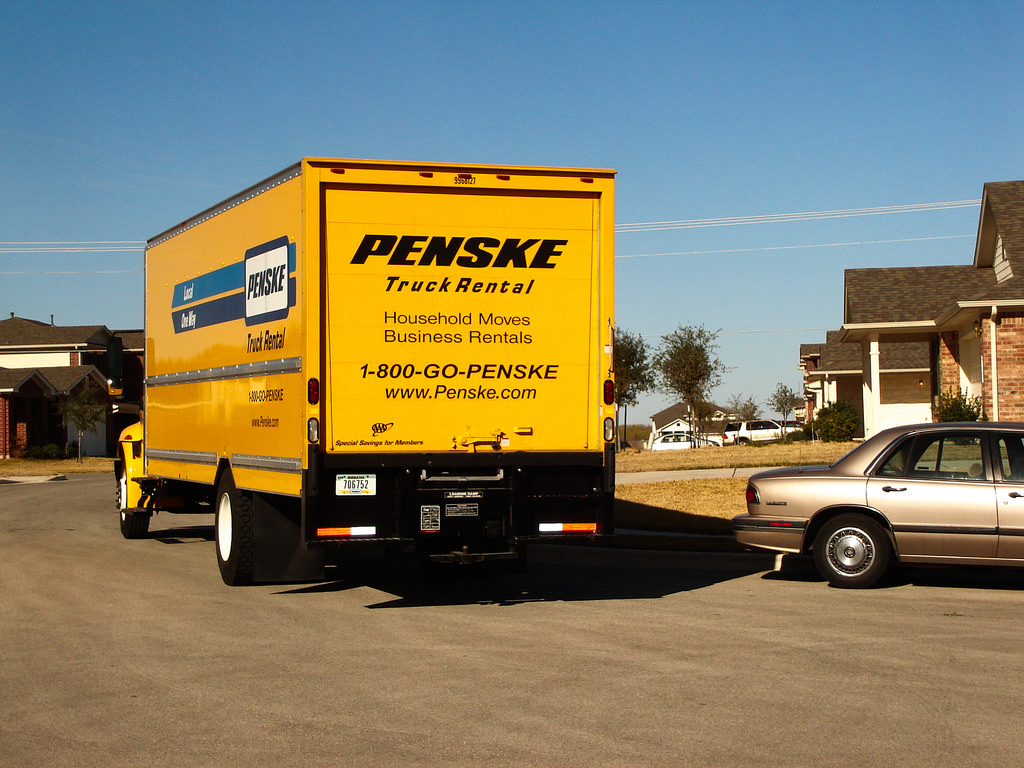 There's no way around it: moving can be stressful. Whether you're moving down the street or to the other side of the world, moving disrupts your life, your belongings, and can result in lots of frustration. And while there are just some things about moving you can't help, there are plenty of things you can do to make the process easier. We've shared 70 tips to make moving less stressful, from organization to simplifying and even making the transition easier for kids and pets.
How to Stay Organized While Moving
With boxes, papers, and more flying about while you make your move, it's easy to get disorganized in a hurry. Stay organized while moving with these tips that can keep you on task and streamline the process of moving.
Write a to do list and plan your attack: Before you get started, make a plan. You should write down all of the important tasks you'll need to tackle as you work through the moving process. Organize them by week so that you have attainable goals to reach as your moving date approaches. You should mark priority items and write down any deadlines for what needs to be done when.
Check the weather forecast: Once you get within a few days of your moving date, take a look at the weather forecast to make sure it's all clear. You may need to reschedule if you're going to be stuck moving in the rain or snow.
Label every box with a room and contents: Don't make mystery boxes that you'll have to open and move to the appropriate room later. Label every box you pack with the room it needs to be put in as well as contents so that you can have an idea of what's inside.
Color code boxes: Assign a color to boxes, like blue for the kitchen, red for the living room, orange for the master bedroom, and so on. Use markers to easily identify boxes of each color and make a legend so you don't forget.
Add numbers to boxes: As you're labeling, consider adding numbers to the boxes you pack. This can be useful in two ways: labeling with numbers can help you place a priority on which boxes need to be opened first, such as packing essentials in box #1. Labeling with numbers also makes it less likely that you'll have boxes go missing during your move.
Pack similar items together: Every box should be filled with similar items, or at least items that will eventually be put in the same area. For example, you shouldn't have dishes and socks stuck in the same box. It creates unnecessary work as you have to unpack and then move items to two completely different rooms.
Pack an overnight bag: Moving day can be chaos. All you may achieve is simply getting furniture and boxes inside — forget about significant unpacking. That's where an overnight bag comes in. Use your overnight bag to keep essentials easy to access for your last night in your old home and your first night in your new home. Your bag should include toiletries, clothing, chargers, and other important items you can't live without and don't want to have to go searching for.
Create a file: Moving comes with lots of paperwork. Movers, storage units, moving vans, gas mileage, lease agreements, and so much more. It's easy to lose track of it all, especially as you're moving your entire home into another. Create a file folder that you can keep with you so that you'll have important paperwork handy. It's a good idea to create a special moving folder on your computer as well.
Inventory important and valuable items: While it's best to simply keep important and valuable items with you at all times while you're, that's not always possible, especially with large sized pieces or significant collections. But what you can do is keep an inventory of them so that you'll know if anything goes missing. Write them down as you pack them up, label boxes carefully, and be sure to look for them right away as you're getting settled in to make sure they made the journey with you.
Never pack important documents, money, or jewelry in a moving truck: There are of course some items you should never pack away in a moving van. Important family documents, cash, jewelry, guns, and other sensitive items should be kept with you. Pack them in a special box and keep it with you as you move to your new home.
Save space with vacuum sealed bags: Cut down on clutter and save space with vacuum sealed bags. These bags make it easy to pack clothes and fluffy items away in a much smaller space than they'd take up otherwise.
Double check every detail: Make sure you've got all of your details straight before moving forward. Double check things like your moving date, when you'll close, when you'll get keys, and more.
Place small supplementary items in bags: Moving day is when screws, cords, and other items get lost. As you disassemble furniture and electronics, have sandwich bags and tape ready to go. That way, you can place small items in the bag and tape it to the item it belongs to.
Tips for Simplifying the Moving Process
Think ahead and make your life simpler with these tips that make the moving process easier.
Have your home cleaned before moving in: It's nice to move into a clean home — and awful to have to try and clean around boxes and other moving debris. Before you start moving anything in, get your home clean. You can either do it yourself or hire a professional to do a deep clean before you make this new house your own.
Purge as you go: As you're packing your belongings away, question everything. Does this really need to go with you into your new home? In addition to moving boxes, have bags ready for items you want to donate, sell, recycle, and throw away. If you have plenty of time before you move, you may want to do this a little bit at a time — even just one drawer or cabinet a week.
Room plan before you move: Knowing the plan for every room in your new home is helpful, allowing you to determine what furniture and items you'll need and know where everything is going right as you move in. Create a floor plan before you move and think about how you want to place furniture. You may find that you have furniture that will no longer fit in your home, or that you need to buy certain pieces to fill out your new home.
Rent a portable container: A portable container can be a luxury for moving. Compared to a moving truck or professional movers, a portable container allows you to park the container outside of your home and load it up as you're ready. That means you can tackle a few boxes and pieces of furniture every day instead of trying to squeeze it all into a day or two. The portable container will be picked up and brought to your new home, where you can unload at your leisure as well. Compared to a moving truck, they can often be more expensive initially. But when you consider the time availability, gas, moving, and potential storage fees, you may come out on top.
Take time off: Nothing is harder than trying to fit moving around your professional life, squeezing an entire house move into a weekend or a few evenings. Don't stress yourself out trying to squeeze it all in. Take some time off so that you can devote your attention to getting moved properly.
Make a priority box: There are some things you'll need to get to right away before you start opening general boxes. Pack these items, like your coffee pot, important clothing pieces, and cleaning supplies, and toilet paper in the same box and label it as an open me first box so you'll be able to get to it easily.
Get started early: Moving is always less stressful if you don't have to do it in a rush. If you have the luxury of time, begin packing boxes weeks before you move. If you're selling your home and need to stage it, this is a good idea to take care of early, as many Realtors will recommend that you pare down your furniture and personal items to make your home more attractive for sale.
Take breaks when you need to: Moving is hard work and you may be determined to get it all done as fast as you can, but remember to give yourself time to breathe. Do what you need to do in order to relax and stay sane even as your home is in chaos. Sit down to have a snack, take a nap (if you can find a bed), work out, practice meditation, or escape to the spa.
Eat healthy: Moving often means lots of junk food as your kitchen is out of commission and you're short on time anyway. But hitting the drive thru or ordering pizza can come back to bite you in the form of low energy. Before you move, gather some easy meals and snacks you can prepare with or without your usual kitchen situation. Look for things that are easy to grab and high in protein to keep you going with energy.
Pack heavy items in small boxes: Heavy items like books should be put into small boxes rather than large ones, making them easier to transport.
Try to keep boxes under 50 pounds: Heavy boxes can stop you in your tracks, requiring help and knocking the wind out of your sails. Try to keep boxes under 50 pounds so that you can still move them easily.
Have rugs and draperies cleaned before you pack them: Moving is a good time to get your rugs and draperies cleaned. They'll be fresh for your new home, and better yet, they'll also be wrapped up and ready to move.
Hire movers: Even if you've moved yourself in the past, consider hiring movers to make your life easier. They can take care of heavy items and simplify the moving process. If you plan to hire a mover, be sure to find one early on, at least a month out. Get multiple quotes so that you can get the best price and policies.
Photograph assembled items you have to take apart: For items like furniture you have to disassemble or electronics you need to unplug, take a picture of them before you take them apart. That way, you'll know how to set them up properly in your new home.
Label fragile items: It's a basic idea, but labeling fragile items can remind you to take care of certain boxes that contain pieces you're worried about breaking.
Get enough sleep: Staying up late to get things done may be helpful, but you'll pay for it later with decreased energy. Maintain your usual sleep schedule so you don't get thrown off.
Be ready for chaos: Moving can be frustrating, especially if you're used to things being nice and neat. Prepare yourself for chaos ahead of time and accept that you will have clutter, missing items, and other common moving frustrations to contend with.
Make your bed first: As you're moving items in, be sure to get your bed ready first. Don't save it until the last minute when you're ready to crawl in and pass out. You'll be relieved to know there's a comfortable place for you to land after a hard day of moving.
Save Money While Moving
Moving can be expensive, but you can save on supplies and moving costs with these tips.
Time your move strategically: There are hot times to move and cheap times to move. If you want to save money and can make a decision about when you're moving, it's best to avoid the businest times when everyone else is using movers, moving trucks, storage units, and portable storage containers. The most popular months to move are June and July. Any time of year, the weekends and end of the month tend to be the busiest for moving. If you're able to avoid these times, your rates will be lower.
Ask stores for boxes: You can buy boxes, or you can get them for free from stores that are going to throw them out anyway. Stop by your grocery store and ask for boxes. You can also get great boxes from liquor stores. They are small and often have dividers you can use: perfect for glassware and other small, breakable items that need their own space.
Pack clothes in laundry baskets or drawers: Make moving easy by simply folding your clothes into laundry baskets — or just keeping them in dresser drawers. You can pull the drawers out of dressers, move the furniture and drawers separately, then put them back together in your new home.
Pack small kitchen items in pots: Don't waste space in your kitchen packing. Take advantage of big bowls, pots, and more to store small items like spices and other food items.
Visit the dollar store for other supplies: Tape, markers, and other packing supplies are often available for a bargain at dollar stores.
Get multiple quotes for movers: Don't accept the first moving quote you get. Ask for quotes from at least three companies and seek out recommendations from friends and family for the best prices. It pays to shop around.
Leave hanging clothes on hangers and wrap them together with plastic garbage bags: Avoid paying for large wardrobe boxes or having to put your clothes away in individual boxes. Just take them off of the hanging rod, leave them on hangers, and wrap them together with plastic garbage bags to keep things clean and organized.
Use household items to pack fragile items: Make your packing materials do double duty. Save on bubble wrap and other materials you might have to buy and wrap fragile with household items you need to move anyway, such as towels, blankets, and clothing.
Helping Kids Make the Transition While Moving
Moving can be an especially stressful time for kids, particularly if they're leaving their school or friends behind. These tips help make the transition easier and less stressful.
Tell kids as soon as you can: To give kids as much time as possible to adjust to the idea of moving, be sure to tell them as soon as you can. But even if the move is months or weeks away, be sure to make it clear the decision is final.
Give them plenty of information: Children may feel a little lost when you tell them they're moving, but by offering details, you can reassure them. Tell them the details of where, when, why, how you'll be moving.
Encourage them to ask questions: Kids may be curious about what's going to happen, why you have to move, and more, so be sure to leave the door open to as many questions as they need answered.
Be positive: Children may focus on the negative aspects of moving, like changing schools and leaving friends behind, but be sure to point out the exciting parts of the move, like getting to paint and decorate their new room or even getting a space to themselves if they had to share before.
Show them their new room: Help kids get excited about their new living space. Show them their room as soon as you can and help them plan furniture and paint colors.
Say goodbye to friends: Plan a fun goodbye, like one last slumber party so that your child can have a fun sendoff. When you get to your new home, make an effort to meet new friends to make the transition easier.
Give your child tasks: Give your child responsibility during your move. Encourage them to sort and pack items, picking out anything they want to donate or sell. This gives them more control over their belongings in a time when they may feel short on control.
Make a moving fun kit: Keep kids occupied with a fun moving kit. Pack it with books, games, journals, pictrures, music, other important items they can occupy themselves with.
Play hide and seek at your new house: Encourage exploration and fun in your new home with a game of hide and seek.
Hire a sitter for moving day: Moving is stressful for everyone, and kids are no exception. Small children especially may be underfoot and require an adult to watch them instead of pitching in. It's best to simply leave them with a sitter for moving day so that they can relax and have fun while you do the hard work.
Unpack their room first: Help them settle in quickly by making their room comfortable to live in.
Maintain as much consistency as possible: Keep the same meal, play, and bedtime hours for normalcy.
Helping Pets Make the Transition While Moving
Just like people, pets can be scared, stressed, and anxious during moves. Use these tips to alleviate their worries and make them more comfortable as you move into your new home.
Make sure your new home is pet friendly: Before moving in, make sure pets are welcome in your new home. Check lease agreements, take a look at fences, and make sure there is a space where they can be comfortable.
Put ID collars on pets: Pets can get lost in the transition of moving, and if you're not even in the neighborhood anymore, it can be difficult to be reunited. Make sure all of your pets have ID collars with your current phone number and new address so you'll be easy to locate if they become lost.
Consider a microchip: A microchip offers advanced ID collar protection, allowing you to store information that can be scanned by a vet in order to find you and reunite you with your pet.
Get an appropriate sized travel kennel: Be ready to move your pet with a comfortable travel kennel. If you can, give your pet a chance to explore the kennel and get comfortable for a few days before you actually use it.
Give your pet a safe room: If your pet will be in the house with you either at your old home or your new one, make sure they have a safe space to stay with a closed door so they don't run out the front door while it's open. Give them toys, food, a bed, and a litter box. Be sure to put a sign on the door so others know not to open it and accidentally let them out or disturb their peace.
Drop them off at a kennel: Better yet, give your cat a day out at a kennel where they can be comfortable with other pets and the attention of kennel staff.
Give plenty of treats and attention: Your pet may be worried about the transitions during moving and may feel upset. Even though you're busy, remember to take time to give them plenty of attention, treats, and reassurance while keeping an eye out for anxiety.
Important Details to Handle Before Moving In
Dealing with important details before you get started moving can save you lots of stress and anxiety. It's a lot easier to make arrangements with utility providers, for example, before you move than after — when you may be facing a home without electricity or water. Make sure you take care of these details before you move in.
Contact all service providers: No one wants to move into a home with no air conditioning or Internet — or pay service providers for days when you're no longer living in a home. Contact all service providers ahead of time to schedule service end and start dates for both locations. Consider leaving basic services like power, water, and gas on at your old place so that you can still use them if needed.
Invest in a home warranty: If you're buying your next home, give yourself the gift of protection and reassurance with a home warranty. A home warranty will protect you from the cost and inconvenience of appliance and system repair for an entire year.
Move during the week: Moving during the week is a good strategy, as utilities, banks, and government offices are open, making it easier for you to contact them and make any necessary changes instead of having to wait until they're open again.
Change your locks: When you move into a new home, you should always change your locks as soon as possible. There's no telling who could still have a key to your door: old owners or tenants, service providers, real estate agents, and more.
Find out where your utility connections are: Just in case there's an emergency, you should find out right away where your circuit breaker box and main water valve are located.
Change your address: A week before you move, contact the post office to update your address. Remember to contact accounts, magazine subscriptions, stores, and anyone else you want to continue to receive mail from.
Have Fun While Moving
Moving is hard work, but you can have a good time, too. Follow these tips to make the moving process more fun and enjoyable.
Throw a party: Before you leave, say farewell to your old place with one last party. This is especially fun if you're moving far away and want to say goodbye to friends and family you may not see much anymore.
Treat yourself: Take some time to shake off the stress with a special treat for yourself. Order your favorite take out dinner, get a spa day, or head out to the movies to relax.
Ask friends and family to help: Moving is more fun with a group. Offer to pay for food and drinks and ask friends and family to pitch in. Just remember to do the same for them when they move!
Play music: Find your phone or stereo and turn on some music you can enjoy while you're schlepping boxes.
Send out moving cards: Send out a friendly and fun reminder to family and friends that you have a new address with moving cards.
Drink Champagne: When it's all said and done, toast your hard work and new home with Champagne.
Save