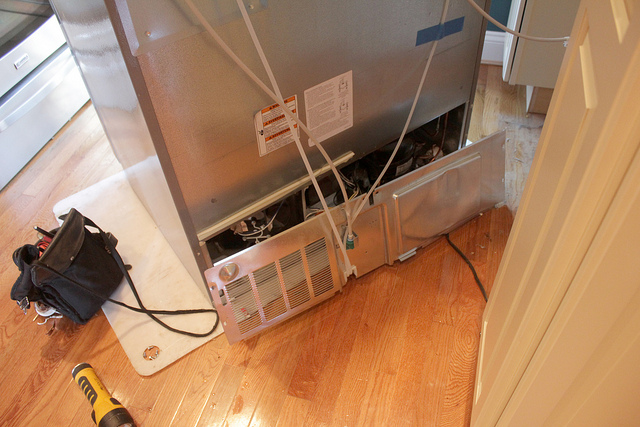 Your dishwasher's not working! Maybe it's time for a new model. Or maybe not. You may just need a replacement part to get fixed up and back on your way. Switches, motors, belts, and even small plastic parts often wear out long before your entire appliance is done, and repairing or replacing these parts is a good way to extend the serviceable life of your appliance.
Many homeowners choose to have a qualified repair contractor come out to diagnose problems with appliances and order and install replacement parts to fix them. But with plenty of online resources and direct access to repair parts, homeowners are increasingly finding that some appliance repairs are an easy DIY fix that can save hundreds of dollars. Or, if you prefer to have a pro handle it, consider ordering parts direct to save on the overall cost of service.
Check out these resources for finding proper appliance replacement parts online, whether you're buying direct from the manufacturer or from other qualified outlets:
Appliance Part Replacement Tips
Ready to replace your own appliance parts? Be sure you know what you're doing. Use these tips to make sure you're taking care of your appliance repair the right way.
Get your diagnosis right: Not sure exactly what's wrong? You can waste a lot of time ordering and installing parts that have nothing to do with the problem. Look online for diagnostic resources including appliance fault codes so you can accurately figure out what's wrong and get your repair right the first time.
When in doubt, hire a pro: If you're not confident in your ability to repair your appliance independently, it's always safer to call a professional. Appliance repairs gone wrong can leave you with a nonworking appliance for days or weeks — and if you're really unlucky, you might even cause more problems than you had originally.
Weigh the cost of professional repair with the time and effort needed to DIY: Again, it may be better just to call a pro if you're not sure. Before deciding to DIY it, take a look at what exactly you'll need to do in order to complete the repair. If it's time intensive, extremely difficult, or requires expensive tools you'll need to buy or rent, tally up the true cost of the repair vs. how much you'd pay a professional.
Order from reputable dealers only: Many manufacturers offer parts direct as well as from dealers. When shopping online, it may be difficult to be sure that you're buying from an authorized dealer. Look for seals of approval, good return policies, and when you get the parts, be sure they have the brand name on them.
Take advantage of online resources: Most parts dealers and manufacturers offer resources for DIY installation of replacement parts, including diagrams, repair manuals, and even online how to guides. When you buy your parts, be sure to find out if these are available. If not, search online using your appliance's model number. Great resources include The Family Handyman and online appliance repair glossaries.
Ready to repair your own appliances? With the right knowledge, parts, and a little elbow grease, it's possible. With the resources we've shared, you'll be well on your way to a fast, easy repair.
Is your appliance beyond repair? Learn the difference between appliance insurance and home warranty to figure out if your repair job or replacement costs are covered.