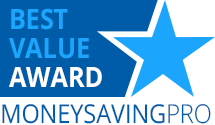 Choice Home Warranty is honored to be listed by MoneySavingPro.com as the top home warranty provider in the space.  Money Saving Pro take the time to research products and services with the consumer in mind, not just focusing on cost, but the entire service provided to their readers.  Thus, we couldn't be more excited to not only be included on their list, but given The Best Value Award in the home warranty cagetory.
Choice Home Warranty has continued to evolve and grow as a company by improving our call center capacity, evolving technology, and plenty of new developments in the pipeline for 2017.  Our President, Victor Mandalawi, was asked about the award,
It is wonderful to see the hard work that our team at Choice Home Warranty has put in has been recognized! I would like to think that with the same drive and effort by our team, we can receive same distinction from MoneySavingPro again next year.  Many companies may not put much emphasis to these yearly/year-end awards, but we sure do do.  It validates the effort put forth by our team on a daily basis to give that peace of mind to our customers.
For more information about Choice Home Warranty's inclusion on the MoneySavingPro award list or the "Best Value Award", please contact kelley@choicehomewarranty.com