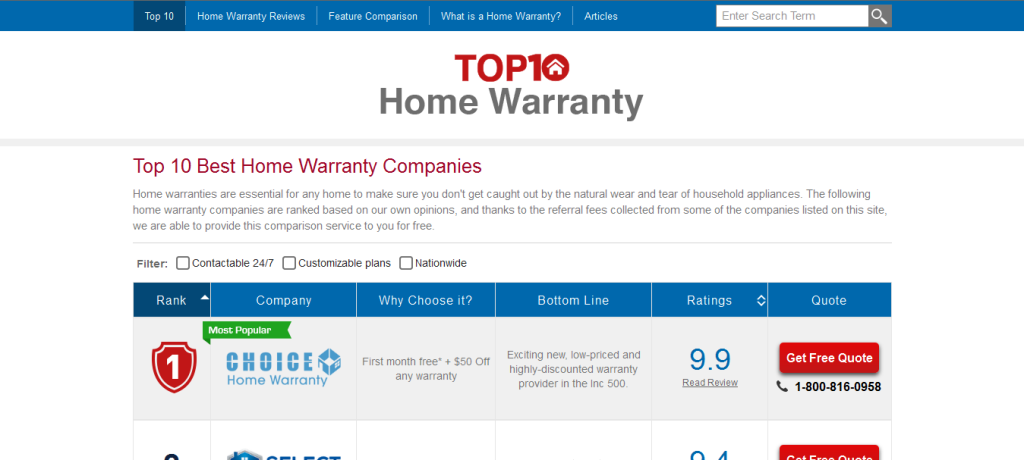 Choice Home Warranty is proud to be recognized as the #1 home warranty company by Top10HomeWarrantyReviews.com. The website offers editor and customer reviews of home warranty companies nationwide, and tracks the popularity of the leading home warranty companies in the United States. Choice Home Warranty is currently ranked #1 as the most popular home warranty company, offering low prices, great reviews, and a history of excellence in customer service and trust.
Choice Home Warranty earned the top ranking on Top10HomeWarrantyReviews.com thanks to our low cost of service and consistently high customer reviews. The company's customer review rating is a nearly perfect 9.9, largely due to reliability, new customer perks, and ease of use. Customers say Choice Home Warranty offers responsive, courteous service, and they love the peace of mind that the home warranty service offers.
Choice is noted by the editors for our "person to person" direct service that takes customer care to a new level of personal service. The company is also recognized for its excellence in utilizing a network of reliable and pre-screened contractors nationwide.
Choice Home Warranty is excited to continue to offer a high level of personal customer service to our clients. Maintaining great customer relationships is and always has been our top priority, and it's great to be recognized as a leader in customer service not just by editors, but by our customers. Choice Home Warranty is committed to maintaining a great reputation for superior service, and proud to be recognized as a leader in home warranty service.