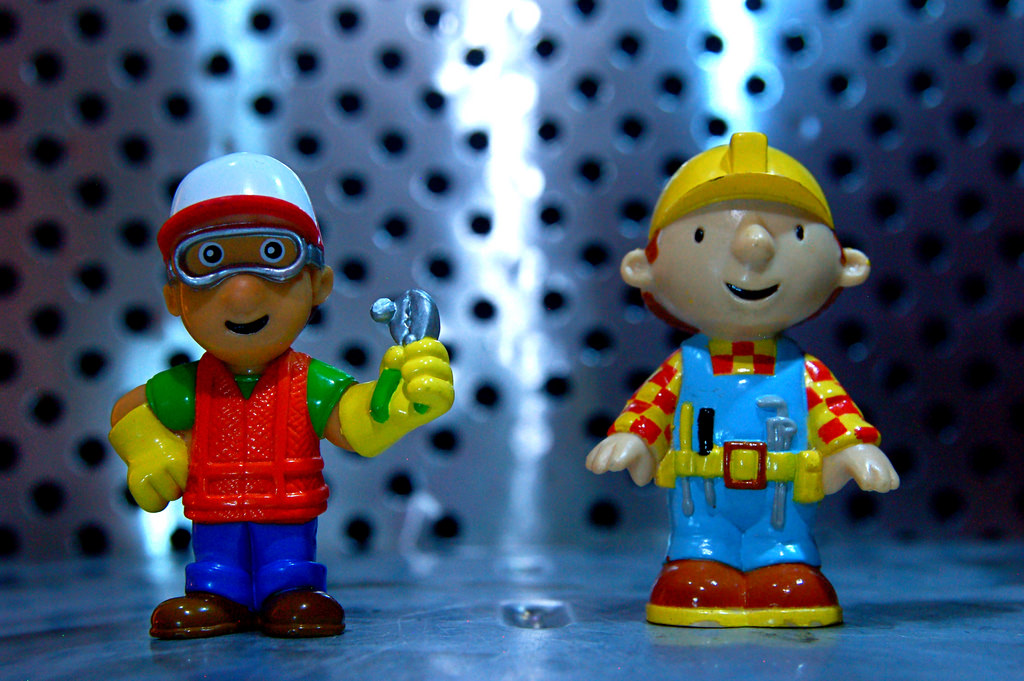 Most home owners can handle small home maintenance and repair projects like changing air filters or minor drywall patching, but these little projects can add up and become overwhelming. At some point, you may need help with some work around the house. Whether your honey do list has grown out of control, you just don't have time, or you feel a project is beyond your skill level, a handyman can save the day.
Handymen are typically jacks of all trades who are able to complete a variety of repair and maintenance tasks. While you shouldn't give them a call to, say, add a room or fix a plumbing emergency, they're handy for taking care of the home tasks you can't or don't want to get around to.
Most handymen tackle a list of projects for home owners at an hourly rate. Some offer areas of specialization, such as carpentry or painting. Others may even hold professional licenses that allow them to complete more advanced tasks in plumbing or electrical work.
Home owners usually turn to handymen to take care of small projects around the home when it makes more sense to pay one person an hourly rate than it is to call several professionals (and pay individual service charges) for each project. With this in mind, most home owners are able to save money by hiring a handyman.
Great Small Jobs for Handymen
Need ideas for what a handyman could help you with around the house? These are common small jobs that most handymen are eager to tackle.
Power washing concrete
Setting up playground equipment
Minor plumbing repair, like a leaky faucet
Installing basic plumbing fixtures, such as faucets or toilets
Installing ceiling fans
Small paint jobs such as touch ups
Drywall repair
Caulking windows, doors, and siding
Cleaning gutters
Installing light fixtures
Furniture assembly
Door installation
Hanging window treatments or heavy pictures and mirrors
Replacement of broken or cracked glass
Pet door installation
Replacing a thermostat
Installing a mailbox
Cabinet repair
Bathroom caulking or grouting
Fixing a loose hinge
Adding locks to doors
Fence repair
Minor exterior repairs
Sealing decks and porches
TV wall mounting
Babyproofing
Mounting a TV on the wall
Hanging holiday lights and decorations
Warnings for Hiring a Handyman
Handymen are a great resource and often become a trusted part of a home owner's list of service professionals. While most handymen are trustworthy and do great work that makes home owners' lives easier, there's always the chance that something could go wrong, especially with a handyman you're not familiar with. Unfortunately, there are some handymen who are willing to cut corners, performing poor work at a premium price. Keep these situations and warnings in mind when you're choosing a handyman to work in your home.
A handyman is a stranger in your home: It's always smart to be careful about who you allow into your home. Your friendly neighborhood handyman could have a history of theft, sexual assault, or worse. And this person will be in your home for hours. Before hiring a handyman, be sure to look up criminal records with your local court house and look for their name in the sex offender database. And of course, always follow your instincts. If you don't feel safe with a handyman, don't hire him.
Handymen must be licensed for large jobs: Be aware of the laws concerning your projects.In some states, it's illegal for home owners to hire unlicensed workers for home improvement projects valued at $500 or over. That includes materials and labor.
A handyman isn't always the best financial choice: While it's convenient to call one person for everything you need done in your home, you may save money on larger projects by calling a specialist. Home repair professionals that specialize in electrical work, plumbing, carpentry, drywall, and more may have better rates and access to professional materials.
Handymen who do poor work may entice you with low fees: Be wary of a handyman who offers you the lowest bid. There's probably a reason they're coming in lower than other professionals. If the price is low, the quality may be low as well.
Bad work may have to be fixed: A handyman should make your life easier, solving problems around the house. But a handyman who does bad work can cause more problems than he solves. If a project goes awry or they damage your home, you'll have to hire someone else to fix it at an additional cost.
High pressure sales techniques are sneaky: A good handyman should be happy to perform the work you need within a reasonable amount of time. But unscrupulous handymen may engage in high pressure sales techniques, such as only honoring a specific price for 24 hours in order to get you to sign a contract quickly and without thinking too much about it.
No written contract or bid: The nature of a handyman's work often leaves the final price somewhat open, as they will typically work hourly to take care of your small tasks around the house. But a handyman who does not offer any type of written agreement or bid is probably bad news. Without anything in writing, you'll have no protection if they perform bad work, change their mind about the price, or change the terms of your agreement.
Never hire a handyman who shows up at your door uninvited: Often, scammers will pose as handymen and prey on home owners in need of repairs. They may show up at your door with a flyer because they just happened to be in the neighborhood, or contact you with an unsolicited phone call. While they may be genuine handymen, it's best to simply avoid hiring someone that approaches you this way. Instead, you should find your own list of handymen to choose from.
Don't pay up front: It's normal for handymen to ask for a reasonable deposit before starting work in your home, but beware of handymen who expect you to pay in full before the work is complete. They could be planning to walk away with your money without completing the work.
Get a guarantee and write out an agreement with job details: Be sure to get guarantees in writing and spell out what will be completed, when it will be completed, how much it will cost, and what your payment schedule will be.
Is a Contractor a Better Choice?
A handyman is a great resource for odd jobs around the house, but contractors may be a better choice in some situations. While handymen have a broad skill set, contractors have a narrow, specialized focus. That means handymen are more appropriate for small jobs that don't require specialized knowledge, skills, or tools, while contractors are best for more serious projects and emergencies.
Generally, you'll want to hire a handyman for small jobs that you could probably tackle yourself, but just don't have the time to get to. Contractors are a better choice for major projects like renovations, construction, and major plumbing or electrical work. A good rule of thumb is if you need to file a permit to do the work, you should really call a contractor to take care of it.
When should you call a contractor instead of a handyman?
Emergency service: A contractor, usually a specialist, is more appropriate for emergency service for electrical, plumbing, and appliances. You'll want a licensed contractor who is guaranteed to deliver great service when you're in a bind.
Remodeling projects: Major remodeling projects usually call for licensed professionals. They will typically need to file permits and hold licenses to complete electrical and plumbing work involved in remodeling.
Large projects or new installations: Bigger projects like replacing a pipe, repairing a roof leak, repairing gas lines, structural changes, HVAC work, or changing out a breaker box are jobs for contractors. The same goes for new plumbing or electrical work.
Another consideration to keep in mind: contractors will typically supply the materials at a markup. Handymen, on the other hand, will usually just work with the materials you provide. That means if you have paint, a faucet, or new fan ready to go, it may be a good idea to simply work with a handyman instead of a contractor.
Finding a Great Handyman
Finding a great handyman can be like searching for a needle in a haystack. There seem to be plenty of handymen available, but how can you know which ones are going to do good work for you time and time again? This problem is compounded by the fact that often, great handymen don't need to advertise because they're busy with referrals. Use these resources to get help finding a handyman you can rely on.
Ask family and friends: Check in with local family and friends to find out if they have had any work done and if they could recommend their handyman. Find out what they had done, the rates they paid, and how they felt about working with the handyman.
Ask neighbors: The best handyman is one who does great work and is happy to come to your area. Find someone particularly close to you, and you might save on trip fees or your hourly rate. Check in with trusted neighbors to find out if they have a handyman recommendation.
Ask a real estate agent: Professional real estate agents often work with handymen to make homes presentable for sale. If you've recently purchased or sold a home, contact your Realtor to ask for a recommendation. Don't have a Realtor? Don't worry. Contact one in your local area, and they should still be happy to give you a recommendation.
Community bulletin boards and message boards: If you don't know anyone personally who can recommend a good handyman, reach out within your community. Check bulletin boards at your local grocery store or coffee shop, or head online to your neighborhood Facebook group or Nextdoor page to ask around for a handyman.
Ask a contractor: If you already have a trusted contractor that you work with, ask him or her to tell you if they know of anyone looking for small odd job work around the house. They may have a worker who is open to small side jobs and eager to help you out. This type of referral is the most likely to really deliver on good work, as they don't want to jeopardize your relationship with the contractor they work for.
Home owner's association: Home owner's associations often have a list of contractors and handymen that are trusted throughout the neighborhood. They may even have a handyman who does work for the association and can help you our with side jobs.
Questions You Should Ask Your Handyman
Once you've found a few handymen to choose from, you'll need to ask a few questions to get an idea of what each one truly offers. Use these questions and any others that may address your concerns.
Do you charge by the hour or project?: Depending on your needs, paying hourly could save you money — or paying per project might make sense. Generally, you'll save money paying a handyman hourly if you have several small jobs to tackle rather than one big project.
How long will the project take and how much will it cost?: They may not be able to offer specifics, especially if you have lots of work to be done, but a handyman should have a reliable ballpark estimate of project costs and length.
Do you hold any professional licenses?: Handymen typically aren't required to hold licenses, but some do. They may be licensed in a trade like electrical or plumbing, which will allow them to perform more advanced work on your home if needed. If they have a license, ask for the number and verify it.
Do you have insurance?: Unlike contractors, handymen typically aren't required to carry insurance to perform work, but it's still a good idea. Be sure you know one way or the other before you hire a handyman, as you may need to cover him on your homeowner's policy.
How many years of experience do you have?: It's a good idea to work with a handyman who has been in business for several years.
Will you peform the work yourself or will it be a team job?: Most independent handymen will perform the work personally, but this is still a good question to ask. If they plan to send someone else, you'll want to find out who is coming into your home and whether or not the handyman will stay on site while the work is performed.
Do you offer a guarantee?: Often, handymen will offer a guarantee on their work for a year or more. Guarantees can put your mind at ease, as they mean the handyman will come back to handle quality issues at no charge.
Do you have experience completing similar projects?: Discuss some of the work you would like to have done and find out if the handyman has completed similar projects successfully in the past.
How do you prefer to communicate?: For projects that will take more than a day or two, you'll want to know the best way to get in touch with your handyman. Consider whether or not this method of communication works for you.
Do you have references?: Every good handyman should be able to share at least three references from satisfied clients. Get in touch with them to learn about the work performed and their level of satisfaction.
Can I see examples of your past work?: Ask to see photos of some of the work a handyman has done to gauge the skill level and craftsmanship he brings to the table.
How do you structure your payments?: Typically, it's safe to give your handyman a deposit up front, then pay the balance upon completion. Also find out if there is a minimum charge.
Comparison Shopping Handymen
You should interview at least three handymen before choosing the one you'll work with. How can you decide which one is the best for your needs? Take these factors into consideration.
Know project costs before you get quotes: Always ask your handyman how much a particular project will cost before you get started. And before you ask for a quote, you should get a general idea of how much that project should cost in your area. Use online tools to get ballpark figures. For hourly handymen, ask them for their rate and how many hours they expect a project will take them to complete. Note that nationwide, handymen typically charge an average of $77 per hour.
Ask for a multiple project discount: If you have several small or large repairs to tackle, ask if your handyman can cut you a deal for doing them all at once. If he is able to complete them all together, you'll cut down on his costs for gathering materials, making the trip to your home, and more.
Compare communication skills: During the initial communication and interview process, note how easy or difficult it is to get in contact and discuss issues with each handyman. This is a good indication of how well they will communicate while you're working together.
Determine who supplies the materials: While handymen will supply their own tools, they often rely on home owners to supply the necessary materials. Find out up front whether or not this is the case and be prepared to take the cost of materials into consideration.
Check and compare references: If you've asked for references, follow through and contact them to compare how well each handyman's client rates them. You should also look into the Better Business Bureau for complaints. Ask your local housing authority if they're familiar with the handyman and verify that they don't have complaints or legal issues.
Be careful hiring the cheapest handyman: Getting a great deal is excellent, but be careful. The handyman who offers the cheapest price may also deliver the cheapest work. Also look out for handymen who over promise and under deliver, such as those that estimate a project will take just a day or two when others plan to take a couple weeks.
Effectively Working with a Handyman
Once you've found a handyman you trust, it's a good idea to maintain a professional working relationship. Follow these tips to make the most out of your relationship with your handyman.
Start out with small projects first: Give your handyman a test drive to start. Share a list of small projects he can complete first to show you that he can do a good job, then move on to more complicated assignments
Combine multiple projects: Maximize your time with your handyman by combining several projects that he can handle at once. That way, you won't have to pay more in trip fees and minimum hourly rates than you have to.
Give your handyman a list of what you want done: Be clear about the work that needs to be done around your home. Organize it by category, such as appliance repair, wall repair, painting, and windows to make it easy for him to understand. If you can, prioritize which tasks are most important.
Establish a work schedule and timeline: Discuss when your handyman will work and how long you can expect your projects to take to complete.
Clear out furniture: When your handyman is working by the hour, you'll want to take care of details before he gets to your home. Clear out any furniture that may be in the way of completing work. Be especially sure to clear a path for appliances if he is performing an installation for you.
Stay involved: Take a look at progress, ask questions, and make sure it's done right by checking in along the way and raising concerns before the project is completed.
Be clear that changes require your authorization: Make sure that your handyman knows he needs to come to you if there's any change of plans. Let him know that changes, such as a project that becomes more complicated or will take longer than expected, should be brought to you before he takes further action.
Inspect the work before final payment: Be sure to take a look at the completed work before you pay the handyman. You'll want to make sure that the work is completed effectively and at the correct price before you give your final approval and payment.
Ask for preventative maintenance tips: Once the work is done, talk to your handyman about what steps you can take to avoid similar problems in the future.
Apps and Resources for Finding a Great Local Handyman
Photo by Flickr user jdhancock