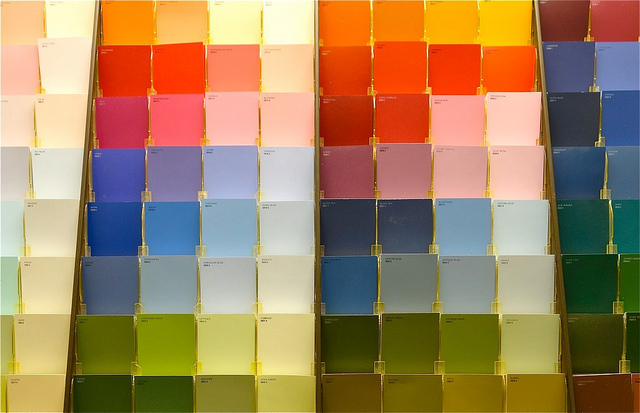 If you live in a house, there's a good chance you want to improve it. Whether you're eyeing a new countertop for the kitchen or just can't wait to tear out some old tile in the bathroom, practically every home owner has a remodeling itch that's just begging to be scratched.
Of course, if you're short on ideas, or simply need help bringing your home improvement desires into reality, the blogosphere has plenty of resources for you to use. Find detailed tutorials, inspiring projects, product recommendations, and more in our list of the best home improvement blogs online:
The Ugly Duckling House: Sarah at The Ugly Duckling House enjoys tearing her house apart and putting it back together again. Find out about her latest projects on the blog.
Curbly: Love where you live with Curbly's projects. You'll discover DIY ideas, hacks, makeovers, tips, and more. See how it's done and get ideas for your home.
Bob Vila: Bob Vila has been a trusted name in home improvement for decades. Find must do seasonal projects, how tos, answers, and creative ideas from Bob Vila's network on this blog.
Hammer and Moxie: Discover Hammer and Moxie's honest look at home improvement to get inspired to create in your own home. You'll see their successes and mishaps along the way for a relatable view of home improvement.
Apartment Therapy: Apartment Therapy features home tours, home design ideas, and home improvement projects. Perfect for condo owners or small house living.
IKEA Hackers: Find ideas for hacking your home with IKEA products on this helpful blog. Discover furniture ideas, decor, and more.
Remodelaholic: Remodelaholic uses creative ideas to remodel on a tight budget. You'll see how to reduce, recycle, reuse, repurpose, and more in your home while making it beautiful.
Shelteriffic: Find hundreds of ideas for home design, products, tips, and more for home improvement on Shelterriffic.
Pretty Handy Girl: Brittany at Pretty Handy Girl encourages home owners to become do it yourselfers with detailed tutorials that make it easy to take on your own projects. Ladies are especially encouraged to follow along and take on their own projects.
One Project Closer: Read what professional remodelers have to say about making your home your dream home on this project blog. Your next project is one project closer to the home you're wishing for.
Charles & Hudson: On Charles & Hudson, you'll see highlights from the best in design, DIY, smart homes, and more.
Remodelista: Follow home improvement and design trends, home spotlights, product recommendations, and more on Remodelista.
Houzz: An excellent resource for all things home, you'll find an endless source of ideas for remodeling and home improvement on the Houzz blog. Lots of photos, design highlights, and other great resources are available on Houzz.
Young House Love: Sherry and John of Young House Love have fixed up three homes and share thousands of home projects on their blog. Now, they have a book, product lines, and an endless array of ideas and home improvement projects for home owners to discover.
DIY Diva: Farmer and experienced DIYer Kit tears houses apart and puts them back together again. Follow along as she shows you how you can do it, too.
Retro Renovation: Check out this blog to see how you can remodel your home with vintage, mid-century style.
Homey Improvements: See how James and Alicia are making their house more homey on the Homey Improvements blog.
DIY Show Off: View DIY before and afters, home tours, and more on DIY Show Off. This is a great place to see how real people are making their homes better.
Design*Sponge: A leader in home style blogging, Design*Sponge is a great resource for spotting home trends and discovering new home improvement projects.
Old House Web: Check out the Old House Web blog to learn about historic preservation, affordable decor, remodeling, and more.
Home Jelly: Discover home improvement projects that will leave you jealous — and inspired — on Home Jelly.
Real Simple: A favorite source for home organization, Real Simple also offers great ideas for decorating, maintenance, repairs, and more.
Interior Design: See the latest in interior projects, products, and trends on InteriorDesign.net.
DIY Network: The popular TV channel also has a very helpful, up to date blog with seasonal ideas, maintenance, and trends.
Home Adore: Find home highlights, inspiring projects, design, interesting architecture, and other home improvement updates on Home Adore.
Southern Living home: Southern Living's home section offers a style guide, house plans, and room by room inspiration.
Freshome: Freshome features the latest news on design and architecture with best of highlights and more.
House & Home: See home tours, smart updates, holiday style, decorating ideas, and project guides on House & Home.
Ty Pennington: Famous for home design, Ty Pennington's blog shares design updates and inspiration.
Good Housekeeping: A classic resource for all things home, Good House Keeping has endless home ideas.
Traditional Home: View renovation projects, home showcases, decorating ideas, and even room planning guides on Traditional Home.
The Money Pit: Money Pit hosts Tom Kraeutler and Leslie Segrete help to make good homes better. They offer resources for home remodeling, repairs, and improvements.
BuzzFeed DIY: Follow BuzzFeed DIY to find trending home projects and more.
Popsugar Home: Popsugar Home features decorating advice, helpful restoration tips, small space living, and endless inspiration.
Urban Gardens: Read the Urban Gardens blog to find out how you can squeeze a garden into even the smallest living space.
Design Notes: The Design Within Reach blog features updates on architecture, design, people, and culture.
Unclutterer: Get more order into your life on Unclutterer, the ultimate blog for home organization.
GoodHomes: GoodHomes features decorating tips, real home features, even competitions for home improvement.
Centsational Girl: Centsational Girl, also known as Kate, specializes in renovation, decoration, and do it yourself projects on a budget.
How to Plant: Planning the perfect backyard garden? This blog has guides for planting everything from knockout roses to fruit trees.
Nesting Place: Nesting Place encourages home owners to love the home you're with. Embrace the imperfect on this blog.
DIY Inspired: DIY Inspired blogger Dinah features ideas for gardening, trash to treasure, seasonal projects, and more.
Home Energy Blog: Find out how you can improve your home's performance and environmental efficiency on this blog.
Family Handyman: Well known as a popular home improvement magazine, The Family Handyman shares excellent DIY project guides, seasonal reminders, and tips on this blog.
LOFT Home Blog: Discover interior design inspiration on LOFT Home.
CreateGirl: Specializing in interior design, CreateGirl has great ideas for affordable, easy to buy pieces that will look wonderful in your home.
Wood Magazine: Curious about woodworking? This blog has wood projects, how to guides, reviews, and tips to help you out.
Home DSGN: HomeDSGN features dream homes, interior design, home features, and other excellent inspiration for your next home improvement project.
Decoist: Find design ideas, DIY projects, dream houses, and the latest in design trends on Decoist.
Shanty 2 Chic: One bargain at a time, Shanty 2 Chic offers updates on projects, free plans, and great ideas for the home.
High Fashion Home: Discover product updates, interior design, and more on High Fashion Home.
Make it and Mend it: Make, mend, and update your home with this blog.
Homestead Basics: Learn about homesteading ideas for your family on this blog with the basics.
Tiny House Blog: The Tiny House blog will teach you about living simply in small spaces.
Refresh Restyle: Refresh Restyle offers cleaning tips, seasonal decor ideas, storage ideas, and other refreshing resources for the home.
How to Nest for Less: How to Nest For Less features DIY, home decor, and decorating on a budget.