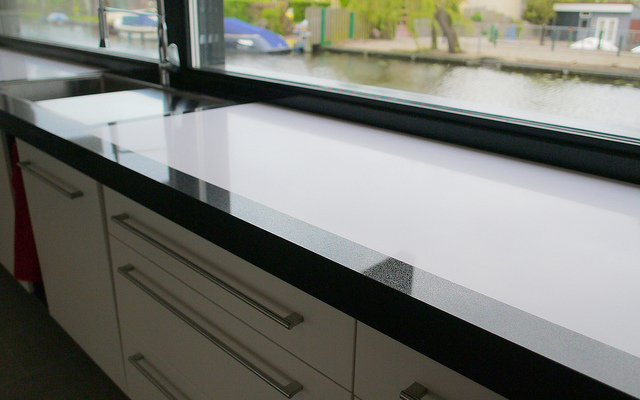 Natural countertop materials like granite and marble may be beautiful and popular, but it takes a lot of care and maintenance to make sure they stay shiny and damage free. Porous and prone to bacteria, staining, and acid damage, it's surprisingly difficult to keep stone looking good for the long haul.
But before you resign yourself to annual resealings and moments of acid spilling panic, know that natural countertops aren't the only options you have. In fact, there are a number of low maintenance options that are often just plug and play. They're far more durable, easy to maintain, and often, far less expensive as well.
Read on to learn about the most popular low maintenance countertop materials, what makes them low maintenance and attractive, and what you'll have to do to keep them looking good.
Quartz Countertops
Quartz is known as engineered stone and is popularly sold under brand names including Silestone and Caesarstone. Countertops made of quartz are made up of crushed stone that is held together by a polymer resin.
Quartz countertops are resistant to staining, and many are also engineered to be heat and impact resistant as well. If your quartz countertop is scratched, it's easy to sand out the scratch and restore the look of your countertop.
Quartz is among the most popular low maintenance countertop material, as it has the natural, shiny look of granite or marble, but doesn't have the weaknesses, high maintenance, or cost.
What makes quartz countertops low maintenance: Quartz is nonporous. The material is also resistant to stains and scratches.
Maintenance required for quartz countertops: Wipe with mild soap and water.
Soapstone Countertops
Soapstone is dense and durable, and it is resistant to stains and bacteria. However, over time, soapstone will darken and may scratch or chip — potentially giving your countertop some character.
Unlike most other low maintenance countertops, soapstone is a natural material like marble or graine. But what makes soapstone different from other natural materials is that it does not react poorly to acids, resisting stains as well as heat.
What makes soapstone countertops low maintenance: Soapstone is noted for its density, durability, and resistance to heat, stains, and bacteria.
Maintenance required for soapstone countertops: Wipe with mild soap and water. Sand chips and scratches if desired, wipe down with mineral oils to enhance its natural look.
Solid Surface Countertops
Often sold under brand names such as Corian, solid surface countertops can include quartz, but can be made up of any durable, low maintenance surface. They are made up of acrylic resins and natural materials with a range of color and pattern choices.
Solid surface countertops are ideal for low maintenance needs as they are nonporous, waterproof, and resistant to damage. Some may even be made up of recycled content, supporting environmentally friendly construction.
What makes solid surface countertops low maintenance: Solid surface is durable, resisting, water, damage, and staining. It does not require sealing or staining.
Maintenance required for solid surface countertops: Wipe with mild soap and water.
Laminate Countertops
Laminate has come a long way from the '80s and '90s countertops that probably pop into your head when you hear about this countertop material. Today's laminate countertops come in a variety of finishes with the added benefit of being easy to clean and resistant to staining.
Laminate countertops have a solid, nonporous surface that keeps bacteria and stains out. They are also among the most affordable and easy to replace with time. And with hundreds of colors, patterns, and configurations available, they can fit practically any kitchen.
What makes laminate countertops low maintenance: Laminate is engineered to be the perfect countertop material, resisting cracking, scratches, and staining.
Maintenance required for laminate countertops: Wipe with mild soap and water.
Recycled Glass Countertops
Made of discarded glass bottles and other recycled materials, recycled glass countertops are often made of the same resin used to create quartz or solid surface countertops. But recycled glass countertops aren't just attractive and low maintenance: they are environmentally friendly, too.
Unlike fragile glass bottles, recycled glass counters are tough enough to stand up to everyday wear and still look great. Plus, recycled glass counters are easy to clean, resistant to heat, and difficult to stain.
What makes recycled glass countertops low maintenance: Recycled glass is practically impervious to stains and can quickly be shined up.
Maintenance required for recycled glass countertops: Wipe with mild soap and water.
Stainless Steel or Metal Countertops
A perennial favorite in commercial kitchens, there's no reason why you can't use stainless steel for your home kitchen, too. Stainless steel requires no sealing or refinishing, and, as you may have guessed by its name, won't be stained.
This material is also heat resistant. With the proper installation, your stainless steel will also be resistant to denting. Home owners often choose stainless steel to complement stainless steel appliances.
Stainless steel isn't the only popular low maintenance countertop on the market made of metal. Others include copper, pewter, and zinc, which all stand up well against everyday kitchen abuse.
What makes stainless steel countertops low maintenance: It's tough to break stainless steel. This material is impervious to stains, bacteria, and heat.
Maintenance required for stainless steel countertops: Wipe with mild soap and water.
Wood Countertops
Wood countertops might not be the first material that comes to mind when you think low maintenance. After all, wood counters are a natural material that is subject to heat, staining, and without the right sealing, bacteria.
But hear us out: the inherent weaknesses of wood countertops are part of what make them attractive, as the wear a wood endures will give it a patina. As long as your seal is maintained, your wood countertop, also known as butcher block, will hold up well.
What makes wood countertops low maintenance: Wood countertops can take a beating and still look good.
Maintenance required for wood countertops: Wipe with mild soap and water, oil to prevent drying, and periodically reseal.
Glass Countertops
Like wood, glass is not necessarily a material that pops into your mind when you think durable. After all, we've all lost at least a few tumblers to a tile floor — why would you make your entire countertop out of that same breakable material?
But glass countertops are far more durable than drink glasses. Instead, glass countertops are tempered and about an inch thick — or thicker. Often, multiple layers of glass are laminated together, and may include designs, crackled surfaces, art layers, painting on the bottom, and lighting.
Beyond the artistic possibilities of glass is its incredible ability to stand up to just about anything. Your glass countertop can take high heat without staining or cracking. It is nonporous, protection against bacteria, and it resists practically all stains.
What makes glass countertops low maintenance: Glass countertops will resist staining, high heat, and are impervious to bacteria.
Maintenance required for glass countertops: Wipe with mild soap and water. Spray with glass cleaner for a streak free shine.
Lava Stone Countertops
One of the most enticing countertop materials available today is lava stone. It is incredibly resistant to heat, cold, stains, and scratching. It requires virtually low maintenance and is highly durable. This material is also non-porous, making it hygienic.
Lava stone is also beautiful and versatile. It offers a crackled finish, multiple color options, and on top of all that, the ability to say you prepared your latest meal on lava. Unfortunately, lava stone is in incredibly high demand, making it very expensive. It is also tough to get, as there is almost always a waiting list.
What makes lava stone countertops low maintenance: Lava stone resists everything from heat, cold, stains, and scratching to bacteria.
Maintenance required for lava stone countertops: Wipe with mild soap and water.
Concrete Countertops
Although not as low maintenance or durable as many other countertop materials, concrete counters are more durable than natural materials like granite and marble. With a concrete countertop, you'll enjoy heat and scratch resistance as well as plenty of texture and color options.
What makes concrete countertops low maintenance: Concrete is tough and very durable. It's hard to stain or scratch concrete once it's properly sealed.
Maintenance required for concrete countertops: Wipe with mild soap and water, seal, and wax.