Buying a home can be a tricky and time-consuming thing. With inspections, contracts and a whole lot of money being spent, it's important to have an expert by your side who can wade through all the technicalities and tell you exactly what you need to know. However, it can be incredibly frustrating if that Realtor® gives you the runaround.
A survey conducted by Choice Home Warranty asked a simple question: would you recommend your Realtor® to a friend? Of the individuals who have worked with a Realtor®, the results showed that 28% of respondents would indeed recommend them.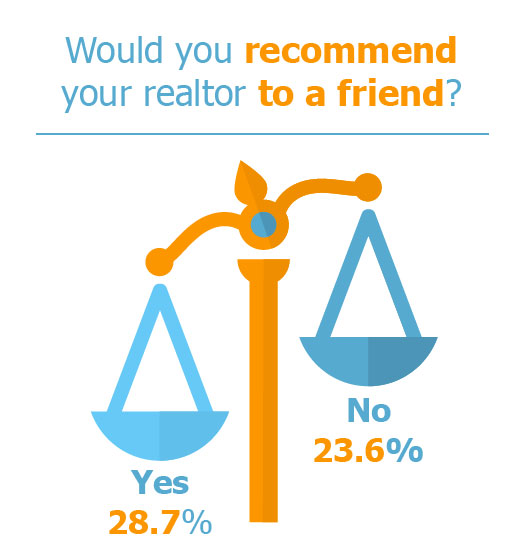 Salary Differentials
When diving into the demographics, we discovered there was a large disparity in terms of recommending their Realtor® between those with high and low incomes.
Of those making more than $75,000 per year or more, 46% would recommend their Realtor® to a friend. This was by far the highest rate of recommendation from any demographic group. One could argue that Realtors® managing properties affordable to a middle to high income level pay higher attention to client communication and care.
When comparing those making $75,000 and less per year, only 27% had the same response. This is interesting to note, because according to a study of first time home-buyers, many fall into that salary range. So those who seemingly need a Realtor® the most also are most likely to not recommend that Realtor® to a friend.
Age Variations in Trust
Age appeared to make quite a difference as well. The 35-44 age group were least likely to recommend their Realtor®, at a 23.5% rate. This was interesting to note, as it could be inferred that those in this age group might be most likely to be looking to buy or sell a home.
In fact, a study done by Realtor.org confirms that inference. On the other side of the coin, those 65 and over responded yes at 31%, which was the highest rate.
Methodology
The Choice Home Warranty Survey, "Would You Recommend Your Realtor to a Friend," was conducted online using Google Consumer Surveys July 7, 2015 among 958 adults (aged 24 and over). Results are weighted by inferred gender, age and geography to reflect the population.