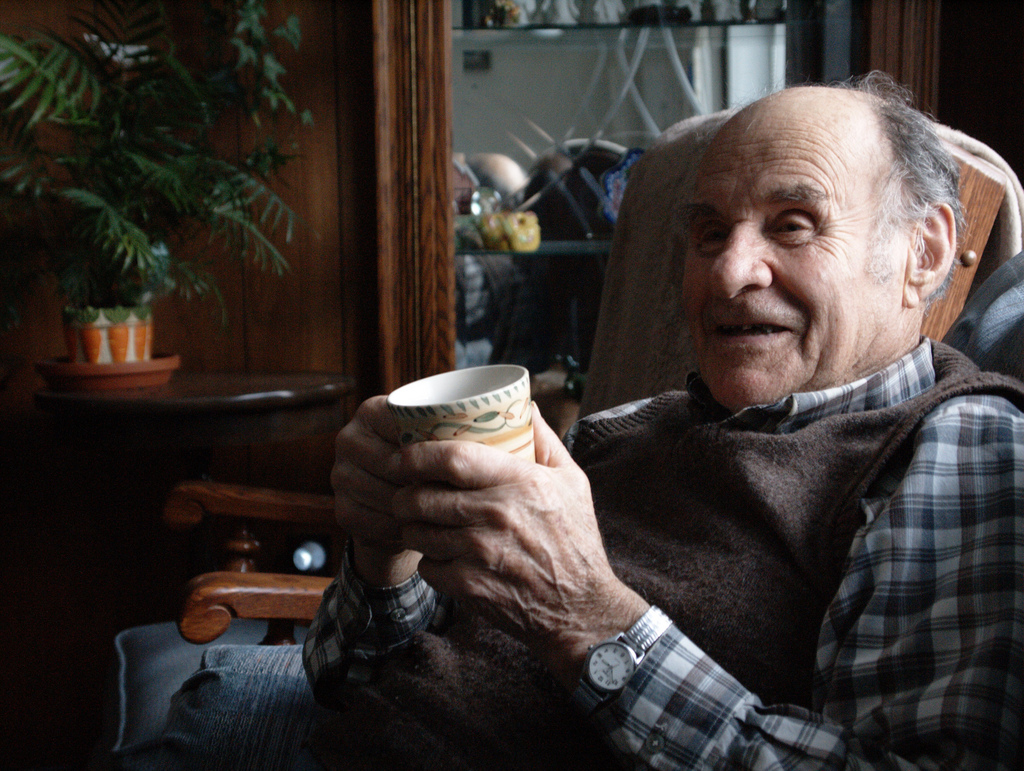 For many seniors, there's no place like home. But living in a home that isn't well-suited for senior residents can be difficult and even dangerous. Every day, seniors are injured in preventable accidents including slips, falls, and fires.
With aging-in-place remodeling, seniors are able to retrofit their homes to make them safer, more accessible, and comfortable. Updates like walk-in showers, lower countertops, even home automation make it easy for seniors to stay in their homes and live safely.
Homeowners 55 years old and older often plan to stay in their home indefinitely, with 61 percent saying they plan to age in place. And according to the AARP, 80 percent or more of all retired people consider it important to stay in their own home as they age. This is a good idea, but unfortunately, 78 percent of homeowners aren't ready to age in place. Most homeowners ages 55 and older haven't yet completed an aging-in-place home renovation. Experts say baby boomers don't yet think of themselves as old and often don't put much thought into the idea of aging.
If you're a senior adult and plan to stay in your home, aging-in-place remodeling projects should be a serious consideration for you. In this guide, you'll learn about the benefits of aging in place, why aging-in-place remodeling is a smart idea, some of the most popular aging-in-place remodeling projects, and important tips and considerations you should keep in mind if you plan to remodel for aging in place.
The Benefits of Remodeling for Aging in Place
Remodeling for aging in place is often a smart idea for healthy seniors who prefer to stay at home rather than live in an assisted living facility. These are some of the leading benefits of remodeling for aging in place rather than leaving home.
Seniors can continue to live at home: At the top of the list for many seniors is the fact that with aging in place, they can continue to live in their own homes. this is important for many reasons, often convenient location, security, familiarity, and proximity to family.
Maintaining independence: Seniors overwhelmingly want to keep their independence, maintaining control over their lives and staying active in the community they're familiar with.
Minimizing change: Seniors who stay at home with aging in place benefit from reducing the amount of change in their lives. They are able to maintain their usual routines rather than making big adjustments in their daily life that can be stressful.
Lower health care bills: With helpful aging-in-place remodeling, seniors can enjoy lower health care bills. In a New Zealand study, seniors had a 33 percent reduction in spending to treat fall injuries after their homes were renovated for aging in place.
Safety in a familiar environment: Seniors tend to be safer in an environment they're familiar with. After navigating a home successfully for years, seniors have a level of instinctive safety as they remain in the home they are familiar with.
Affordability: If you've finished paying off your mortgage or can afford to continue paying your monthly mortgage payment, staying in your home can be a smart financial decision. Moving into a retirement home or assisted living facility can cost $40,000 per year or more. Compared to the cost of insurance, property taxes, maintenance, and aging-in-place updates, most seniors will come out ahead financially if they decide to stay at home and simply renovate to fit their needs.
Keeping treasured belongings: Assisted living facilities typically don't have a lot of space for personal possessions or storage. That means seniors who move in to a facility may have to part with some of their most valued belongings before they move in. But for seniors who stay at home, this is not a concern.
Welcoming family and friends: A single family home is simply more inviting for family and friends to visit than a senior facility. Some facilities may have rules regarding the hours and frequency of visits from family and friends. Seniors can maintain a pleasant and comfortable home that's enjoyable for families to stop by.
Reduced risk of illness: Moving to an assisted living facility may mean getting sick more often. With a large number of residents living in a facility, colds, flus, and other illnesses often spread quickly. But seniors who live at home will be less likely to catch these illnesses.
Keeping pets: Many assisted living facilities do not allow residents to keep pets. But living at home, seniors can keep their dog, cat, or other pet. This is especially helpful for seniors, as pets can reduce stress and provide companionship for those who live alone.
Home resale value: Aging-in-place remodeling projects may be a selling point for future buyers. Attractive accessible design is valuable not just for seniors, but for individuals with handicaps and others who simply enjoy having a home that's easier for everyone to use.
Why You Should Consider Aging-in-Place Remodeling with Every Renovation
Aging in place is often a consideration for seniors when they decide to stay in their homes rather than move into an assisted living facility. But integrating aging-in-place remodeling into your next renovation may be a good idea whether you're nearing retirement age or not. If you plan to eventually retire in your current home, making updates now can save you money later, and they just might come in handy even before you reach senior status.
Remodeling for aging is place is best done before homeowners need the changes. Living in a construction zone can be difficult and hazardous for seniors, and more importantly, financing remodeling projects on a fixed budget may be hard if not impossible. If you make changes now, you'll be ready long before your senior years set in.
Another consideration: many families now include not just parents and children, but grandparents as well. Adult children who care for their parents in their own home will benefit from aging-in-place renovations. These updates can make a home more comfortable and accessible for family members of all ages and abilities. Ultimately, aging in place makes a home more comfortable for occupants of all ages and abilities.
If you think you're far too young to be installing grab bars in your home, don't shoot down aging-in-place remodeling too soon. While you may be thinking that making these changes will have your home ending up looking institutional, many updates today are part of the latest design trends. Updates like large walk in showers, higher toilets, and natural lighting are appealing to seniors and general home buyers alike.
The Basic Principles of Remodeling for Aging in Place
Remodeling for aging in place means making updates to your home that improve safety and convenience for older adults. Making your home easier to use removes frustration and many of the hazards that come from living independently. These are some of the most important principles that aging-in-place remodeling addresses.
Falling hazards: Slippery floors, small steps, even thresholds can cause seniors to fall and injure themselves. Updating flooring and doors removes this danger.
Wheelchair accessibility: Developing wheelchair accessibility makes it easier for aging homeowners to reach all areas of their home.
Dexterity improvement: As muscles weaken with arthritis and other conditions, seniors may have trouble gripping traditional doorknobs and cabinet handles. Making changes like lever handles can make it easier for seniors to open doors and cabinets.
Visibility improvement: Diminishing eye sight makes daily life, even at home, more difficult. Improving lighting throughout the home can help seniors see better and move around more safely.
Minimal maintenance: Cleaning and maintaining a home can be difficult for able-bodied homeowners and is often an arduous task for seniors. Updates that reduce the need to clean and maintain a home are a good idea for seniors.
Bathroom modification: Wet and slippery bathrooms are one of the most dangerous places in a home for seniors. Bathroom modifications can make bathing a safer and more enjoyable experience.
Emergency medical response systems: Seniors want to know that they can call for help if they need it. Often, seniors will install smart home technology or home security systems that offer medical response features.
Single-floor living: As seniors age, getting up and down the stairs may no longer be a daily task. Often, aging-in-place remodeling includes adding a master bedroom and bath on the first floor if one doesn't exist already.
Popular Aging-in-Place Remodeling Projects
Aging-in-place remodeling encompasses a variety of home updates. Practically anything that makes your home easier to live in as a senior can be considered aging-in-place remodeling. Many seniors focus on functional rooms, such as bathrooms and kitchens, for major projects, but aging-in-place updates can be made throughout the home. These are some of the most popular projects that homeowners typically complete for aging in place.
Shower and Bath Updates for Aging in Place
The bathroom, and particularly the shower, is one of the most dangerous home areas for seniors. With wet and slippery tile, stepping into and out of showers or baths is often hazardous. These updates make the bathroom a safer place for seniors.
Elevation Modifications for Aging in Place
For many seniors, going up and down stairs is no longer safe or easy to accomplish. Even those who are not in a wheelchair can find it difficult to make it to the second floor, necessitating updates that make it possible for seniors to get upstairs without actually using stairs.
Stair lift: A stair lift makes it possible for seniors to sit in a chair and ride up the stairway rather than stepping on each individual step.
Front porch railings: Adding additional railings for easy grabbing and stability can help seniors get up front porch steps easier.
Wheelchair ramp: A wheelchair ramp isn't necessary for every home, as not all seniors will end up in a wheelchair. But even if you're not in a wheelchair, a gradual ramp can be easier to get up and down than front porch steps.
First floor master bedroom and bathroom: For seniors who have trouble going up and down the stairs, a master bedroom and bathroom on the first floor can be a must have. This eliminates the need to go upstairs on a daily basis to sleep or bathe. However, some homeowners find that it can be less expensive to put in an elevator and elevator shaft than it is to add a first floor master bedroom and bathroom.


Lighting for Aging in Place

Seniors may have vision limitations, making it more difficult to see clearly at home. With limited vision, it's tough to see while you're completing tasks throughout the home. But with the right lighting, seniors can see better at home. Often, all that's needed is to add additional light fixtures for better visibility.

Side by side sconces: Sconces placed on either side of the mirror produce less glare and make it easier to see than overhead lights.
Natural light: Natural light from windows or sky lights are the best light sources, offering seniors a softer light that produces less glare.
Recessed lights: With recessed lights, seniors are able to add more lights and make the entire room brighter for better visibility.
Sensor lighting: Sensor lighting automatically senses when seniors enter a room or start to descend the stairs. It's especially useful for seniors with impaired night time vision.


Doorway and Window Updates for Aging in Place

Something as simple as making it through a doorway or opening a window can become complicated if you're in a wheelchair or have limited dexterity. Widening doorways and updating hardware so it's easier to handle can make life easier for seniors.

Wider doorways: Wider doorways make it easier for seniors to get into the next room, particularly in a wheelchair or with the use of a walker. Doorways should be widened to 36 inches and any raised sills should be removed. For safety, hang the door to open out so that the door won't be blocked if anyone falls against it.
Lever handle door hardware: With a lever handle, seniors don't have to try to grip a small door knob.
Easy to operate window hardware: Some window hardware can be difficult for senior hands to grip. But with easy to operate hardware, windows can be opened easily.
Kitchen Renovations for Aging in Place
Like bathrooms, kitchens are a highly used room in the home that can be particularly dangerous for seniors. Tall counter tops, cavernous cabinets, and poor lighting can make it difficult and even hazardous for seniors to prepare food at home. But thoughtful aging-in-place updates can make a kitchen easier and safer to use for all seniors.
Flooring Updates for Aging in Place
Hardly anyone thinks of floors as dangerous, but for seniors, they can be. Slippery floors, high-pile carpet, and other flooring can be hazardous for seniors. Updating to nonslip floors and flooring that is easy to roll a wheelchair on can make a big difference for seniors.
Slip resistant flooring: Water and slick tile can spell trouble for seniors, but slip resistant tile or vinyl can be a life saver. Textured tile like slate is a particularly attractive choice.
Low pile carpet: High pile carpet can increase the risk of tripping and falling. It's also tough for pushing a walker, using a cane, or rolling on a wheelchair. While hard surfaces are often easier for seniors, low pile carpet can be a smart choice as well.
Wood flooring: Tile can be difficult to stand on for long periods of time, especially for seniors with hip or back pain. Going with a softer material like wood, cork, or vinyl flooring will take it easier on your back.
Smart Home Technology for Aging in Place
Smart home technology makes life at home simpler, automating tasks and allowing seniors to rely more on technology than physical or mental capabilities. With features like smart lighting smart locks, sensors, and voice activated devices, home automation is very helpful for many seniors. In fact, 65 percent of homeowners 55 and older believe smart home technology could help them age in place.
Smart locks: With a smart lock, you may never have to take your keys out of your pocket to get in and out of your front door. With these Wi-Fi enabled locks, all you have to do is touch the lock while your phone is within range, and it will automatically unlock for you without using a key at all.
Smart lighting: Smart lighting automates lighting in your home. It allows you to set up timers for daily life, vacation, and more. And you can use smart lighting with sensors or voice activation to turn on when you enter a room, which can help prevent falls, bumps, and accidents.
Voice activation devices: Using voice activation devices, you can do everything from setting the temperature to turning lights on, even making coffee, all with just the sound of your voice.
Important Considerations for Aging-in-Place Remodeling
So you're ready to jump in and start aging-in-place remodeling projects. What now? These are a few considerations you should keep in mind when planning what you'll do to improve your home for senior living.
Find the right contractor: Aging-in-place remodeling is no easy task. You'll want to carefully choose your contractor, ideally finding one who specializes in aging-in-place remodeling.
Prioritize your projects: You might consider updating your bathroom to be the first thing you need to take care of when remodeling for aging in place. But less exciting projects like adding smoke and carbon monoxide detectors, easy to open locks, and fall prevention measures are the basics you should tackle first.
Consider alternatives: Though many seniors consider a first floor bedroom and bathroom to be a must have, the fact is that it may be more expensive than alternatives. Contractors may be able to put in an elevator or change the entrance level to the house for a cheaper price than the cost of a first floor bedroom project.
Weigh the cost of staying in your current home: Most seniors want to stay in their current home indefinetly, avoiding an assisted living or retirement home. But aging-in-place home renovations can be expensive, more expensive than simply downsizing into a different home with senior accessible home features already in place. However, seniors should take into consideration that it can be difficult to uproot their lives into a new home, even if it's not of the retirement or assisted living variety.
Helpful Resources for Aging-in-Place Remodeling
Want more? Find additional information, support, and more for aging-in-place remodeling from these useful resources.