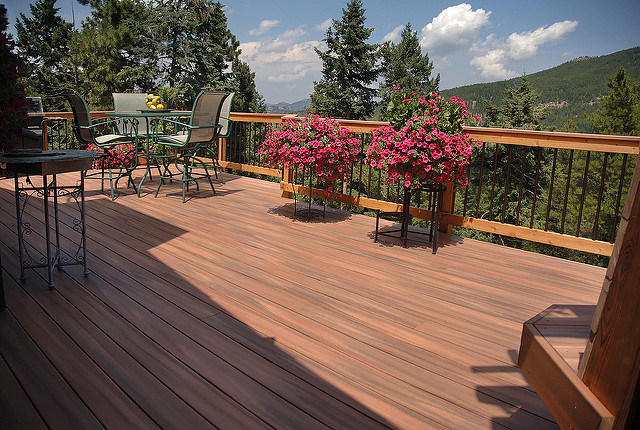 Over the summer, many home owners plan to complete home improvement projects. In fact, according to the Zillow Digs Summer Home Improvement Trend and Spending Survey, 60 percent of home owners plan to improve or add to their homes this summer, typically spending around $1,200.
With long, sunny days, little rain, and often more time spent at home, the summer is an ideal time to tackle many home projects, especially outdoors. Whether you're upgrading your outdoor living space, improving energy efficiency, or adding smart light features to your home, summer is a great time to do it. We've highlighted several smart home projects you should consider taking on this summer.
House Painting
Painting is tough in the winter and spring, but with sunny days and typically rare rain events, summer is ideal for getting a paint job done. The summer season is also a smart time to paint, as the harsh sun can damage paintwork, siding, and more if you're not adequately covered. A fresh coat can help protect your home against the sun's harmful UV rays.
Roof Repair or Replacement
Just like house painting, roof repair and replacement is ideal in the summer, when there's less rain to deal with and more of a need to protect your home. With an updated roof in good condition, you can better protect your home against the heat of summer.
Outdoor Kitchen
This luxury upgrade is fun to have during the summer months when you may want to do more than grilling outside. Add a sink, cabinetry, and counter tops, even a refrigerator, dishwasher, beer taps, or pizza ovens, and you'll have a complete cooking space outdoors. Add a portable heater, and you can enjoy your outdoor kitchen in the cooler months, too.
Skylight Installation
When the sun is out all summer, a skylight can illuminate areas of your home. Add a skylight to make a room more cheery. This is an especially good idea in rooms that don't already have a lot of natural light.
Thermostat Upgrade
In the summer heat, your air conditioner and thermostat certainly get a workout. With an updated one, you can save energy and give your home a high tech look. Using a modern thermostat, you'll be able to make updated thermostat settings, control your thermostat from a mobile device, and even let the thermostat learn your cooling and heating patterns.
Patio Fireplace
Whether you're setting down a fire pit or building a stone fireplace on a wall, having a fire area in your backyard can be truly inviting. It's a great spot to sit in the backyard and roast marshmallows.
Build a Compost Bin
Instead of throwing away leaves and yard clippings, put them to good use in a compost pile. Your yard waste, even old food can break down and become a great additive for your soil. This process takes months, so build your compost bin this summer, and you'll be able to enjoy rich compost for your spring plantings.
Shade Tree Planting
Want more shade for your home? Trees are the answer. Plant large trees strategically so that they can block some sunlight and keep your home cool during hot summer days.
Backyard Deck or Patio
Summer evenings can be a lot more enjoyable out on a backyard deck or patio area. When the weather is nice, you can spend lots of time out in your backyard, and a decking area or covered patio makes it much more comfortable and inviting.
Add a Ceiling Fan
Put a ceiling fan in a room that doesn't have one, or upgrade an existing ceiling fan. You'll reduce energy bills and make the room a more comfortable temperature in the summer.
Guest Room Updates
If you have family or friends visiting over the summer, you'll need to be ready with a well appointed guest room. But so many home owners use spare rooms for storage until they have a use for them. Clear out the junk and move items to your attic, garage, or basement. Then, add in a spare bed, dresser, and window coverings to make it comfortable for guests. Don't forget extra towels, linens, and hangers for the closet.
Update Insulation
Insulation keeps your house cool in the summer and warm in the winter. It can reduce your cooling and heating costs by as much as 20%. That means adding or updating insulation can save you serious efficiency and money not just this summer, but year round.
Update Weather Stripping
Patching up drafts from windows and doors can greatly improve your heating and cooling loss in the winter and summer. This is an inexpensive update that most home owners can handle as a DIY project.
Update Window Coverings
During the summer, window coverings should be light, both in color and fabric. With a light color, you'll have less solar heat gain. And with a light fabric, you can still let light pass through to enjoy soft natural light in your living space. Consider adding shades or blinds so that you can block out the sun when you want to as well.
Update Windows
Make your home more efficient and stop heat from coming into your home with energy efficient windows. This is especially helpful if your current windows are old. However, if your windows are relatively new, or you're not ready to replace all of your home's windows, you can add low-e film to your windows for an efficiency boost.
Add Awnings
Add awnings to south and west facing windows to reduce your summer solar gain significantly. These are the windows where your home gets the most hot sun exposure that can heat up your home. With awnings, you'll reduce the amount of sunlight that hits your windows and gets into your home.